iPhone 12 Pro
The iPhone 12 Pro is the smaller of two pro-level phones in Apple's 2020 iPhone lineup. It has a glass and stainless-steel design with flat edges. The three-camera system and LiDAR sets this model apart from the standard edition.
● Flat-edged, stainless-steel design
● 6.1-inch Super Retina XDR display
● Launched on October 23
● Find great iPhone 12 Pro deals
● Starting at $999
---
Get Apple News Directly in Your Inbox
---
Apple launched the iPhone 12 Pro alongside the iPhone 12, iPhone 12 mini, and iPhone 12 Pro Max at Apple's October 13 "Hi, Speed" event. The models differentiate themselves with screen size and camera technology.
The 6.1-inch iPhone 12 Pro released on October 23 after pre-orders began on October 16. The larger iPhone 12 Pro Max released in November.
iPhone 12 Pro Features
There are four new iPhone models in the fall lineup, with this model as the smaller of the two pro-level phones. This device has a bigger 6.1-inch Super Retina XDR display compared to the iPhone 11 Pro. It also has a triple-camera system and LiDAR.
Design
Apple changed some iPhone design characteristics in its fall 2020 lineup. The new models have the same edge-to-edge screen with a notch, but an old design paradigm returned: flat sides. The last iPhone with that design was the original iPhone SE. It gives the new iPhones a distinctive yet classic look and feel. This follows the iPad Pro, which also moved to a flat-sided design in its third generation.
It ships in four stainless steel finishes, including graphite, silver, gold, and pacific blue.
Display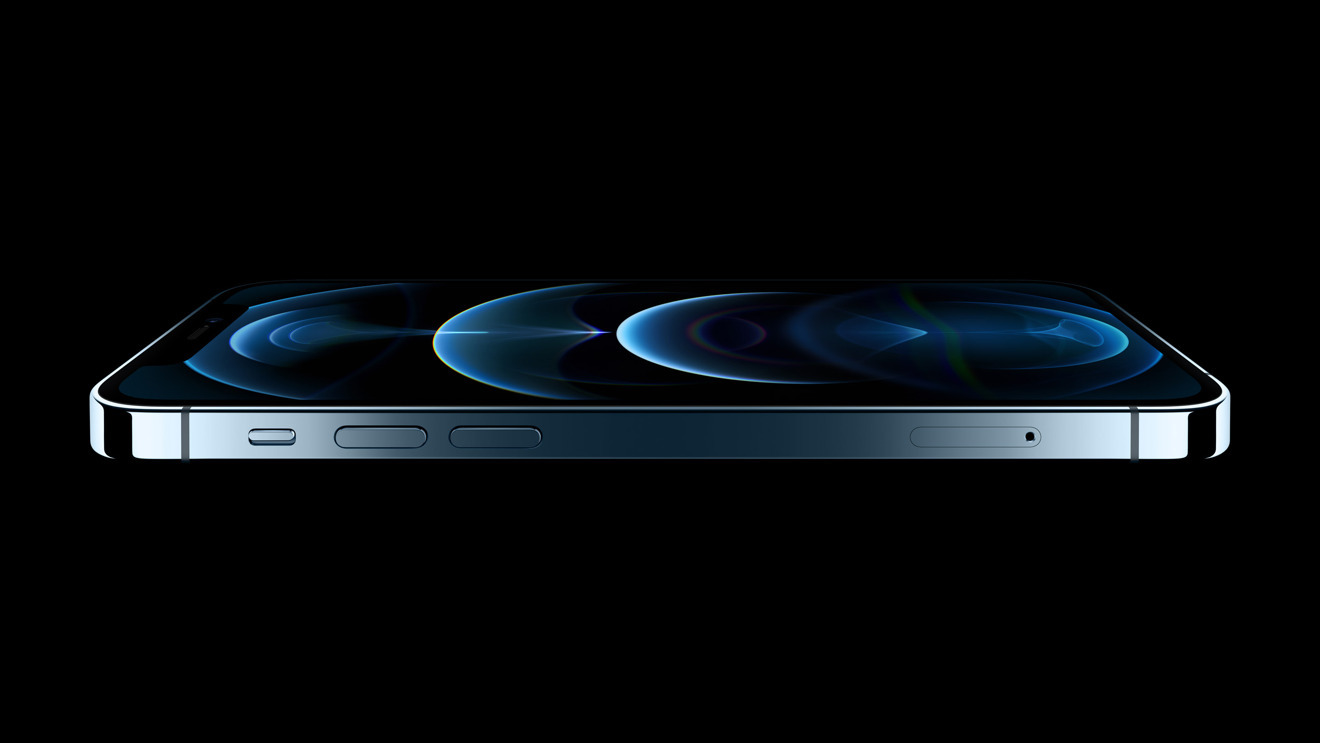 All four models use OLED Super Retina XDR displays this year with the pro-level models receiving more advanced displays.
The smaller Pro model increases from 5.8-inches to 6.1-inches this generation. The screen size increase further differentiates it from the 5.4-inch iPhone 12 mini at the bottom of the lineup.
For 2020, Apple has also ensured the Pro models have superior video quality, with the inclusion of support for 10-bit color depth imagery in HDR video. The wide-color P3 screens also boast a 2-million-to-1 contrast ratio, 800 nits maximum brightness, 1,200 nits of max brightness for HDR, and TrueTone support.
All the iPhone 12 models use Apple's Ceramic Shield front cover, which the company developed in partnership with Corning. It adds "a new high temperature crystallization step that grows nano-ceramic crystals within the glass matrix, increasing drop performance by 4x."
Rear Cameras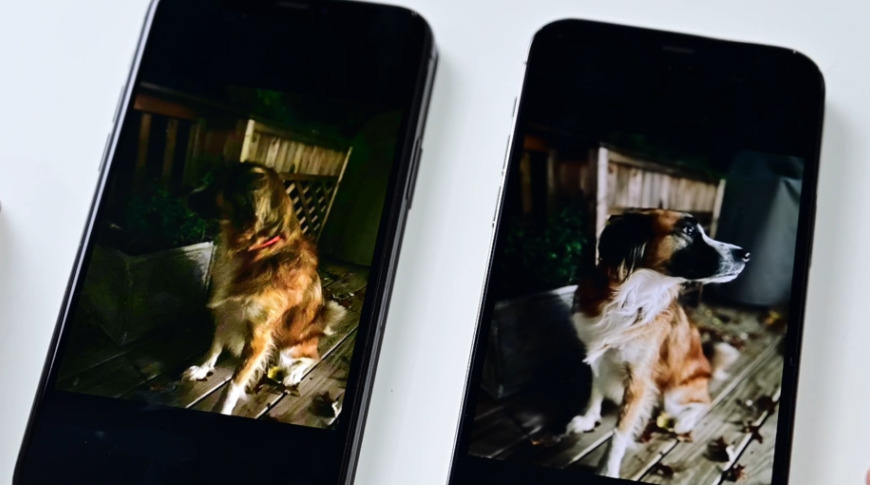 Around the back, Apple has gone with the same camera arrangement as in 2019, with three 12-megapixel cameras covering Ultra Wide, Wide, and Telephoto ranges, with a 4x optical zoom in, 2x optical zoom out, and a 10x digital zoom in. Equipped with dual optical image stabilization, it has Portrait Mode and Portrait Lighting effects, a Night mode, Smart HDR, and Panorama features.
The optical image stabilization has been upgraded to a DSLR-style Sensor Shift, where the sensor moves but the lens does not, enabling the image to stay sharper, and for longer exposures to be made that capture more light, even up to two seconds long when hand-held. It can adjust up to 5,000 times per second, approximately five times as many adjustments than similar systems used in the iPhone 11 Pro range.
Apple also introduced Apple ProRAW for its Pro line, a new imaging format combining RAW photography with computational photography features like Deep Fusion and Smart HDR. This includes having full control over color, details, and dynamic range, all from the iPhone's Camera app.
Video has been boosted to include the ability to record in 10-bit HDR, and is the first to record in Dolby Vision HDR, something that can even be edited on the iPhone and even played through a compatible screen over AirPlay. It is able to do this even at 4K resolution at 60fps, as well as supporting 1080p slo-mo at 240fps, records stereo audio, and supports Audio Zoom.
At the top of the screen is the standard notch and TrueDepth camera array, which can capture 12-megapixel images complete with Portrait Mode and Portrait Lighting effects, 4K video recording at up to 60fps with cinematic video stabilization, 4k 30fps HDR with Dolby Vision, and 1080p slo-mo video at 120fps.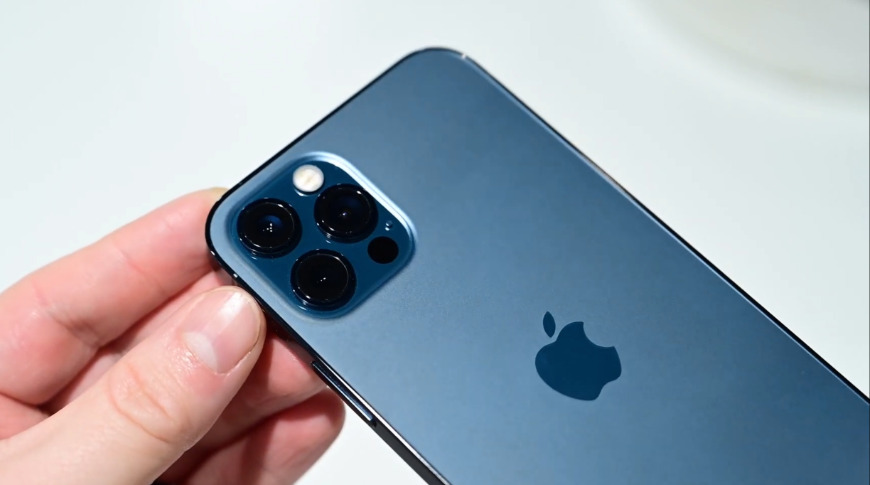 New for 2020, the pro-level iPhones are also equipped with a LiDAR sensor, which can perform time-of-flight calculations to generate a 3D map of the surrounding area. This is similar to the TrueDepth camera's capabilities, but on the back of the iPhone.
Using the new sensor, users can take advantage of the depth data to create enhanced Portrait Mode imagery, among other photographic effects. It is able to assist the autofocus in low-light situation, making it gain focus 6 times faster.
It is also likely to have serious utility for ARKit applications that can use the added depth data, including room scanning.
Processor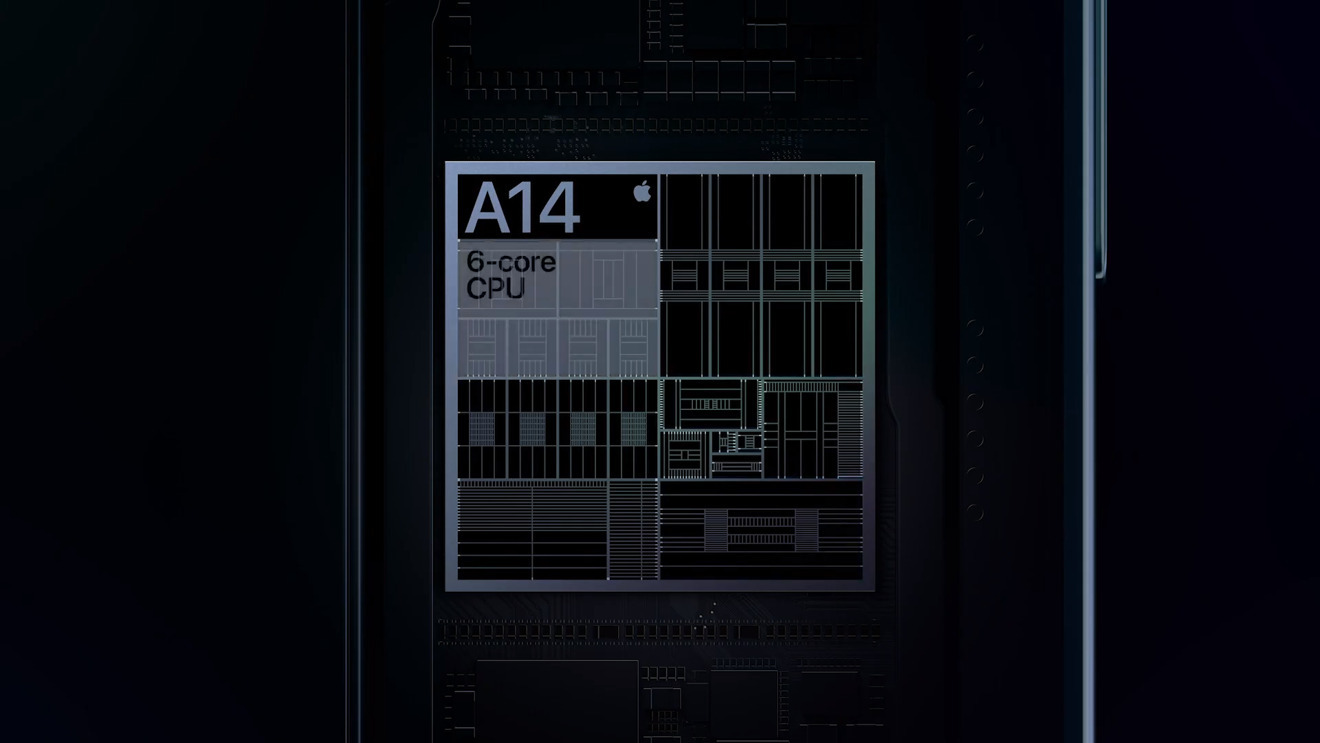 Apple introduced the A14 alongside the iPad Air 4 at its September "Time Flies" event, and the new chip is also inside the iPhone 12 series.
TSMC supplies some of the current A-series processors for Apple using a seven-nanometer process. The company announced a new 6nm process is ready for mass-production as of April 2019, and the 5nm process was in a pre-production phase. It was then no surprise to learn that the A14 Bionic used the 5nm process.
A benchmark for an unknown A-series processor showed up in Geekbench that may be for the A14. This benchmark showed a 50% gain in single-core performance over the A12Z Bionic used in iPad Pros. This benchmark indicates the A14 would also be the first A-series chipset to ever clock over 3GHz.
Apple announced that it is moving its Mac processors from Intel to Apple Silicon. This process will likely not affect the iPhone 12 mini or other models' chips, but what Apple learns from producing Mac-class processors will likely trickle down to the mobile line.
5G and wireless connectivity
Apple upgraded from 4G LTE to 5G in the next-generation iPhones. Qualcomm will provide the modems this year since Intel has exited the 5G modem business.
Apple may start making modems after acquiring the patents from Intel in a billion-dollar deal. However, the Apple-designed modems wouldn't be ready until 2022 at the earliest.
MagSafe
MagSafe returns for the iPhone 12 lineup. Apple has added a magnetic charging and accessory solution to the new iPhones which allow users to easily attach and swap cases and other objects.
Cases purchased for iPhones with MagSafe will need to have a special magnetic charging coil in order to be compatible with MagSafe charging. The charger can output up to 15W to the iPhone, and will still charge Qi compatible devices at 7.5W.
Accessories like wallets and stands can be attached via MagSafe as well, which will open up an entirely new category of iPhone accessories.
Size and Weight
Apple slightly reduced the borders in the new models. In the iPhone 12 Pro, this makes for a slightly bigger device with an even bigger display size.
Compared to the iPhone 11 Pro, the iPhone 12 Pro is 1.9% taller and 9.4% thinner. The new model is also slightly heavier than its predecessor.
| | Height (mm/inches) | Width (mm/inches) | Depth (mm/inches) | Weight (grams/ounces) |
| --- | --- | --- | --- | --- |
| iPhone 12 mini | 131.5/5.18 | 64.2/2.53 | 7.4/0.29 | 135/4.76 |
| iPhone 12 | 146.7/5.78 | 71.5/2.82 | 7.4/0.29 | 164/5.78 |
| iPhone 12 Pro | 146.7/5.78 | 71.5/2.82 | 7.4/0.29 | 189/6.66 |
| iPhone 12 Pro Max | 160.8/6.33 | 78.1/3.07 | 7.4/0.29 | 228/8.03 |
| iPhone SE (2020) | 138.4/5.45 | 67.3/2.65 | 7.3/0.29 | 148/5.22 |
| iPhone 11 | 150.9/5.94 | 75.7/2.98 | 8.3/0.33 | 194/6.84 |
| iPhone 11 Pro | 144/5.67 | 71.4/2.81 | 8.1/0.32 | 188/6.63 |
| iPhone 11 Pro Max | 158/6.22 | 77.8/3.06 | 8.1/0.32 | 226/7.97 |
| iPhone SE (2016) | 123.8/4.87 | 58.6/2.31 | 7.6/0.3 | 113/3.99 |
Additional Features
Includes Lightning-to-USB-C cable
Does not include a charging plug in the box
Does not include EarPods in the box to cut costs, boost AirPods sales, and reduce carbon footprint
Dark Blue color replaces Midnight Green
Seven-element lens system for increased image quality
iPhone 12 Pro review
In our review, AppleInsider gave the handset a 4.5 out of 5 score. We praised the new design, slightly larger display, speedy A14 chip, and camera.
This year, Apple's iPhone undertook its biggest design overhaul since... the last time it used this design. It feels very familiar to anyone who has used the iPhone 5 or iPhone 5s.
That isn't a dig by any means because the design looks fresh and feels great in the hand. It makes the phone feel slimmer and more substantial.
Apple wasn't necessarily trying to copy its used design. The flat sides just look more modern, just as they do with the iPad Pros and now iPad Air.
We also can't overlook that it has made it easier to stand up our phone to take photo thanks to that flat bottom.
The cameras on the iPhone 12 line are simply stunning. Apple once more dedicated a significant amount of time during its unveiling touting the incredible capabilities of the handsets.
These new buffs aren't a marketing ploy but massive new capabilities to capture unparalleled images.
While the competition continues to oversaturate its images and toss on near-unusable 100X zoom capabilities, Apple has focused on the core cameras, which is what most people tend to use in day-to-day shooting. When it does introduce new features, they are technologically impressive and practically useful rather than just marketing fodder to mock the competition in social ads.
What may prove to be one of iPhone 12's biggest features is near invisible to the naked eye, and one that won't mean diddly if you don't drop down some change on additional accessories.
MagSafe is a new accessory protocol that allows for everything from cases, to docks, to chargers, to wallets, and much more to be integrated right onto the phone.
It is only a matter of time before a plethora of MagSafe accessories start hitting the market, from MagSafe-enabled PopSockets, car mounts, docks, multi-chargers, wallets, folio covers, tripod mounts, lighting rigs, and so much more.
There's no limitation on what a MagSafe accessory can be and we are very excited by what accessory makers will come up with.
That represents about a 20 percent improvement on the single-core score and about 15 percent gain on the multi-core. These are the kinds of improvements that don't just sound good on paper, you can actually appreciate them in real use.
Launching apps — such as the camera — can be a second or so faster. At this point, that seems fairly small, but for something like the Camera app, it makes a noticeable difference when you're trying to fire off a shot before the moment has passed.
We also need that additional processing power for those new Dolby Vision 4K videos we are shooting. Once more with Apple, it is more about the future than the present. These processors will still be kicking in several years other than creating a processor that is only suitable for today's needs.
The decision between pro-level and standard handset is tougher than ever, with more casual shoppers being more than fine with the iPhone 12. However, this smaller Pro model offers significant camera upgrades with a more premium design. While 5G has a promising future, don't expect to see dramatic wireless improvements in the short-term.
iPhone 12 Pro Pricing
The 6.1-inch handset starts at $999 for 128GB storage. That moves up to $1,099 for 256GB and $1,299 for 512GB.