New iPhone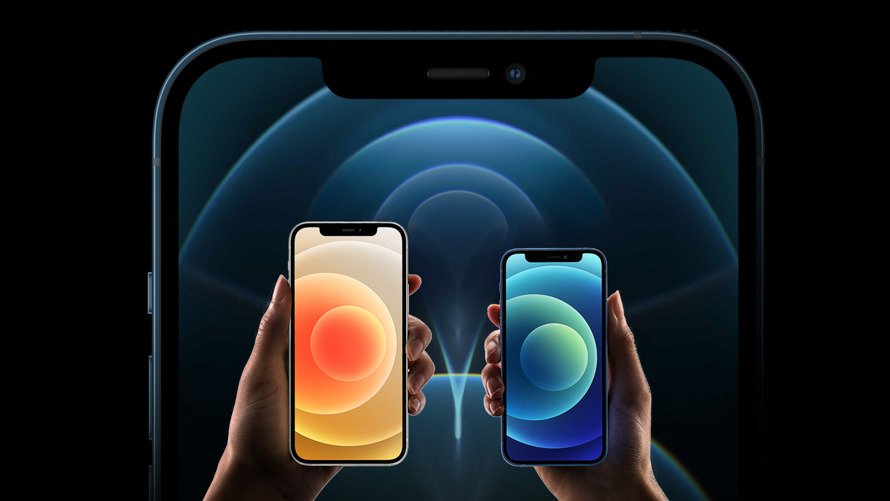 Apple releases a new iPhone lineup each year in the fall with the occasional spring update. Whether you want to learn about the 2020 iPhone 12 or the potential 2021 iPhone, you can learn about the various models here.
● iPhone 12 announced in October 2020
● Expected "iPhone 13" to release in 2021
● Cameras and processors tend to be upgraded every year
---
Perhaps you're due for an upgrade and are researching which iPhone to buy. Or maybe you're wondering if you should upgrade now or wait for the next new iPhone. This always-up-to-date guide will help you find the information, features, and rumored coming attractions to help you make the best decision.
2020 iPhone
Common Features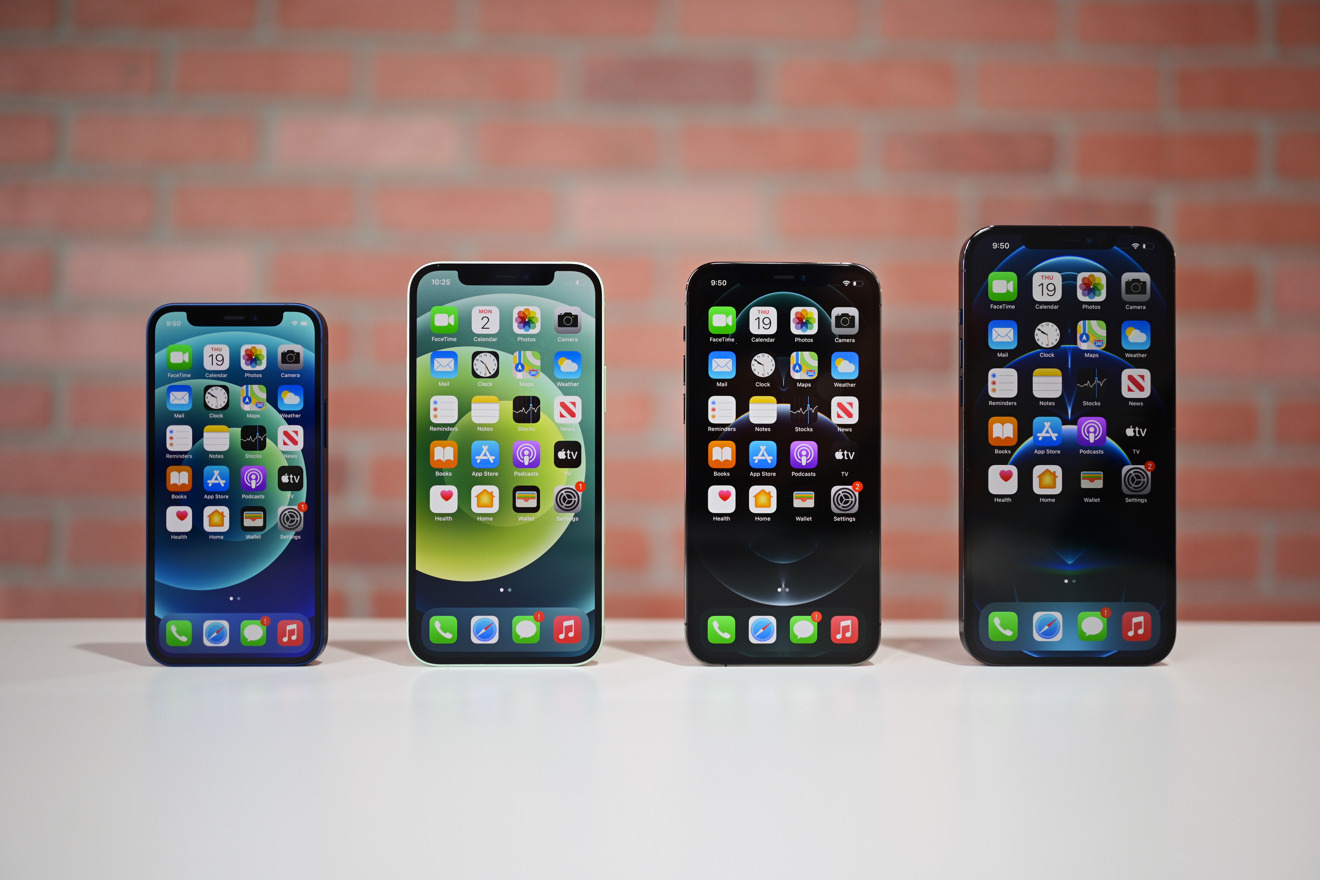 All four new iPhones have flat-edged designs and OLED displays while running on the A14 Bionic chipset. Though the standard phones miss out on a few features compared to the pro-series handsets, the gap between base-model and "Pro" is now narrower than ever.
The addition of 5G is the marquee feature in the new iPhone 12 series. All four phones support the speedy wireless standard, including sub-6 GHz and mmWave variants. While real-world performance may vary, 5G should supply iPhone users with faster and more reliable cellular data.
The iPhone 12 series design is a callback to the iPhone 4 and iPhone 5 era, with a flat-edged design. In the standard models, it's an aluminum frame. The structure is stainless steel in the pro-series models. All four phones have glass backs.
All of the iPhone 12 series run the same chipset, Apple's A14 Bionic. It uses a 5nm process while providing top-notch performance. The A14 benchmarks as 20% faster than the previous-generation A13, found in the iPhone 11. The A14 scores similar to the A12Z Bionic chip in the 2020 iPad Pro in multi-core benchmarks, and it's 50% faster in single-core.
Apart from a slightly lower maximum brightness, displays are identical, as the standard iPhone 12 models have OLED displays like the iPhone 12 Pro phones. This is a departure from previous generations' pro and non-pro iPhones, where the higher-end handsets used an OLED display, and the standard models went with a cheaper LCD. All four iPhones use Apple's Super Retina XDR technology with P3 wide color and a two-million-to-one contrast ratio. They all support True Tone and HDR.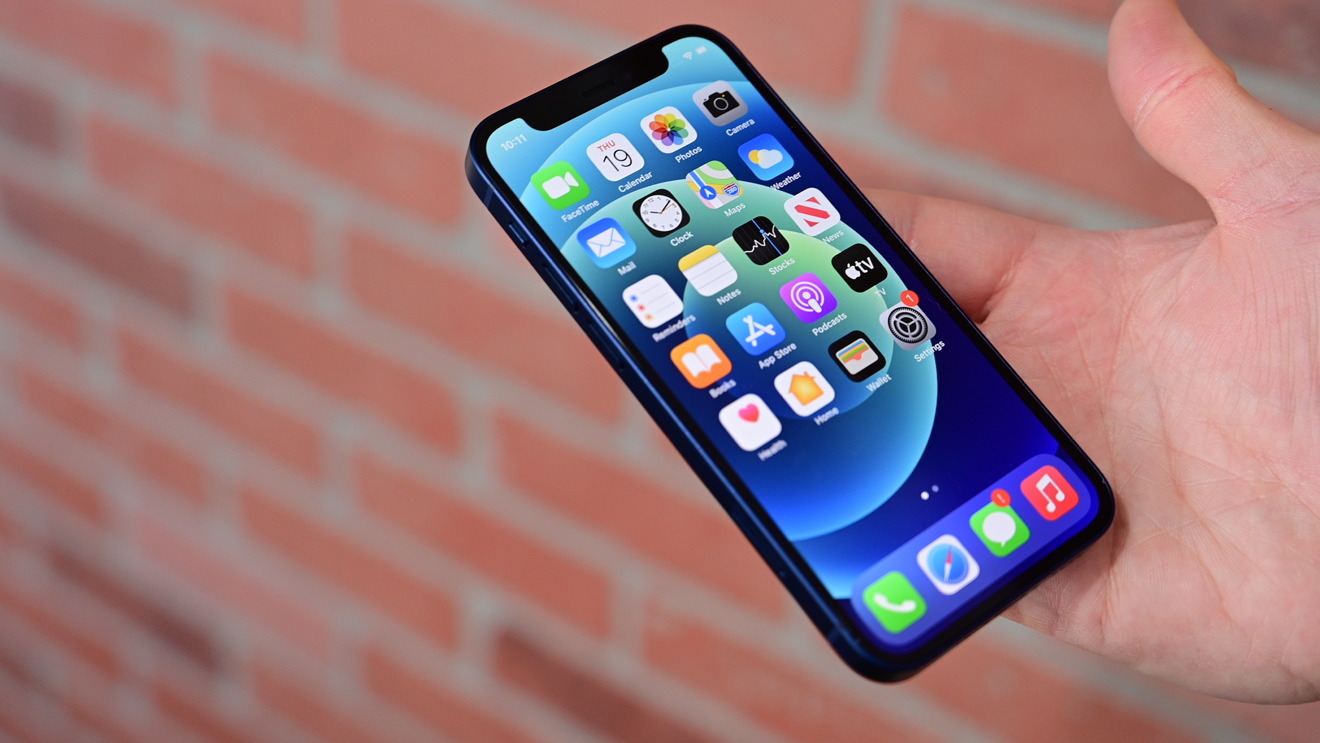 Each handset in the new iPhone 12 series has Apple's new Ceramic Shield in its front glass. The technology uses nano-ceramic crystals grown within its glass matrix, providing four times better drop performance than past iPhone displays.
The iPhone 12 series also marks Apple's MagSafe's debut, a built-in feature that allows for convenient mounting and charging possibilities. Each phone and official MagSafe case has a circular series of magnets built into its back. The feature opens the door to accessories that mount your iPhone magnetically, whether at home or in your car. Some MagSafe accessories also support wireless charging.
iPhone 12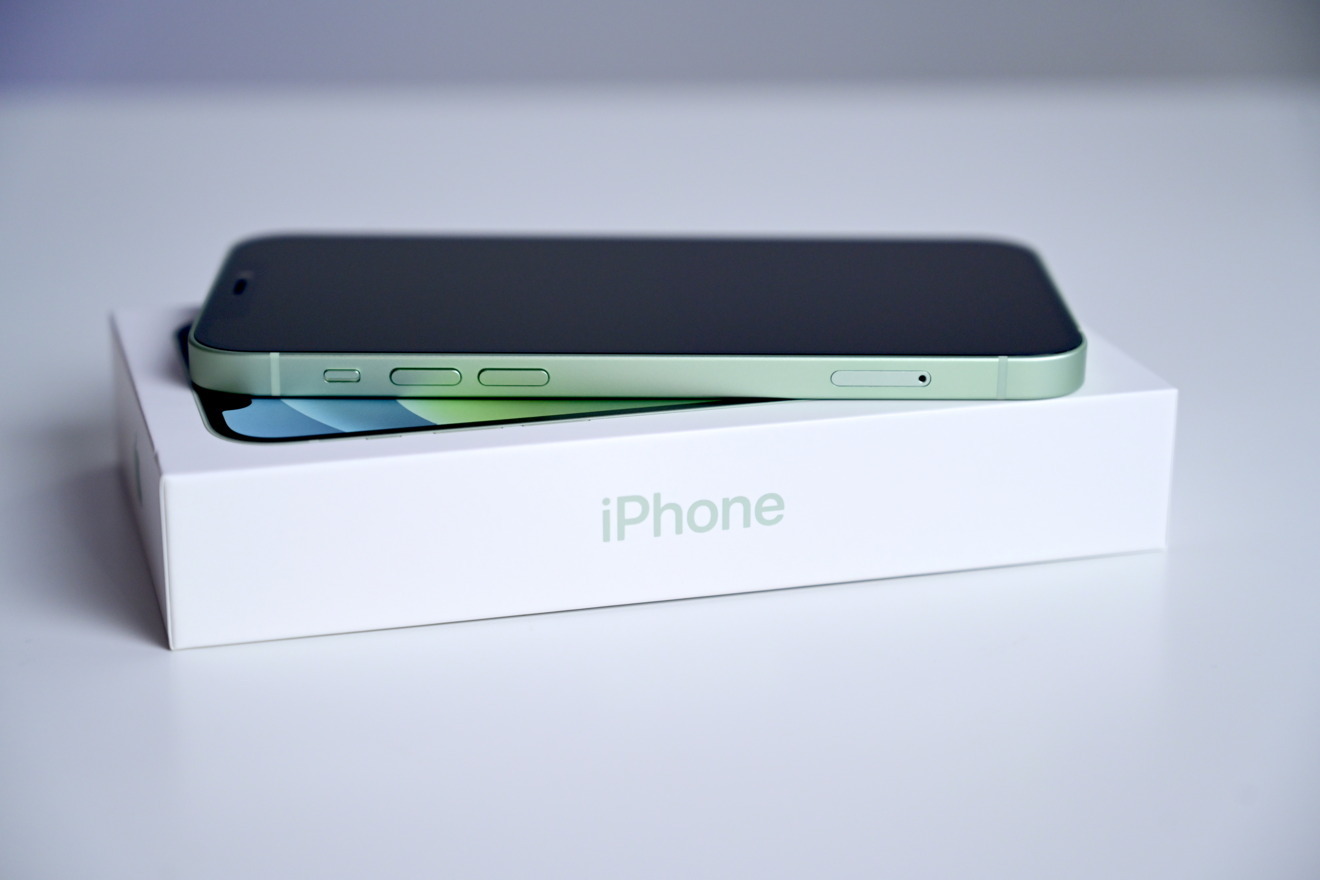 As its name suggests, the new iPhone 12 is the standard flagship in Apple's 2020 smartphone lineup.
Cameras are the most significant difference between iPhone 12 and iPhone 12 Pro, as the standard models lack the ƒ/2.0 telephoto lens found in the pro-series handsets. The iPhone 12 uses a two-camera setup. Both rear cameras are 12 megapixels – one wide and one ultra-wide. The wide-angle camera has a seven-element ƒ/1.6 aperture while the ultra-wide is ƒ/1.8, and the phone supports both Portrait Mode and Night Mode photography.
The iPhone 12 measures 5.78 x 2.82 x 0.29 inches and weighs 5.78 ounces. The iPhone 12's OLED display measures 6.1 inches diagonally, with a 2532 x 1170 resolution at 460 PPI.
The new iPhone 12 comes in black, white, green, blue, and Product(Red). It's available in 64GB, 128GB, and 256GB storage options. It starts at $799.
iPhone 12 mini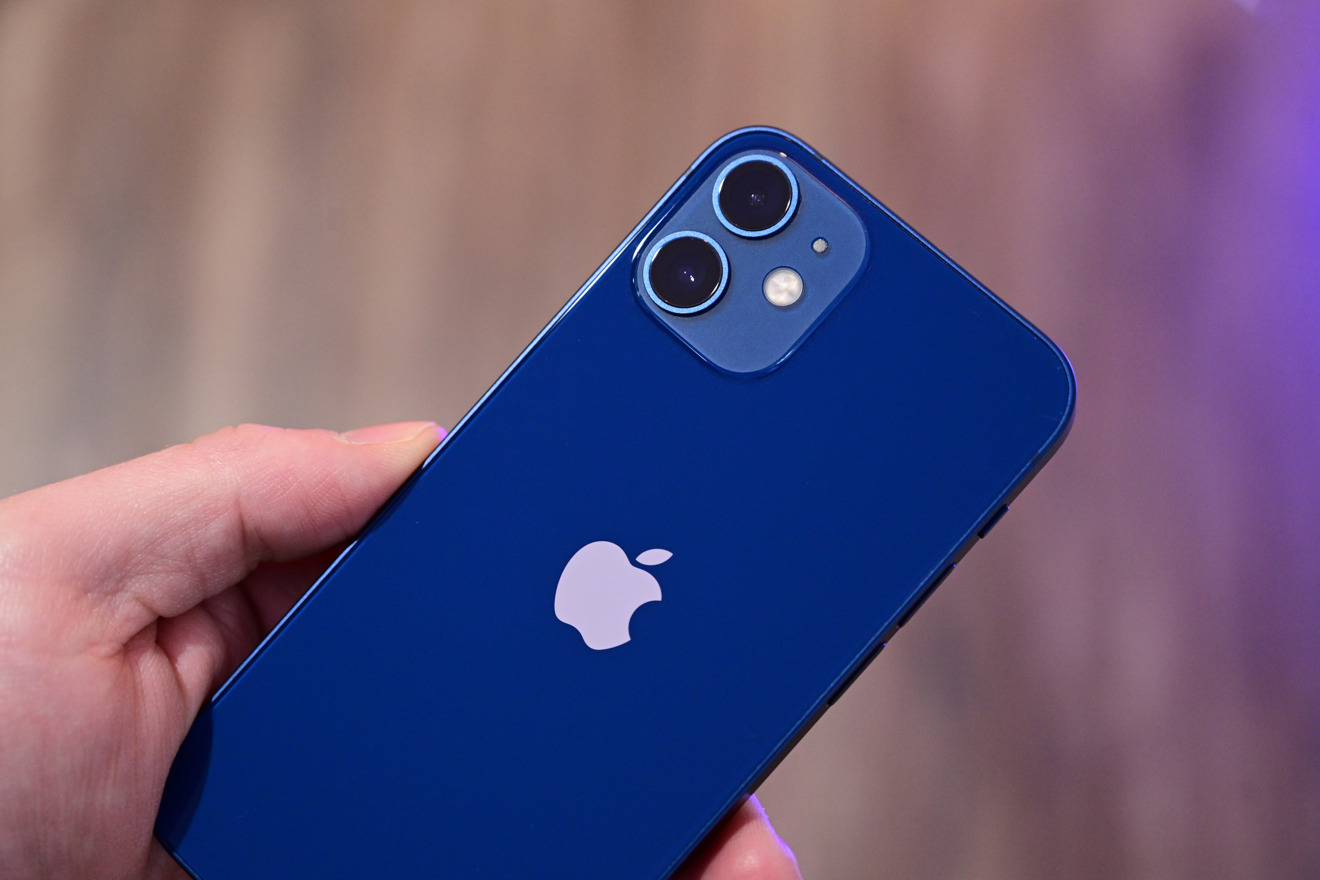 The new iPhone 12 mini is the smallest full-screen iPhone Apple has made, providing an attractive balance of physical size and screen size. Its body is slightly smaller than the iPhone 8, but its display has 19% extra area.
The iPhone 12 mini has identical cameras to the iPhone 12: two 12 MP lenses with ƒ/1.6 and ƒ/1.8 aperture. It lacks a telephoto lens and LiDAR Scanner, and it doesn't support Night Mode Portraits.
The display measures 5.4 inches diagonally and has a 2340 x 1080 resolution at 476 PPI. The handset is 5.18 inches tall, 2.53 inches wide, and 0.29 inches thick. It weighs 4.76 ounces.
Apple sells the iPhone 12 mini in black, white, green, blue, and Product(Red) colors and 64GB, 128GB, and 256GB storage tiers. It starts at $699.
iPhone 12 Pro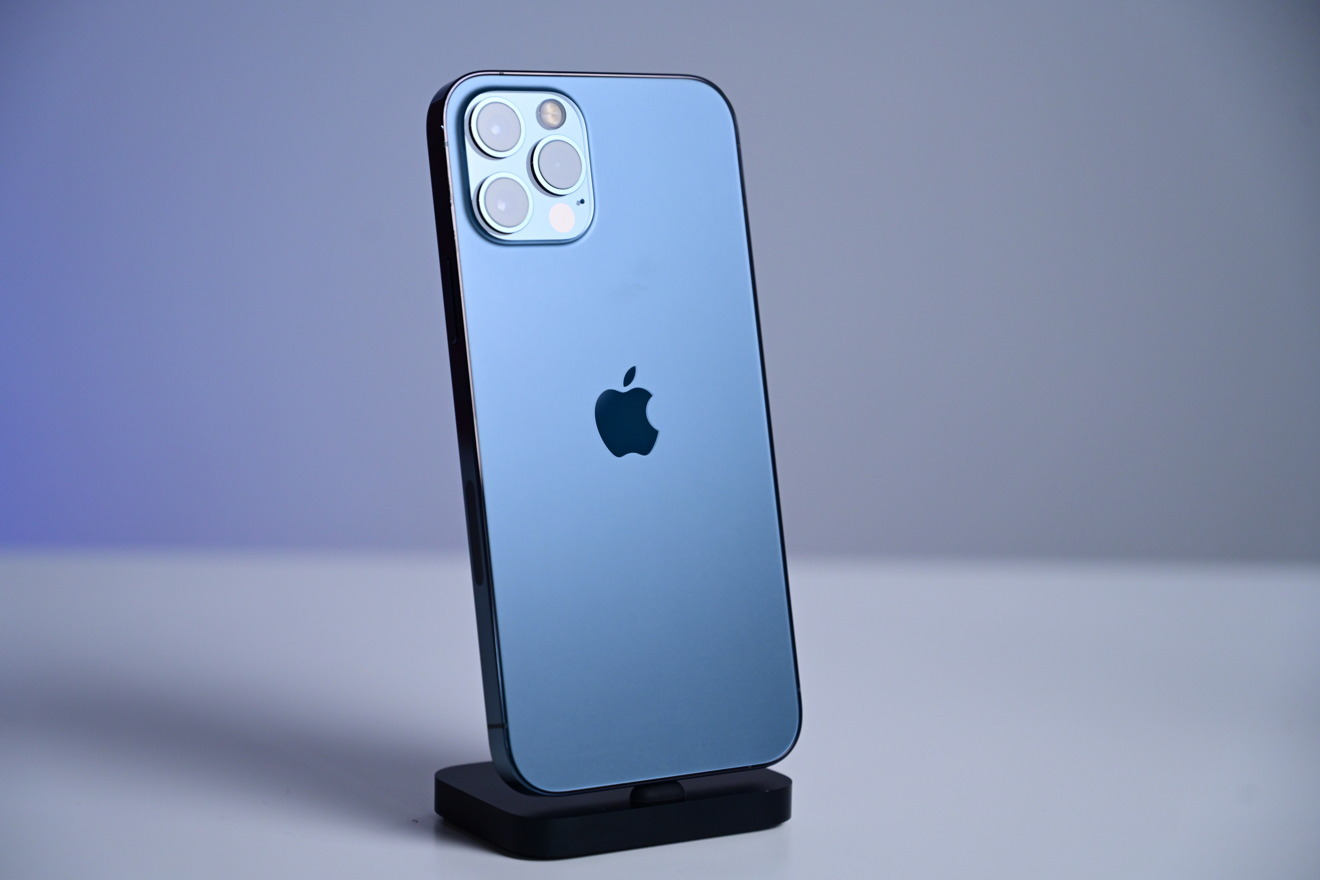 The new iPhone 12 Pro is much like the iPhone 12, with identical screen sizes and dimensions. However, the iPhone 12 Pro is a bit heavier, and it has a stainless-steel frame and a third camera lens.
Like the iPhone 12, the iPhone 12 Pro has a 6.1-inch OLED screen with a 2532 x 1170 resolution at 460 PPI. It gets brighter than the standard models, with 800 nits max brightness compared to 625 nits in the iPhone 12 and iPhone 12 mini.
The iPhone 12 Pro series has a third camera that the standard models lack: a ƒ/2.0 telephoto lens. It also has a LiDAR Scanner that allows for Night Mode Portraits, faster autofocus in low light, and more advanced augmented reality (AR) experiences.
Apple ships the iPhone 12 Pro in Pacific Blue, gold, graphite, and silver. You can buy it in 128GB, 256GB, and 512GB storage tiers. It starts at $999.
iPhone 12 Pro Max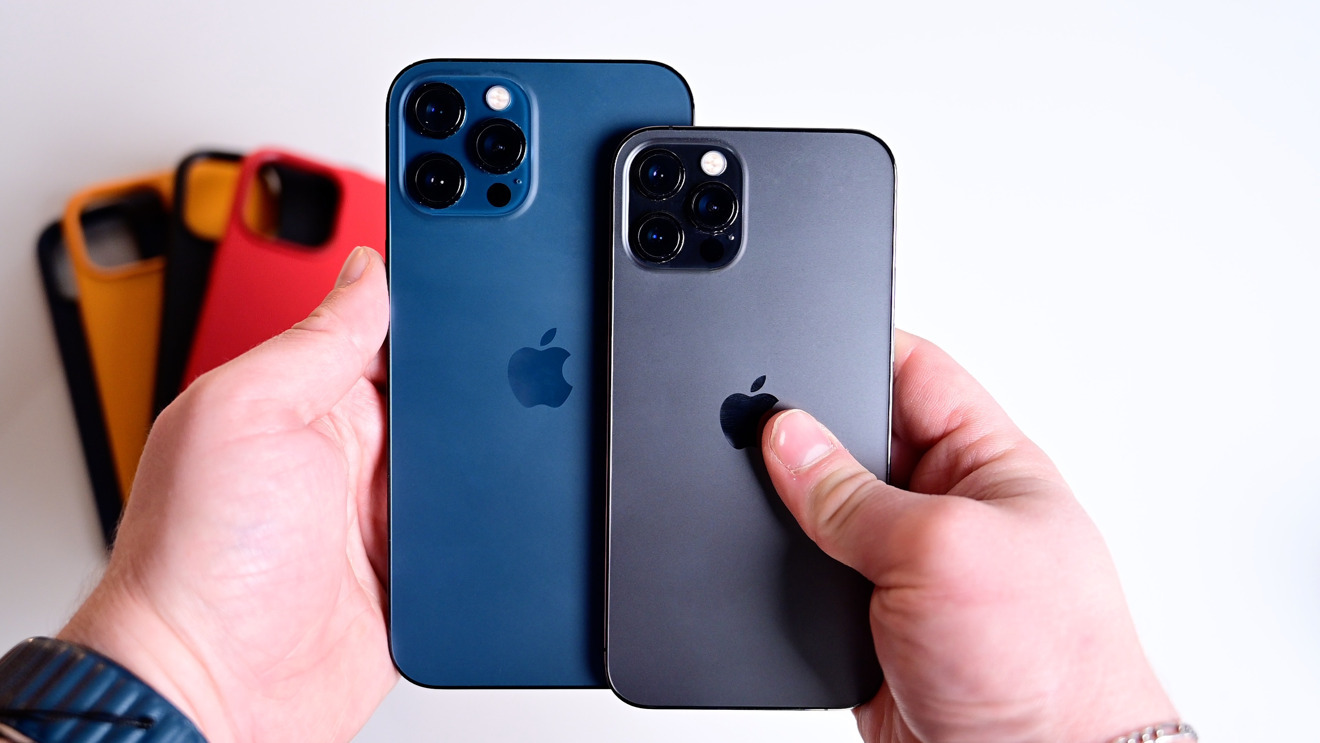 The iPhone 12 series is the first generation where Apple's "Max" iPhone has exclusive features that the standard "Pro" iPhone lacks.
Apple positioned the new iPhone 12 Pro Max as the best choice for photographers. It has an exclusive 12-megapixel primary camera that's a larger sensor with bigger (1.7-micron) pixels. That combination makes it a better choice for low-lit photography.
It also has exclusive sensor-shift tech that serves as an alternate form of Optical Image Stabilization. Sensor shift moves the camera sensor based on external motion, opening the door to longer shutter speeds and better low-lit photography when the phone isn't entirely stable. Like the smaller pro-series phone, the iPhone 12 Pro Max has a LiDAR Scanner and support for Night Mode Portraits.
The phone has an enormous 6.7-inch Super Retina XDR OLED display. It has 2778 x 1284 resolution at 458 PPI. Like the iPhone 12 Pro, this larger model has a higher maximum brightness than the standard models, at 800 nits.
The iPhone 12 Pro Max measures 6.33 x 3.07 x 0.29 inches and weighs 8.03 ounces.
Apple sells the new iPhone 12 Pro Max in the same color variants as the iPhone 12 Pro: Pacific Blue, silver, graphite, and gold. It comes in 128GB, 256GB, and 512GB storage tiers, and it starts at $1,099.
2021 iPhone
Apple will release a new iPhone lineup in 2021 as it does every year. It could be called the "iPhone 13" with nearly identical designs and upgraded internals.
The previous section on the 2020 iPhone contains much of what you need to know about the 2021 iPhone. Apple tends to release new iPhone features in a tick-tick-tock fashion, meaning significant changes come every two years. That means the "iPhone 13" may have relatively few changes overall.
What is listed below are potential changes to each product in the line.
"iPhone 13 mini"
The smallest iPhone will likely change the least. With its 5.4-inch OLED display and dual cameras, there isn't much Apple will change externally.
Some technologies could make their way down from the iPhone 12 Pro devices. LiDAR would be the most obvious choice, as Apple sees AR as the future. Improved AR experiences on every iPhone would push that narrative.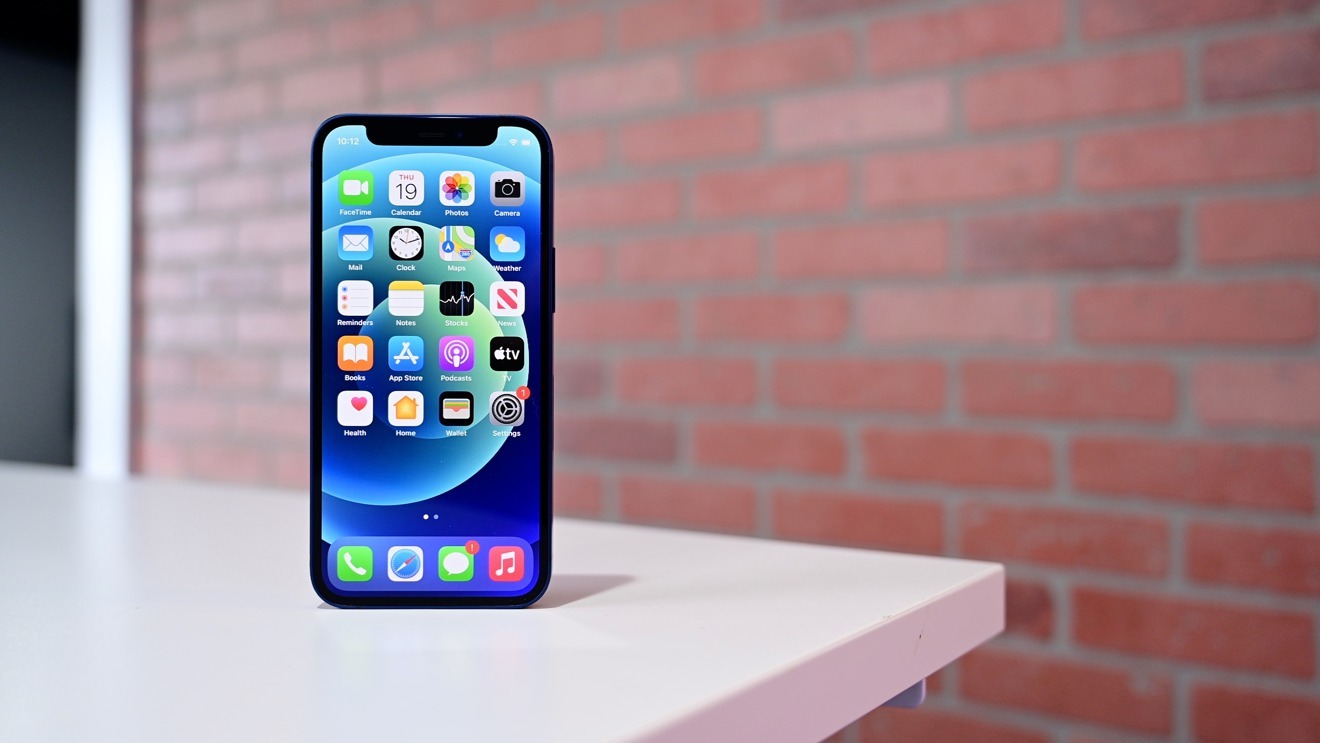 It will use the "A15" processor, which will further improve computational skills across the device, including photography. Apple could introduce its own custom modem, removing its reliance on Qualcomm and likely improving 5G reception.
Apple could aim to lower the iPhone mini price point by keeping upgrades to a minimum. Users looking for the smallest iPhone won't always be looking for the best tech specs.
Apple first introduced the iPhone mini in its 2020 lineup with identical features to the larger model. The company may upgrade the "iPhone 13" with better specs and features than the "iPhone 13 mini" to make buying decisions easier. However, Apple could also stick with the same formula it started in 2020, differentiating the two handsets by size alone.
Potential features listed for the standard-sized "iPhone 13" may be included in the "iPhone 13 mini" as well.
"iPhone 13"
The standard-sized "iPhone 13" will likely remain much the same as the iPhone 12. Just like the iPhone mini, it could gain LiDAR and receive the "A15" processor.
The 6.1-inch iPhone with an OLED display could look identical to the iPhone 12. Some rumors say improved technology could reduce the size of the notch across the iPhone 13 lineup. While the Phone mini's advances could remain small for the sake of price, the 6.1-inch iPhone could see a few more changes to differentiate it in the line.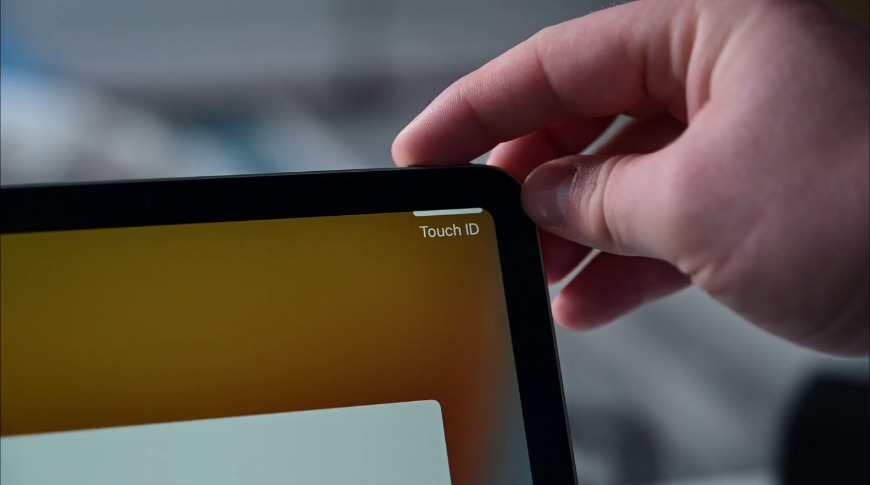 The iPad Air has Touch ID built into the top button. Apple could include Touch ID in the side button on all new iPhone models to give users more biometric options. This would aid users who wear masks or face coverings, especially during the ongoing pandemic. In-screen Touch ID is another possibility to which multiple rumors and patents have pointed.
Apple supply chain analyst Ming-Chi Kuo released a report in March 2021 that says Apple will implement Touch ID into the iPhone power button, but there is no visible timeframe for the feature. This means it could come to a 2021 model, but likely won't be ready until 2022 or later.
There have been generations of iPhones where several smaller changes plus a chipset improvement were all that headlined an iPhone event. For example, the iPhone 4s, iPhone 6s, and iPhone 7 all fit that bill. The new iPhone changes we've covered so far could be enough to satisfy customers who don't upgrade every year or two. It is the iPhone Pro models that could contain more important and paradigm-shifting changes to their hardware.
Apple tends to differentiate the standard iPhone from the pro iPhone with different camera systems and display changes. Some features listed below could come to the standard iPhones, but the rumors indicate they are reserved for pro models.
"iPhone 13 Pro"
Apple used to differentiate standard and pro iPhones by size, screen technology, and cameras. The new iPhone 12 lineup shrunk the gap between them by making all the displays OLED and the sizing more uniform.
The "iPhone 13 Pro" could bring back some of the distinction by having Pro Motion and LTPO display technology. This would allow variable refresh rates from 120Hz down to just 1Hz. It was previously rumored that Apple wanted the display technology in its iPhone 12 but abandoned it at the last minute due to battery life concerns.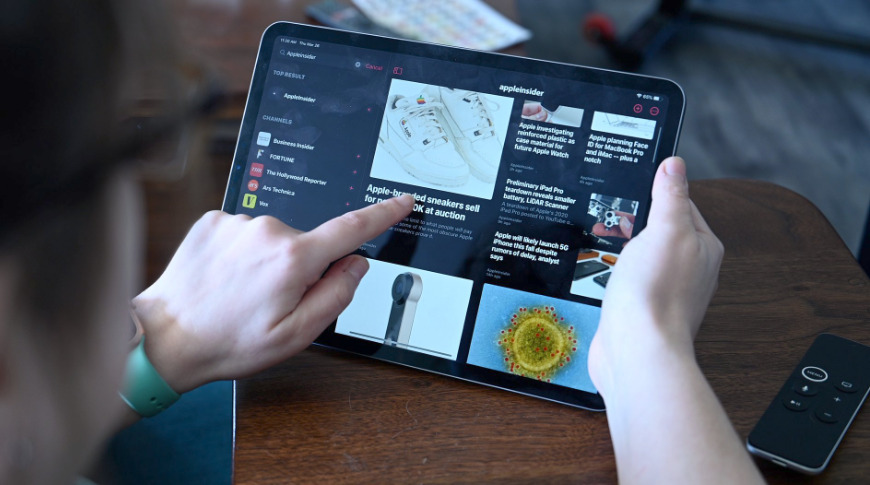 Apple has already used low-temperature polycrystalline oxide backplanes (LTPO) to give the Apple Watch a variable refresh rate. It can slow its display refresh to as low as 1Hz to minimize battery use when displaying static content. The iPhone could benefit from this technology, allowing it to ramp up to 120Hz only when the content calls for it, like for video games or scrolling.
Apple could also change how the new iPhone charges and receives data. Rumors indicate Apple is moving to a "portless" future on iPhone by removing the Lightning port altogether.
The company could do this by improving the MagSafe system. If Apple can evolve MagSafe to carry data and power to the iPhone, users won't lose out on functionality during the transition to no ports.
Ming-Chi Kuo reports that MagSafe is not ready to replace the Lightning port. He says that Apple will definitely skip the USB-C port due to its lesser water-resistance rating and losses to MFi income, but MagSafe must mature further before the transition to port-less can happen.
These upgrades would come alongside the other upgrades mentioned for standard iPhones, like a new "A15" processor and Touch ID in the side button. The new iPhone's final set of expected upgrades could come to the "iPhone 13 Pro" or the rest of the lineup, but significant changes to the camera system will likely be reserved for Apple's biggest iPhone.
"iPhone 13 Pro Max"
Apple differentiates the iPhone 12 Pro and iPhone 12 Pro Max by their different camera systems. They may both have a three-lens system with LiDAR, but the larger model has different optics and stabilization. This trend may continue for the new iPhone Pro Max.
All other upgrades mentioned before would come to the "iPhone 13 Pro Max" plus one more rumored set of features – camera upgrades. Apple could introduce a fourth camera to the new iPhone alongside significant upgrades to image sensors for the remaining cameras.
If early leaks are accurate, Apple could upgrade the wide lens from 12 MP to 64 MP, the telephoto lens from 12 MP to 40 MP, and the ultra-wide lens from 12MP to 40MP. The fourth lens would be a 40 MP anamorphic lens with a 2.1:1 ratio.
Apple doesn't often change its megapixel count in the iPhone cameras. The last megapixel change was from the iPhone 6 to iPhone 6S in 2015, which upgraded the rear camera from 8 MP to 12 MP. That means Apple has stuck with 12MP cameras for more than five years.
Apple could shift to the larger 40 MP sensor format, but it would need a good reason. The company has been improving aperture and stabilization with each iPhone update, thus improving low-light performance. One big flaw with larger-count megapixel sensors is reduced low-light performance. If Apple is satisfied with the performance of new sensors and better optics, it may be time to upgrade to larger image sizes.
"iPhone 13 Pricing"
Despite the upgrades, Apple will likely keep the same price for each new iPhone. The company usually moves older devices to lower price points or retires them entirely in favor of the new ones.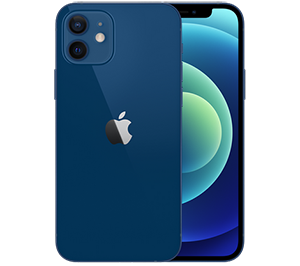 iPhone 12
---
Configurations
Discount
Apple MagSafe Charger

$39.00

$34.00

n/a

n/a

$39.00

$39.00

$39.00
$5.00
Apple MagSafe Battery Pack for iPhone 12

$99.00

$99.00

n/a

n/a

$99.00

$99.00

$89.00

Coupon

Price with $10 coupon code APINSIDER. As always, if you have any issues, you can reach out to us at [email protected] and we'll try and help.

$10.00
64GB, Purple

$829.00

$829.00

$799.99

$33.33/mo

n/a

n/a

n/a
$29.01
64GB, Black

$829.00

$829.00

$26.67/mo

$33.33/mo

$799.99

n/a

n/a
$29.01
64GB, Blue

$829.00

$829.00

$26.67/mo

$33.33/mo

$799.99

n/a

n/a
$29.01
64GB, Green

$829.00

$829.00

$26.67/mo

$33.33/mo

$799.99

$724.00

n/a
$105.00
64GB, Red

$829.00

$829.00

$26.67/mo

$33.33/mo

$799.99

n/a

n/a
$29.01
64GB, White

$829.00

$829.00

$26.67/mo

$33.33/mo

From $26.67/mo

n/a

n/a
$29.01
128GB, Purple

$879.00

$879.00

$849.99

$35.41/mo

n/a

n/a

n/a
$50.00
128GB, Black

$879.00

$829.00

$28.34/mo

$35.41/mo

$849.99

n/a

n/a
$50.00
128GB, Blue

$879.00

$879.00

$28.34/mo

$35.41/mo

$849.99

$775.00

n/a
$104.00
128GB, Green

$879.00

$879.00

$28.34/mo

$35.41/mo

$849.99

$775.00

n/a
$104.00
128GB, Red

$879.00

$879.00

$28.34/mo

$35.41/mo

$849.99

n/a

n/a
$29.01
128GB, White

$879.00

$879.00

$28.34/mo

$849.99

$849.99

$775.00

n/a
$104.00
256GB, Black

$979.00

$979.00

$949.99

$39.58/mo

$949.99

$874.00

n/a
$105.00
256GB, Blue

$979.00

$979.00

$31.67/mo

$39.58/mo

$949.99

n/a

n/a
$29.01
256GB, Green

$979.00

$979.00

$949.99

$39.58/mo

$949.99

n/a

n/a
$29.01
256GB, Red

$979.00

$979.00

$31.67/mo

$949.99

$949.99

n/a

n/a
$29.01
256GB, White

$979.00

$979.00

$31.67/mo

$39.58/mo

$949.99

n/a

n/a
$29.01
256GB, Purple

$979.00

$979.00

$949.99

$39.58/mo

n/a

n/a

n/a
$150.00