iPhone Fold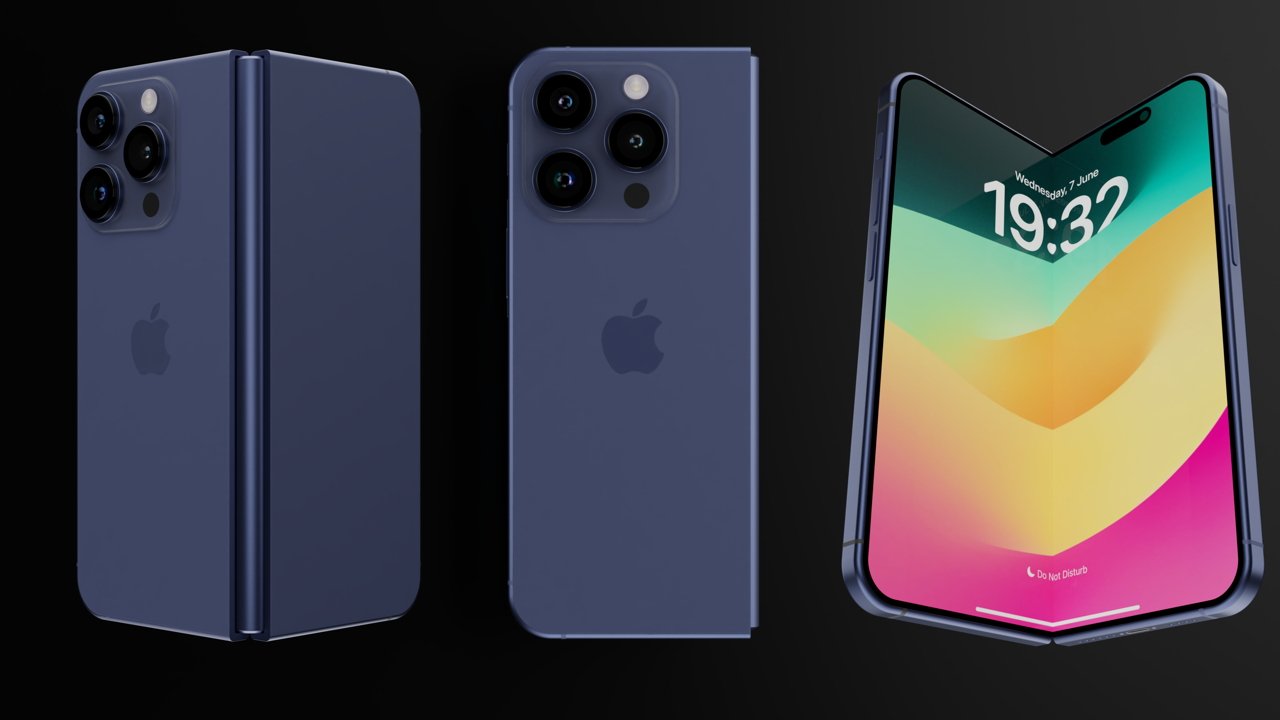 There is a lot of evidence suggesting the "iPhone Fold" exists, though Apple may never release it. This concept device would use hinges and a foldable OLED display to give users a pocketable-clamshell smartphone.
● Apple is testing multiple foldable devices
● Unique hinge design and different folding configurations are possible
● 8-inch display
● Expected 2023
● Could exceed $1500 based on market
---
The "iPhone Fold" exists only in patents and internal testing, but Apple could push for a consumer product release soon. Rumors have been scarce so far, so information about the product comes primarily from patents.
Evidence shows Apple is considering folding technology. While Apple is rarely the first to new technology, the company is known to investigate it via testing and patents.
Apple could be developing a tablet that folds into a phone or a clamshell that opens up into a full-screen phone. The difference is minimal but notable. Samsung sells two "foldable" devices — the clamshell Galaxy Z Flip and the tablet Galaxy Z Fold.
Going forward, we will consider the product an iPhone that is capable of folding one way or another and refer to it as the "iPhone Fold." Leaks and speculation suggest the "iPhone Flip" is also a possibility, but Apple could avoid these terms entirely and may not even refer to the device as an iPhone.
"iPhone Fold" Features
The folding iPhone will still first and foremost be an iPhone running iOS. Expect feature parity with the other flagship phones of the time, be it the iPhone 12 or the future "iPhone 13." It is likely that if Apple releases the "iPhone Fold," not much else will differentiate the product besides the folding gimmick.
Design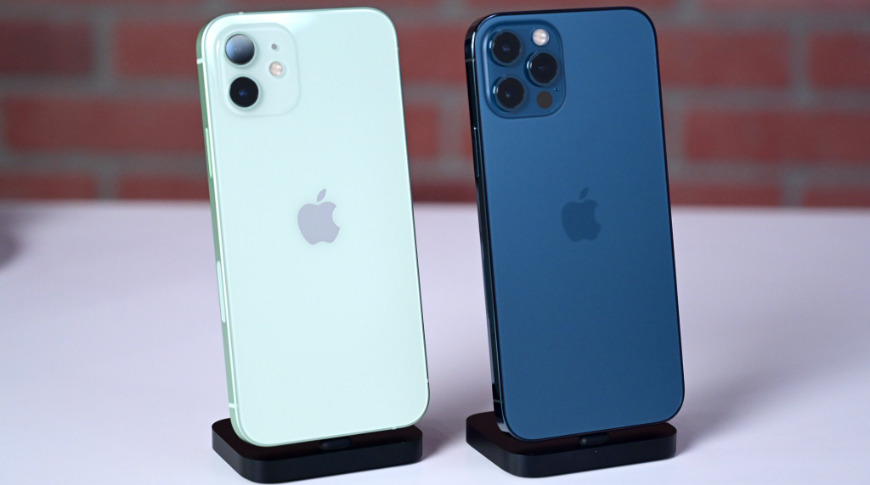 Apple continues to push for ever-thinner devices whenever possible. All models in the iPhone 12 lineup are all the same thinness despite having different screen sizes, and the next iPhone will likely continue this trend. By the time an "iPhone Fold" is ready, it may be even thinner by comparison.
One disadvantage of a folding device is its thickness when closed. No matter how thin the device is when open, it will double its thickness when closed. This could lead to issues when trying to fit it in your pocket or bag.
Folding devices also have moving parts like hinges. This will lead to wear and tear as the device is opened and closed over time. Apple has a long history of working on hinge technology, from MacBook lids that open with a single finger to the Magic Keyboard for iPad that holds the device aloft without fail. Whatever hinge system Apple devises for the "iPhone Fold," it will likely be an innovation for the market.
Earlier rumors indicated Apple developed a foldable similar to the Microsoft Surface Duo. Jon Prosser said the device resembled an iPhone 11 on a hinge with two separated displays. This rumor hasn't been repeated since it appeared in June 2020.
More recent rumors suggest Apple has decided upon the "flip" style device. It would feature a clamshell design akin to the Gameboy Advanced SP that opens into a phone and closes into a small square that can be pocketed.
Display
Future iPhones will likely see little change in display technology. The current generation of iPhone uses OLED displays, which already have flexible properties and could make their way into a foldable iPhone.
Large-display devices will shift to mini LED in 2021, but the iPhone will stick with OLED due to having more advantages on a smaller display. OLED will likely be used in a folding iPhone due to the flexibility of the display type. When OLED was first introduced to the mobile space, manufacturers showed off displays that could be folded or rolled up using the technology. This will be key for Apple's folding display, where mini LED might not allow such flexibility.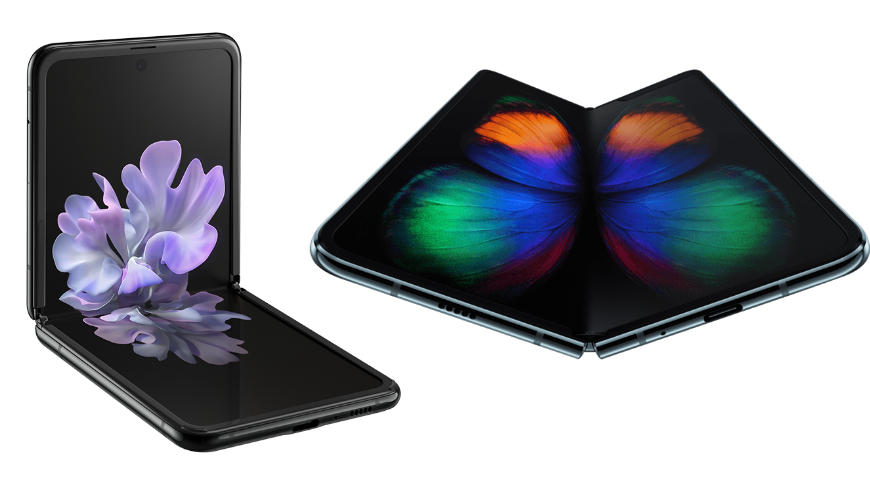 A folding device can be built in several form factors. It can be a clamshell device that flips open into a phone-like device, or it can be a phone-like device that opens into a tablet. Some manufacturers use multiple displays in a clamshell for their foldable. However, this is more of the halfway point to true foldables, which have folding displays.
Rumors indicate that Apple has already begun testing these two folding types, comparable to the Samsung Galaxy Fold (horizontal fold) and the Samsung Galaxy Flip (vertical fold). Both passed the initial tests, but rumors say Apple has decided to move forward with the "flip" style.
Tests are being conducted using OLED and micro-LED, though it is unknown which will fit Apple's final design and supply requirements.
Cameras and Biometrics
Apple tends to put multiple cameras in its most premium devices, and the trend will likely continue for the "iPhone Fold." A standard device has only a front and a back to house cameras, but a folding device has a front, back, outside, and inside to consider.
Cameras have become essential parts of the iPhone, so an ultra-premium folding iPhone will need best-in-class cameras. A foldable will have a camera on the "front," which acts as the rear camera when open. Apple will have an interesting decision to make when building the folding iPhone, like where to place Face ID.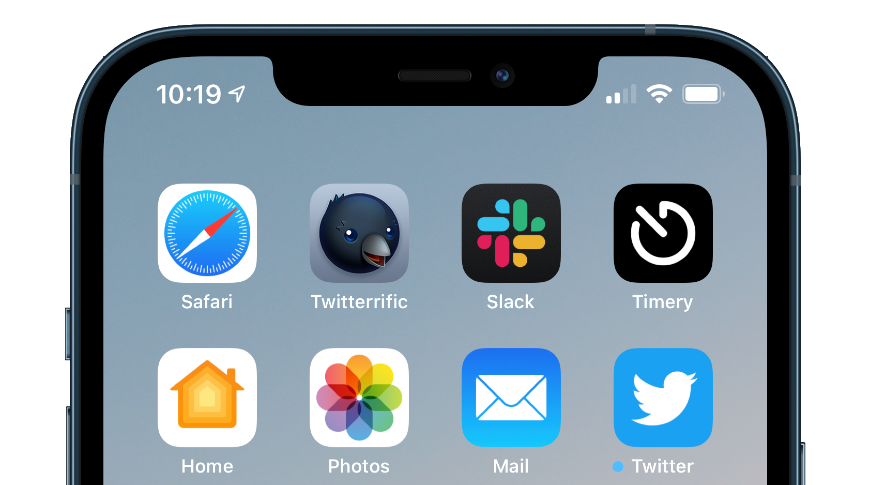 Apple will likely take the most straightforward approach. The selfie camera and Face ID will appear above the usable screen on the "inside." Whatever portion is considered the "outside" of the device when open will house the rear camera system with LiDAR. It is unlikely Apple will make the device more complex than that, especially for the first-generation release.
A folding device complicates how a user will interact with it regularly. Authentication should be able to occur regardless of how the device is currently positioned. The best way to solve this is a Touch ID sensor on the external casing like what is used on the iPad Air 4.
Apple could also implement Face ID, but if it is only available when the device is "open," it would limit authentication opportunities. A combination of both Face ID and Touch ID is expected for the "iPhone Fold."
Processor
Apple uses A-series processors for its iPhone line, so the most obvious choice for the "iPhone Fold" would be the A15 or A16, depending on when it releases. Apple Silicon used in mobile devices rival many of Intel's premium processors and are only properly beaten by Apple's own desktop-class M-series chips.
Apple also has a more powerful variant of its A-series processors used for iPad Pro that could be considered. The A12Z Bionic is the most recent iPad-specific processor, though Apple is expected to release an A14X sometime in 2021. These processors have more graphical processing capabilities and better multi-core performance than the baseline A-series chips. A folding device could be a phone that opens into a tablet so that a tablet-class chip would make sense for such a product.
MagSafe
Apple introduced the MagSafe accessory and charging system with the iPhone 12 lineup. It is currently used to magnetically attach wireless chargers or accessories such as cases but could be altered to transfer data in the future.
Apple may remove the Lightning port entirely from the "iPhone 13" or the 2022 iPhone, so the "iPhone Fold" is a perfect candidate for the same treatment. Using MagSafe for charging and accessories could give the folding iPhone a unique edge over competitors who must surface accessories for a unique form factor bought by few customers.
"iPhone Fold" Patents
Apple files patents for anything and everything it experiments with internally. These patents range from general concepts of a device to specific illustrations and use cases. The earliest patents for a folding iPhone date back to 2016 shows Apple has been long-interested in the technology.
Flexible display patents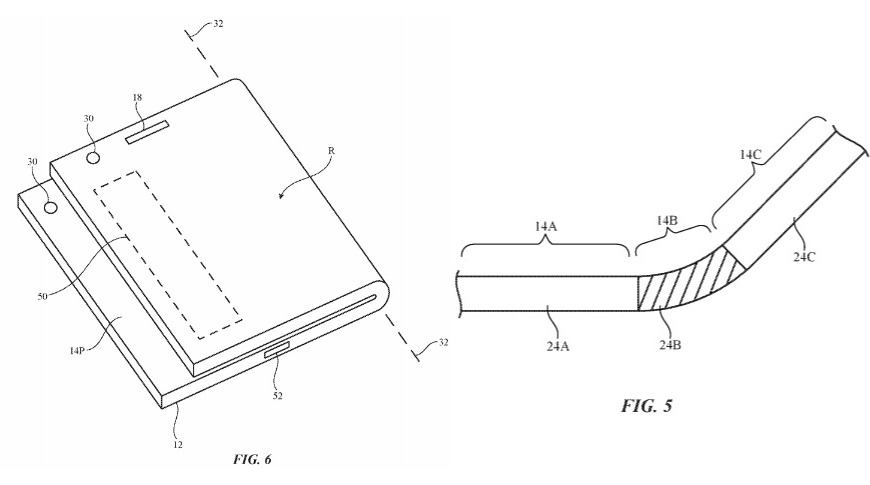 A patent describes a rolling mechanism that could expose a display by sliding. This could be done with a scroll-like function or a more rigid display with two halves of a device overlap and slides open to show more display underneath.
Other patents describe using scroll-like functions to store and reveal the display by pulling it free from a cylinder. Apple even described the screen as usable when rolled up, which could be useful for notifications and other information.
Hinge patents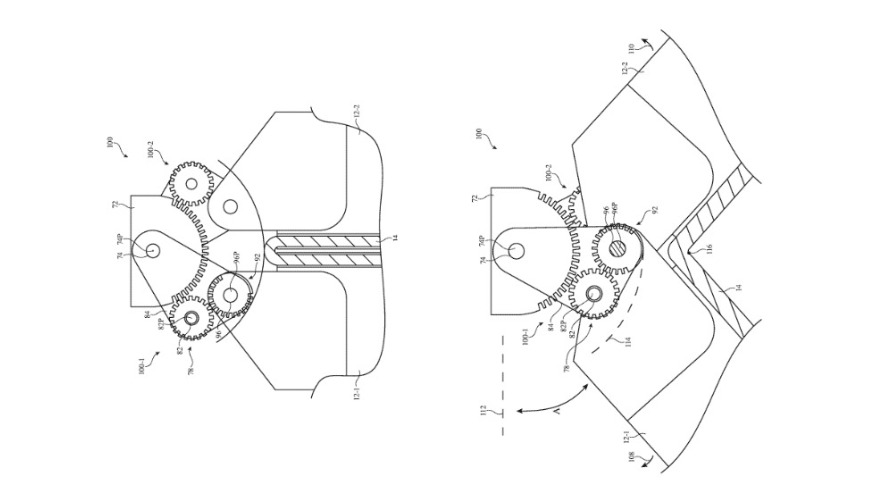 One patent shows a complex hinge using gears that may allow a display to open inwardly or outwardly on the same device. This means a device may start closed in a clamshell, open into a tablet, then continue bending outward until the screen folds back on itself into a phone-like screen.
A different patent describes articulating hinges rather than gears that open to a 90-degree angle. This patent calls out scroll-like displays being used with this hinge structure as well.
Other patents
A foldable device doesn't have to be a single device. A patent says that users may be able to bring devices close together to share screens. This means a custom case could combine two iPhones into a "foldable" similar to the Surface Duo.
Using device sensors to determine proximity and positioning, multiple devices could create a multi-screen operating environment that shows the same data.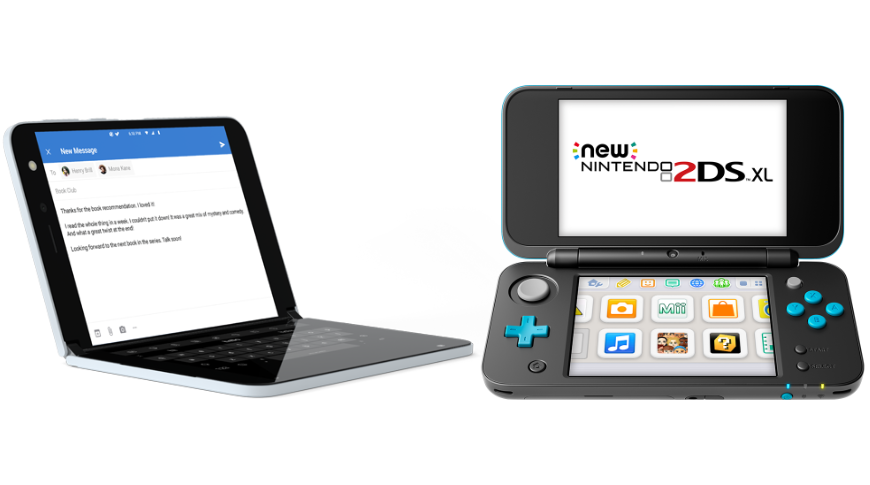 While not the same as a foldable, this could indicate future functionality of the "iPhone Fold." For example, the foldable would function like a Surface Duo, then the user could separate the device into distinct pieces for singular use or gaming functionality, like a Nintendo Joycon.
Apple has also patented a flexible case that remains rigid in some portions and bends in others using layers. The case will be necessary to protect a device that is constantly changing shape and may be easier to drop due to constant handling.
Industry problems and lessons learned
As with most new tech, Apple isn't anywhere near the first to attempt foldable devices. Samsung has spent a few years working through the initial problems associated with such products in the public eye.
The first Samsung Galaxy Fold launched in April 2019 with a horizontal-fold that opens into a tablet. This form factor was much-desired by the tech community and was heralded as a sign of the future of technology.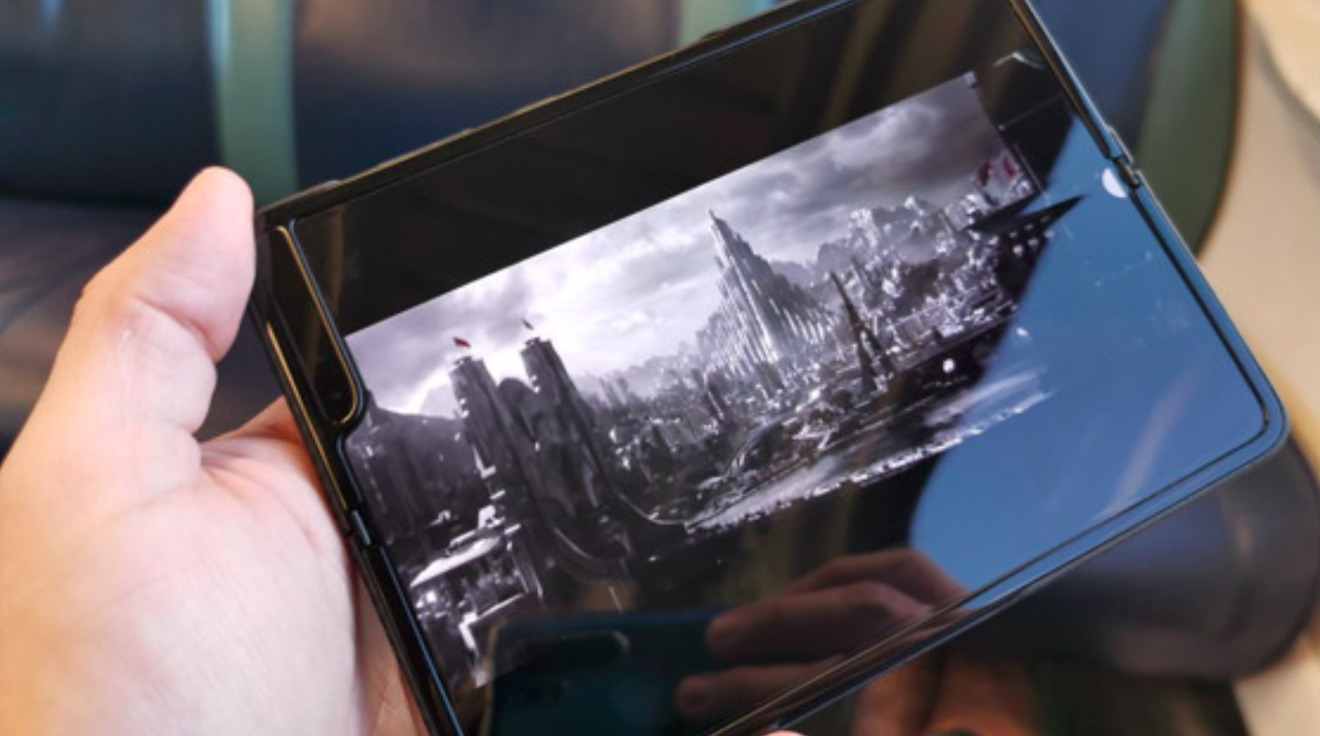 The Galaxy Fold, however, proved to be a "beta" product release with untested technology that left the customers disappointed. The device was easily broken, the screen had a crease down the center when unfolded, and a protective film was easily removed which ruined the screen.
Its design was very much a Galaxy phone that could fold with no other considerations made for the technology. It folded into a double-thick device with a tiny external display and opened into a creased screen with a giant notch out of one side.
Folding technology was not ready for primetime, and Samsung likely knew that given the price point of over $2,000. The Galaxy Z Flip that followed took a lot of the lessons learned from the Galaxy Fold and it made for a much better experience overall. By the release of the Galaxy Z Fold 2 in late 2020, Samsung appeared to have solved many of the problems of its "beta-generation" device.
The Galaxy Z Fold 2 was much thinner, no longer had a creasing problem, eliminated the notch, and made the overall experience feel more polished. The accompanying software was also much more complete than in previous iterations.
If Apple does launch an "iPhone Fold" the company will have had plenty of time to learn what not to do based on the rest of the industry. Samsung will have also had the time to perfect its folding display technology in time for Apple's first device.
"iPhone Fold" Release Speculation
The usual leakers responsible for sharing release windows have been quiet about the "iPhone Fold" so far. Apple is currently prototyping different device form factors and display types via its manufacturing partner Foxconn. This means it could be many months, if not years before a final design is chosen and manufacturing begins.
Apple will also need to develop software specific to its folding device, but that shouldn't prove overly challenging for the company. Apple already ships iOS for the iPhone and iPadOS for the iPad, and both of these are optimized for their respective devices and touch. Depending on the form factor, Apple's foldable could use either or both operating systems.
Developers are already encouraged to format their apps for various screen sizes, and M1-based Macs have pushed that further by bringing adjustable windows to iPad apps. This means all the information for display changes should be baked into any apps when the "iPhone Fold" launches and any additional adaptation shouldn't be complicated.
Apple analyst Ming-Chi Kuo says that if Apple can overcome all of the issues related to foldable phone technology, then the "iPhone Fold" could release by 2023 at the earliest. If the product ever releases, expect it at a significant price point of $1500 or more.