AirPlay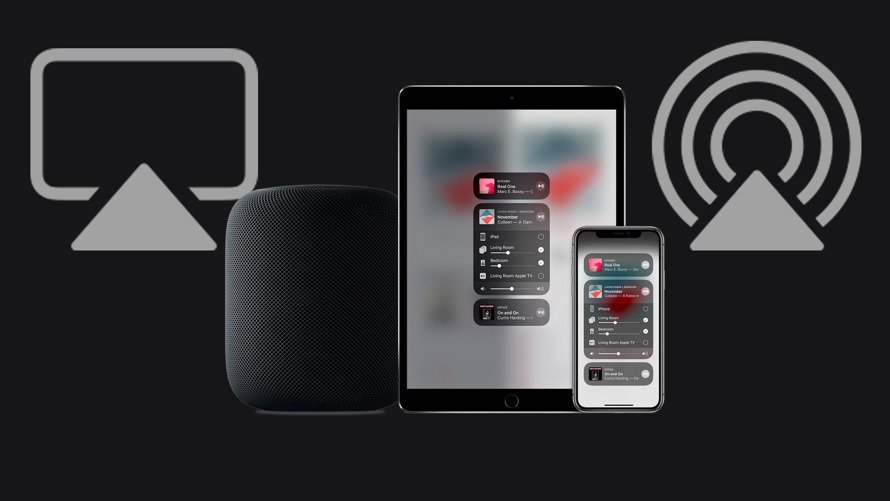 AirPlay is a technology that relies on WiFi to stream content between multiple devices. Users have a multitude of options available from Apple products to third-party devices like speakers. Connect multiple HomePods or other speakers together and play music from the source device throughout your home.
● Stream audio, video, and images to compatible devices
● Support from big-name companies like LG, Sony, Bose, and Sonos
● Screen mirroring to Apple TVs
● Share 4K video from the Photos app
● Siri support
● Collaborative playlist creation
● Mac as a target device in macOS Monterey
---
Get Apple News Directly in Your Inbox
---
AirPlay is an Apple service that allows users to share videos, photos, music, and other various forms of media across various platforms. Supported devices include Apple TV, HomePod and HomePod mini, third-party speakers, and many popular smart TV brands.
AirPlay Features
Apple designed AirPlay to require minimal user setup. Tapping the AirPlay icon, which is part of media-playback controls, on the source device pops up a menu that allows you to choose a nearby destination device. After tapping that, the video, audio, or images will begin to play within a few seconds on the playback device.
AirPlay 2
AirPlay 2, which Apple announced in 2017 and launched in 2018, added new features like HomePod stereo pairing, multi-room listening, support for Smart TVs, and improved buffer times.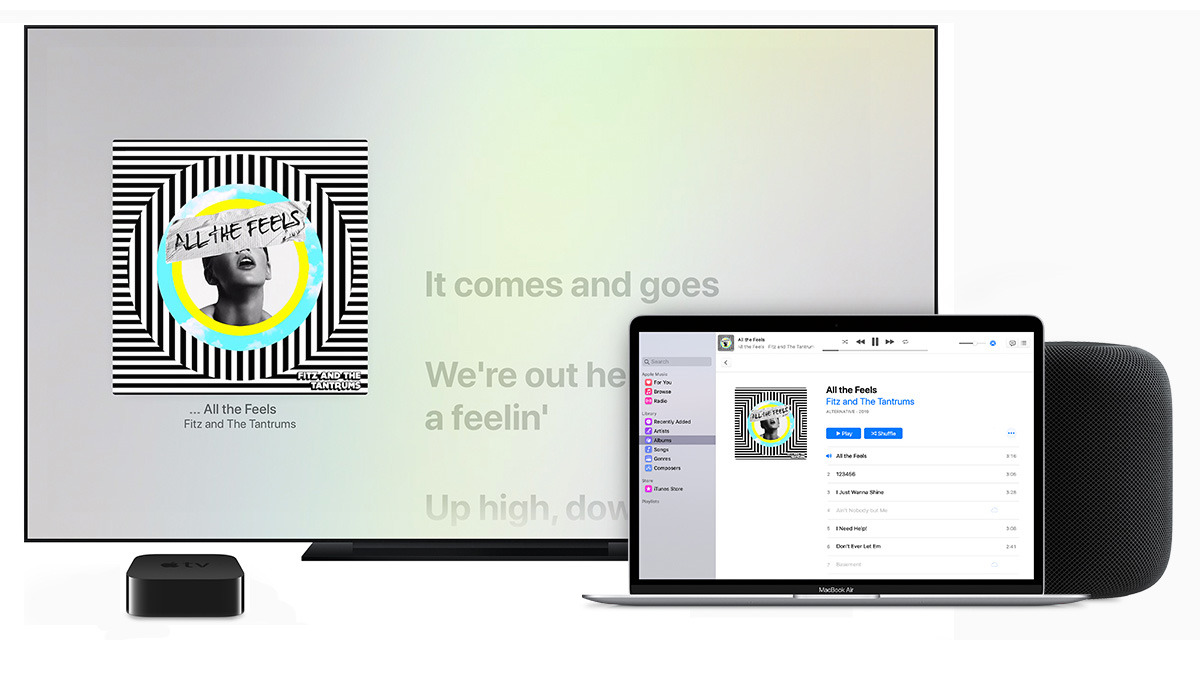 Compatible devices include any iPhone, iPod touch, or iPad capable of running iOS 11.4 or later. Destination devices include the Apple TV (fourth generation and later), HomePod, and any macOS computer running High Sierra or later.
Many Smart TV manufacturers support the feature as well, including Samsung, LG, Sony, and Vizio. Smart speaker manufacturers that support AirPlay 2 include brands such as Beats by Dre, Bose, Denon, Polk, and Sonos.
AirPlay can automatically play movies and shows in the places a user is most likely to watch them. Over time, the service learns where a user prefers to watch TV and can start playing on the TV in that room with one tap.
Compatible devices can receive AirPlay over Wi-Fi or ethernet. Because AirPlay is open-source, any computer can be turned into an AirPlay receiver. However, due to Apple's DRM encryption, some media is unable to be played on third-party, unsupported devices. This includes iTunes' rights-protected media, YouTube, and Netflix.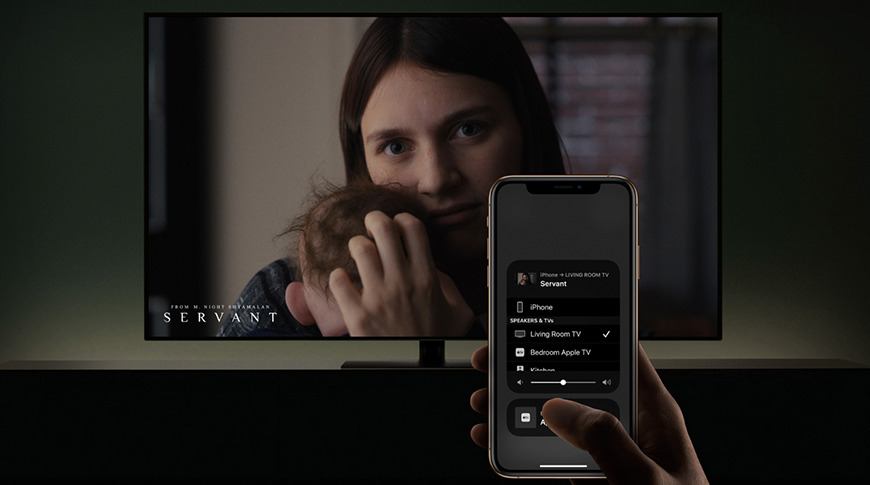 Buffering has been improved in later iterations of the service. AirPlay 2 features a relatively short buffering time – about two seconds – from starting a stream until it is played on a device that supports it.
Users who own more than one device that supports AirPlay 2 can play audio throughout their house in sync with each other. AirPlay improves syncing issues compared to Bluetooth, which has a longer buffering time and can be prone to de-syncing.
Apple Music boasts a feature that allows anyone to add songs to the Up Next, allowing families and friends in the same space to build collaborative playlists. Siri can also make AirPlay suggestions to users, showing up on the lock screen or in search. Siri suggestions for audio and video content can include the option to use AirPlay, allowing users to tap to begin watching a show on the users' preferred screen.
Mirroring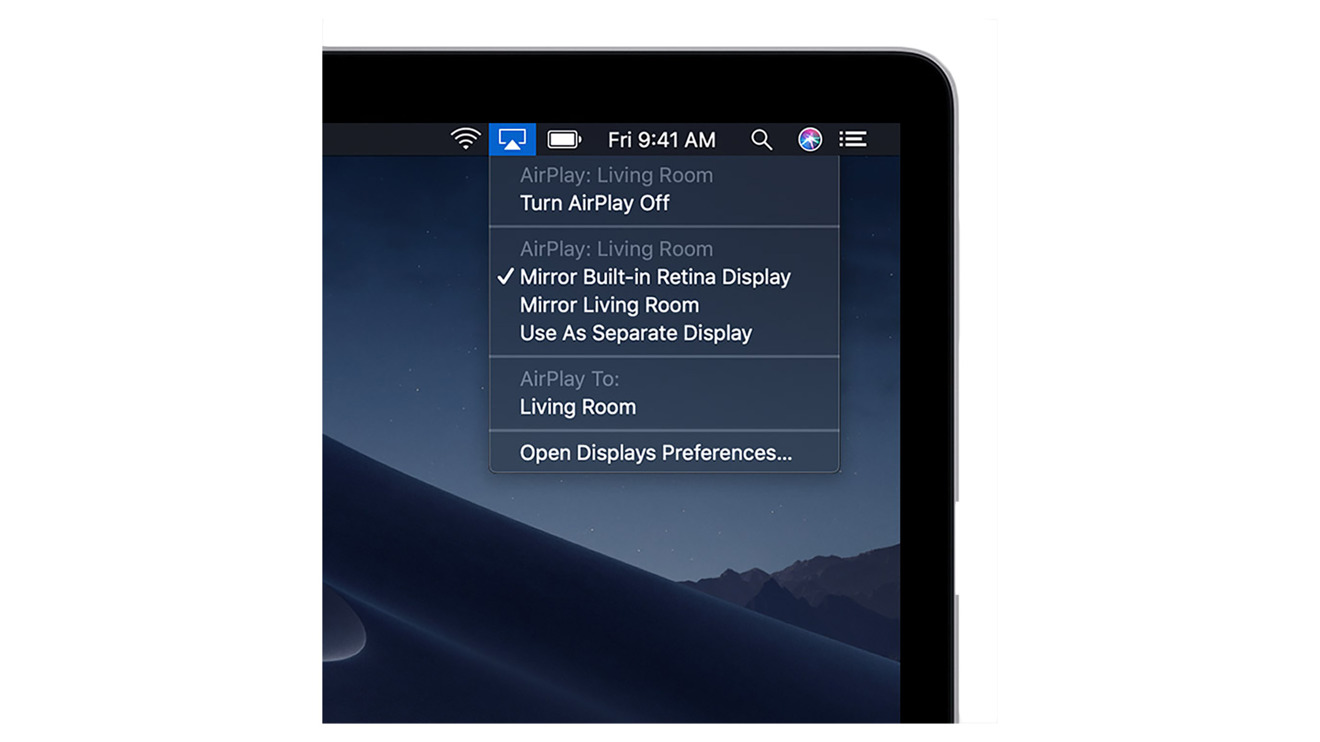 AirPlay Mirroring allows content to be broadcast from iOS devices to an Apple TV (second-generation or later.) This is especially useful for those who are looking for a convenient way to show off pictures or video without requiring a large number of people to crowd around an iPhone or iPad.
iOS 14 allows users to AirPlay 4K video from their iPhone to the Apple TV. Video that is shared via AirPlay can be placed in Picture-in-Picture mode on tvOS 14 as well.
AirPlay to Mac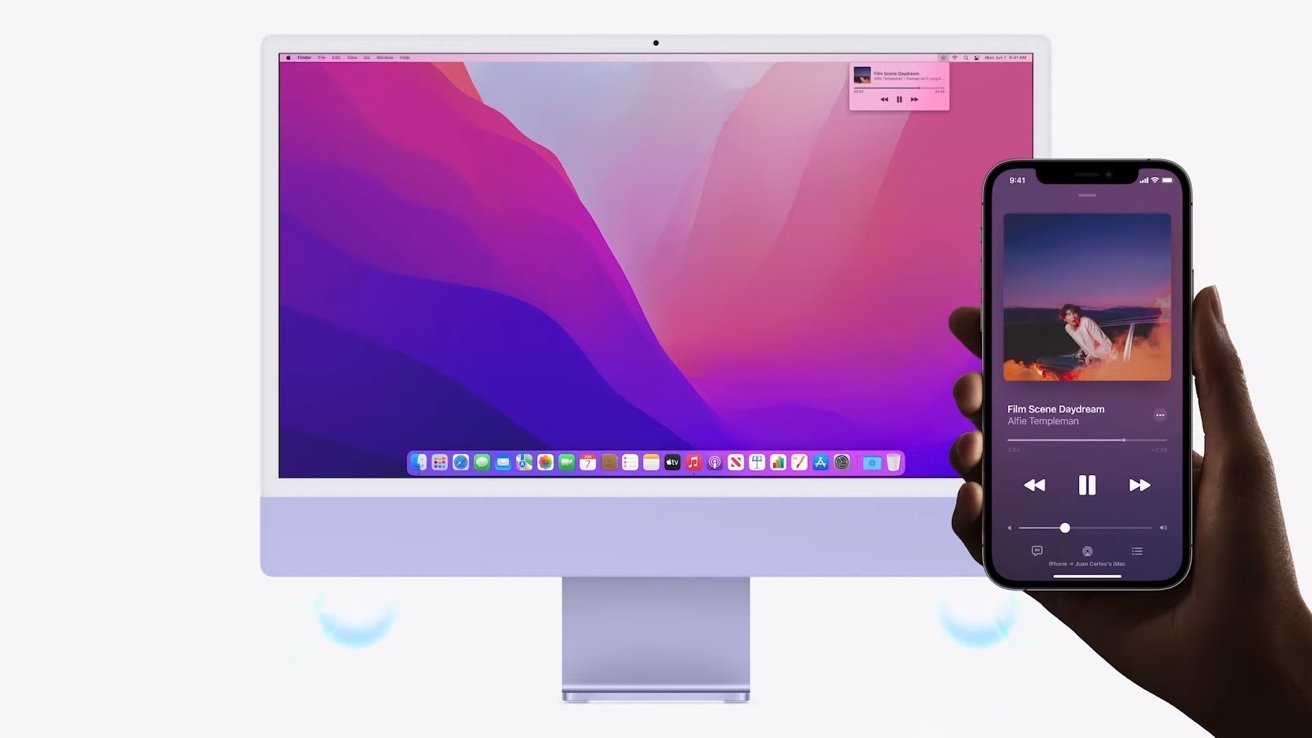 Users have always been able to send audio and video from the Mac to another device, but the reverse couldn't work. With macOS Monterey, the Mac can act as an AirPlay receiver.
Apple boasts superior displays and speakers in many of its Mac products, but they've never been able to take advantage of the media sharing technology. Sending media to a Mac works the same way as sending it to an Apple TV or other device, simply pick the Mac from the AirPlay menu.
SharePlay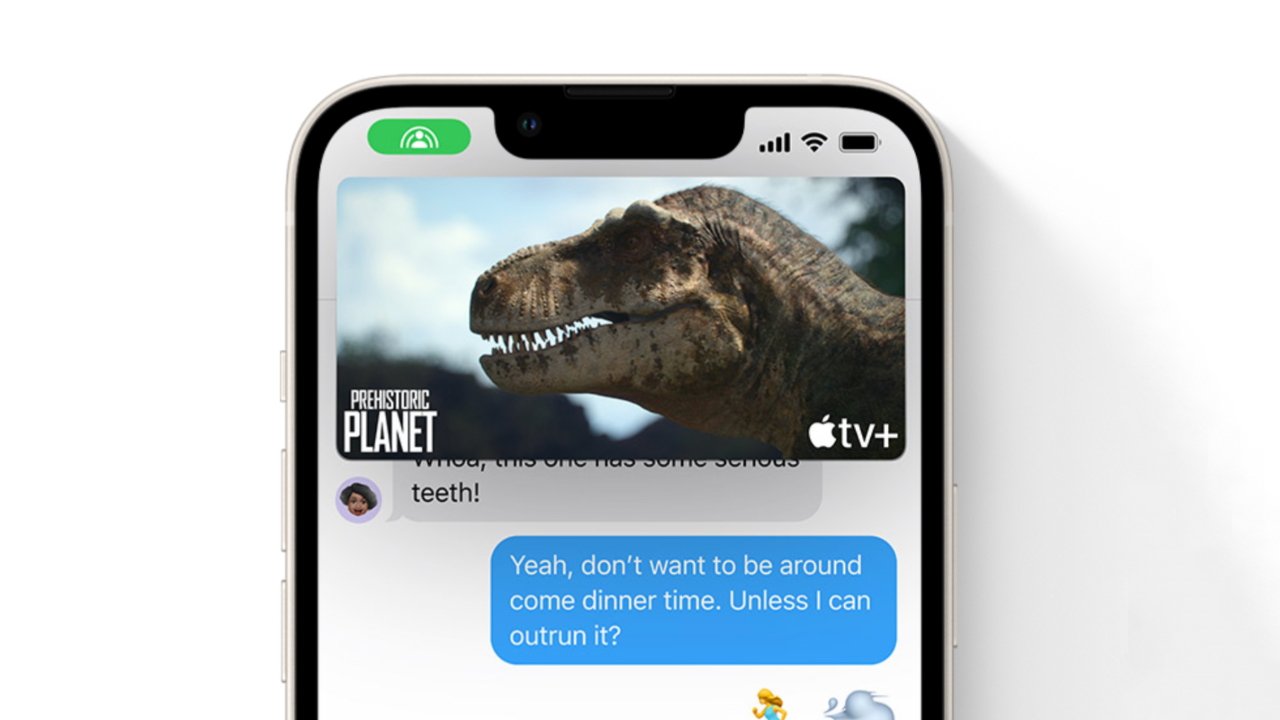 Apple introduced SharePlay in iOS 15 as a way to view media as a group with everything in sync over a FaceTime call. Individuals have control over playback, so anyone can pause the music or video, but language and subtitle choices remain independent.
The feature required a FaceTime call to remain active for every participant, which wasn't always ideal. So, in iOS 16 Apple added the feature to group iMessage chats, so a SharePlay session could be started and maintained without an active call.
Users can AirPlay content being shared to their Apple TV while keeping the FaceTime call or iMessage chat active on their iPhone.
The feature works with Apple apps like Music and Apple TV, but also works with supported third-party apps. Those apps include TikTok, Disney+, and many others.
AirPlay History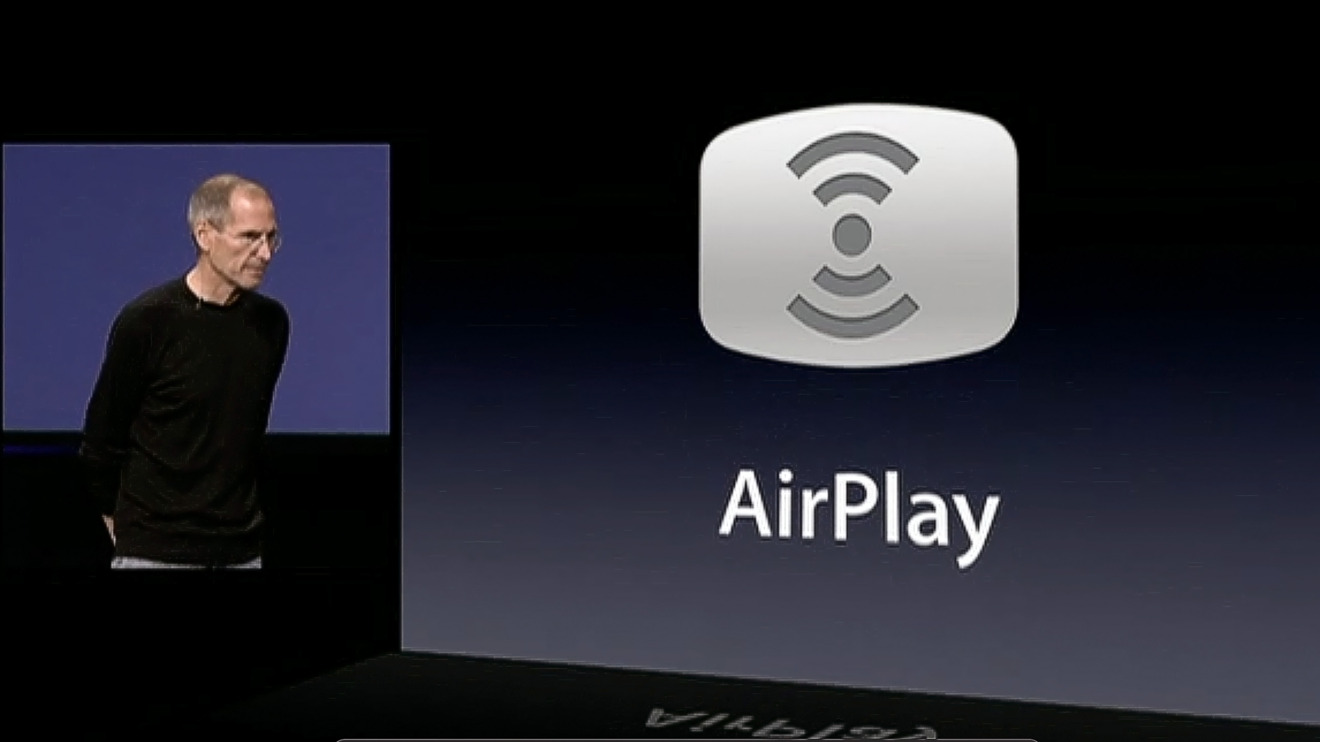 Apple released AirTunes in June of 2004 as the company's first foray into wireless streaming between devices. AirTunes gave users the ability to play audio wirelessly by utilizing the now-defunct AirPort router. In the latter half of 2010, AirTunes was rebranded as AirPlay. The update allowed users to stream audio, video, and images to other Apple devices. Apple added screen mirroring in 2011.
First announced in June of 2017, AirPlay 2 had been slated to release alongside part of the iOS 11 launch in September of 2017. However, due to setbacks during development, it would not be released until June of 2018. It included support for multi-room audio built into the operating system. Previously, iOS could only stream music to one speaker, while multi-speaker support was limited to macOS.
It also integrated with HomeKit for the first time, allowing Siri to be used to play music on a specific speaker.
The update also included a shared "Up Next" option for collaborative playlists while listening with friends. Third-party apps were also able to tap into multi-room audio with a new API.