Apple unveils redesigned iPod shuffle with speech technology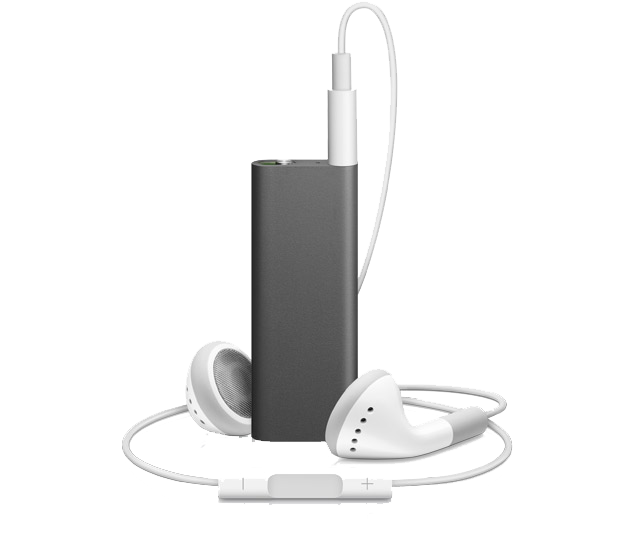 AppleInsider is supported by its audience and may earn commission as an Amazon Associate and affiliate partner on qualifying purchases. These affiliate partnerships do not influence our editorial content.
Apple on Wednesday introduced an all-new iPod shuffle that's nearly half the size of the previous model and includes speech technology, making it the first music player "that talks to you."
The third generation shuffle (guided tour) is significantly smaller than a AA battery, holds up to 1,000 songs with its 4GB of built-in storage, and is controlled exclusively through buttons located on the earphone cord that ships with the player. It features a new aluminum design with a built-in stainless steel clip that makes it wearable like the previous-generation model.
VoiceOver Speech Technology
A new VoiceOver feature (demo) also allows the player to speak your song titles, artists and playlist names. With the press of a button (demo), you can play, pause, adjust volume, switch playlists and hear the name of the song and artist.
"Imagine your music player talking to you, telling you your song titles, artists and playlist names," said Greg Joswiak, Apple's vice president of iPod and iPhone Product Marketing. "The amazingly small new iPod shuffle takes a revolutionary approach to how you listen to your music by talking to you, also making it the first iPod shuffle with playlists."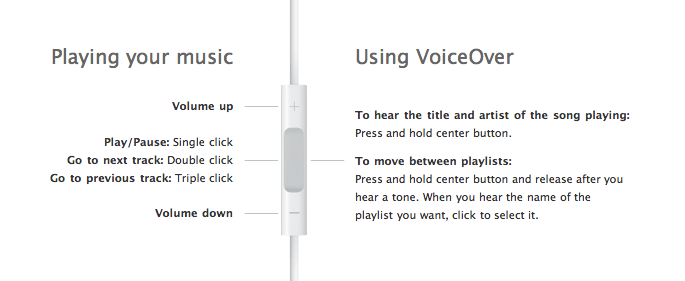 iPod shuffle is based on Apple's popular shuffle feature, which randomly selects songs from your music library. So when you can't remember the name of a song or an artist playing, with the press of a button iPod shuffle tells you the name of the song and artist.
The new iPod shuffle can also tell you status information, such as battery life. It speaks 14 languages including English, Czech, Dutch, French, German, Greek, Italian, Japanese, Mandarin Chinese, Polish, Portuguese, Spanish, Swedish and Turkish.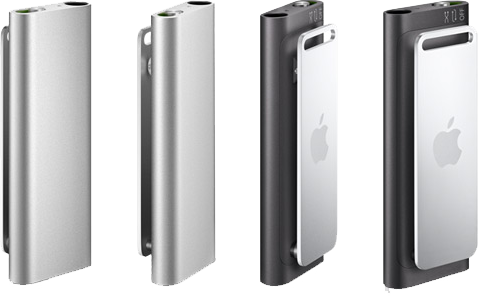 Dimensions and Battery Life
Available in silver or black, the new shuffles retain their crown as "the smallest music players" with a new 1.8-inch tall x 0.3-inch thin design the weighs just 0.38 ounces. Expected battery life from the built-in rechargeable lithium polymer battery is said to be "up to 10 hours" on a full charge. Depleted batteries will reportedly recharge to 80% of their capacity in 2 hours, or 100% in 3 hours.
Environment and box contents
In line with Apple's continuing environmental progress, the third-generation shuffle is made with a highly recyclable aluminum enclosure and is free of Brominated flame retardants and PVC.
Inside each iPod shuffle box, which is similar to the previous generation's plastic capsule, you'll find a pair of Apple Earphones with Remote, an iPod shuffle USB dock sync cable (1.8 in/45 mm), a quick start guide, and the player itself.
The third generation 4GB iPod shuffle is now shipping for $79 (US) through the Apple Store, Apple's retail stores and Apple Authorized Resellers. Each model comes with the Apple Earphones with Remote and the iPod shuffle USB cable.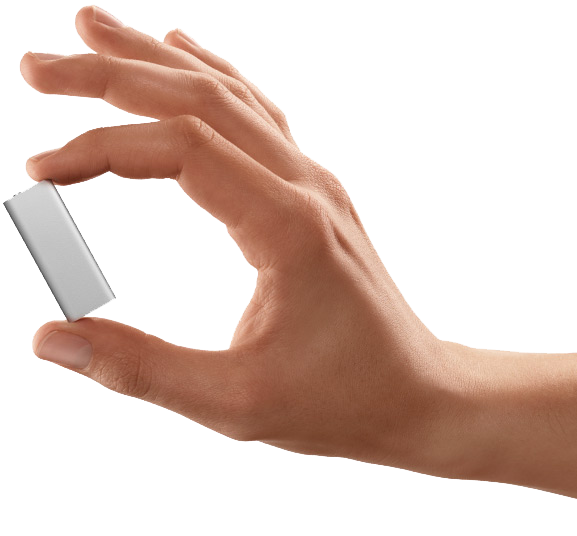 iPod shuffle requires a Mac with a USB 2.0 port, Mac OS X v10.4.11 or later and iTunes 8.1 or later; or a Windows PC with a USB 2.0 port and Windows Vista, Windows XP Home or Professional (Service Pack 3) or later and iTunes 8.1.
The most current version of iTunes is 8.0.2, suggesting iTunes 8.1 will arrive momentarily.