Apple issues OS X 10.9.3 Mavericks beta to developers with minor changes
By AppleInsider Staff
Tuesday, April 15, 2014, 04:32 pm PT (07:32 pm ET)
Apple on Tuesday pushed out the latest OS X Mavericks 10.9.3 beta seed to developers with no known issues.




The latest version of Apple's upcoming OS X maintenance update, dubbed build 13D43, comes six days after the previous seed was issued and once again asks developers to concentrate on the same focus areas as prior versions.

According to the accompanying seed notes, Apple is looking for feedback on Graphics Drivers, Audio, Mail, Safari and iTunes contacts and calendar synchronization.

Prior betas of the upcoming OS X 10.9.3 Mavericks brought support for pixel-doubling scaling, suggesting the update will introduce a so-called "Retina" output mode for late-2013 MacBook Pro with Retina display connecting to external 4K monitors

Developers can download the build 13D43 from Apple's Developer Portal or via Software Update.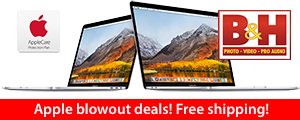 2018 13" Touch Bars
Price
Save
2.3GHz/8GB/256GB (Gray)
$1,699.00+
$100
2.3GHz/8GB/512GB (Silver)
$1,879.00+
$20
2.3GHz/16GB/512GB (Gray)
$2,099.00+
$100
2.7GHz/16GB/512GB
$2,449.00+
$50
2.7GHz/16GB/1TB
$2,849.00+
$50
2018 15" MacBook Pros
Price
Save
2.2GHz/16/256GB/555X
$2,215.00+
$185
2.2GHz/32/1TB/560X
$3,449.00+
$50
2.6GHz/16/512GB/560X
$2,575.00+
$224
2.6GHz/16/1TB/560X (Gray)
$2,999.00+
$200
2.6GHz/32/1TB/560X (Gray)
$3,399.00+
$200
2.6GHz/32/2TB/560X (Gray)
$3,999.00+
$400
Click here for dozens more configurations
+ Free shipping within the contiguous U.S.
Lowest Prices Anywhere!

13" MacBook Pros
Price
You Save
3.1GHz/8GB/256GB Gray
$1,679.00
$120.00
3.1GHz/8GB/256GB Silver
$1,704.00*
$95.00
3.1GHz/8GB/512GB Gray
$1,849.00*
$150.00
3.1GHz/16/512GB Gray
$2,099.00
$100.00
15" MacBook Pro
Price
You Save
2.8GHz/16/256/555 Silver
$2,199.00*
$200.00
2.8GHz/16/256/560 Gray
$2,299.00
$200.00
2.9GHz/16/512/560 Gray
$2,599.00
$200.00
2.9GHz/16/1TB/560 Gray
$2,999.00
$200.00
3.1GHz/16/512/560 Gray
$2,799.00
$200.00
3.1GHz/16/2TB/560 Gray
$3,899.00
$300.00

*

price with Promo Code:

APINSIDER

prices.appleinsider.com for more configurations