Apple issues OS X 10.9.3 Mavericks seed to developers with minor tweaks
By AppleInsider Staff
Tuesday, April 29, 2014, 03:19 pm PT (06:19 pm ET)
Apple on Tuesday seeded the latest version of its OS X 10.9.3 Mavericks beta to developers with minor changes, asking testers concentrate on the usual built-in features including graphics and Mail.




Focus areas for build 13D55 include graphics drivers, audio, Safari, Mail and Contacts & Calendar syncing over USB in iTunes. These are the same areas of interest noted in Apple's previous beta issued last week.

Past betas of the upcoming OS X 10.9.3 Mavericks supplemental update brought support for scaling that doubles pixels for 4K monitor output, suggesting the update will introduce a so-called "Retina" output mode for late-2013 MacBook Pro with Retina display.

Developers can download the build 13D55 from Apple's Developer Portal or via Software Update.
Today's Headlines
No news headlines yet today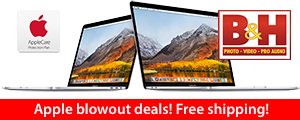 2017 12" MacBooks
Price
Save
1.2GHz/8GB/256GB (Gold)
$799.00+
$500
1.2GHz/8GB/256GB (Rose Gold)
$799.00+
$500
2018 13" Touch Bars
Price
Save
2.3GHz/8GB/256GB (Gray)
$1,649.99+
$150
2.3GHz/8GB/512GB (Silver)
$1,879.00+
$120
2.3GHz/16GB/256GB (Gray)
$1,949.00+
$50
2.7GHz/16GB/512GB
$2,449.00+
$50
2.7GHz/16GB/1TB
$2,849.00+
$50
2018 15" MacBook Pros
Price
Save
2.2GHz/16/256GB/555X
$2,549.00+
$50
2.2GHz/16/512GB/555X
$2,575.00+
$225
2.9GHz/16/1TB/560X
$3,199.00+
$300
2.9GHz/32/2TB/560X (Gray)
$3,999.00+
$700
2.9GHz/32/4TB/560X (Gray)
$5,999.00+
$700
Click here for dozens more configurations
+ Free shipping within the contiguous U.S.
Lowest Prices Anywhere!

13" MacBook Pros
Price
You Save
3.1GHz/8GB/256GB Gray
$1,679.00
$120.00
3.1GHz/8GB/256GB Silver
$1,704.00*
$95.00
3.1GHz/8GB/512GB Gray
$1,849.00*
$150.00
3.1GHz/16/512GB Gray
$2,099.00
$100.00
15" MacBook Pro
Price
You Save
2.8GHz/16/256/555 Silver
$2,199.00*
$200.00
2.8GHz/16/256/560 Gray
$2,299.00
$200.00
2.9GHz/16/512/560 Gray
$2,599.00
$200.00
2.9GHz/16/1TB/560 Gray
$2,999.00
$200.00
3.1GHz/16/512/560 Gray
$2,799.00
$200.00
3.1GHz/16/2TB/560 Gray
$3,899.00
$300.00

*

price with Promo Code:

APINSIDER

prices.appleinsider.com for more configurations