Adobe improves Lightroom iOS app with full-res output, more 3D Touch
By Roger Fingas
Wednesday, March 02, 2016, 02:23 pm PT (05:23 pm ET)
Adobe updated its Lightroom clients for the iPhone and iPad on Wednesday, upgrading the photo workflow software with features like full-resolution output and more 3D Touch commands.




Full-resolution export is supported in both the iPhone and iPad apps, though the option only works for images captured by an iOS device, or else imported at that resolution. While using the same Adobe account, images can be synced across devices.

For iPhone 6s and 6s Plus owners, 3D Touch is now presented in the Camera Roll browser. People can press and hold to preview a photo at a larger size.

Adobe has additionally cleaned up a number of bugs in the apps, including one that was triggering crashes.

Both the iPhone and iPad apps are free downloads for devices with iOS 8.1 or later. The complete featureset —including cloud sync —requires a Creative Cloud subscription, which can be tried free for 30 days.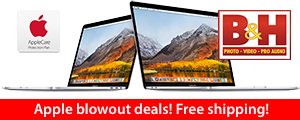 2018 13" Touch Bars
Price
Save
2.3GHz/8GB/256GB (Gray)
$1,699.00+
$100
2.3GHz/8GB/512GB (Silver)
$1,879.00+
$20
2.3GHz/16GB/512GB (Gray)
$2,099.00+
$100
2.7GHz/16GB/512GB
$2,449.00+
$50
2.7GHz/16GB/1TB
$2,849.00+
$50
2018 15" MacBook Pros
Price
Save
2.2GHz/16/256GB/555X
$2,215.00+
$185
2.2GHz/32/1TB/560X
$3,449.00+
$50
2.6GHz/16/512GB/560X
$2,575.00+
$224
2.6GHz/16/1TB/560X (Gray)
$2,999.00+
$200
2.6GHz/32/1TB/560X (Gray)
$3,399.00+
$200
2.6GHz/32/2TB/560X (Gray)
$3,999.00+
$400
Click here for dozens more configurations
+ Free shipping within the contiguous U.S.
Lowest Prices Anywhere!

13" MacBook Pros
Price
You Save
3.1GHz/8GB/256GB Gray
$1,679.00
$120.00
3.1GHz/8GB/256GB Silver
$1,704.00*
$95.00
3.1GHz/8GB/512GB Gray
$1,849.00*
$150.00
3.1GHz/16/512GB Gray
$2,099.00
$100.00
15" MacBook Pro
Price
You Save
2.8GHz/16/256/555 Silver
$2,199.00*
$200.00
2.8GHz/16/256/560 Gray
$2,299.00
$200.00
2.9GHz/16/512/560 Gray
$2,599.00
$200.00
2.9GHz/16/1TB/560 Gray
$2,999.00
$200.00
3.1GHz/16/512/560 Gray
$2,799.00
$200.00
3.1GHz/16/2TB/560 Gray
$3,899.00
$300.00

*

price with Promo Code:

APINSIDER

prices.appleinsider.com for more configurations