Apple Pay promotion launched, granting $5 iTunes gift card for some online shoppers
By Mike Wuerthele
Thursday, December 14, 2017, 08:33 am PT (11:33 am ET)
To celebrate the holiday season, and boost Apple Pay adoption, Apple has launched a promotion with select vendors that will award online purchasers that use the payment service a $5 App Store and iTunes gift card.




Partners listed on a new promotion webpage include 1-800-Flowers, Abercrombie & Fitch, Bonobos, Cole Haan, eBags, Express, Fanatics, Fancy, Hayneedle.com, JCPenney, Jet, Kenneth Cole, Kiehl's, Macy's, Reef, Stockpile, Tumi, Warby Parker, Wayfair, and Wish.

The promotion runs through Dec. 14 to Dec. 24.

The offer is only valid in the United States. Users are limited to one gift card per partner. Apple also notes that users should check applicable partner websites or apps for details on other requirements.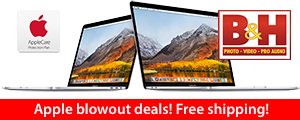 2018 13" Touch Bars
Price
Save
2.3GHz/8GB/256GB (Gray)
$1,699.00+
$100
2.3GHz/8GB/512GB (Silver)
$1,879.00+
$20
2.3GHz/16GB/512GB (Gray)
$2,099.00+
$100
2.7GHz/16GB/512GB
$2,449.00+
$50
2.7GHz/16GB/1TB
$2,849.00+
$50
2018 15" MacBook Pros
Price
Save
2.2GHz/16/256GB/555X
$2,215.00+
$185
2.2GHz/32/1TB/560X
$3,449.00+
$50
2.6GHz/16/512GB/560X
$2,575.00+
$224
2.6GHz/16/1TB/560X (Gray)
$2,999.00+
$200
2.6GHz/32/1TB/560X (Gray)
$3,399.00+
$200
2.6GHz/32/2TB/560X (Gray)
$3,999.00+
$400
Click here for dozens more configurations
+ Free shipping within the contiguous U.S.
Lowest Prices Anywhere!

13" MacBook Pros
Price
You Save
3.1GHz/8GB/256GB Gray
$1,679.00
$120.00
3.1GHz/8GB/256GB Silver
$1,704.00*
$95.00
3.1GHz/8GB/512GB Gray
$1,849.00*
$150.00
3.1GHz/16/512GB Gray
$2,099.00
$100.00
15" MacBook Pro
Price
You Save
2.8GHz/16/256/555 Silver
$2,199.00*
$200.00
2.8GHz/16/256/560 Gray
$2,299.00
$200.00
2.9GHz/16/512/560 Gray
$2,599.00
$200.00
2.9GHz/16/1TB/560 Gray
$2,999.00
$200.00
3.1GHz/16/512/560 Gray
$2,799.00
$200.00
3.1GHz/16/2TB/560 Gray
$3,899.00
$300.00

*

price with Promo Code:

APINSIDER

prices.appleinsider.com for more configurations