Apple makes available second macOS High Sierra 10.13.4 beta, with renamed Books app
By Mike Wuerthele
Tuesday, February 06, 2018, 01:22 pm PT (04:22 pm ET)
Three hours after the release of the second iOS 11.3 and tvOS 11.3 betas, Apple has deployed the second macOS High Sierra 10.13.4 beta.




The new High Sierra 10.13.4 now incorporates Messages in iCloud, a feature that synchronizes a user's Messages "stack" between multiple devices logged in to the same iCloud account, and has assorted eGPU improvements.

High Sierra 10.13.4 is also the first one to warn users that they are running 32-bit apps. Apple has previously stated that High Sierra is the last Mac operating system that will run the older apps "without compromise."

Beta 2 also changes the name of the iBooks app to "Books." It appears to be mirroring the rebranding, and potential re-design, of the app on iOS, but a timetable for changes beyond just the name aren't clear.

The previous High Sierra beta was build number 17E139j, with the latest having number 17E150f.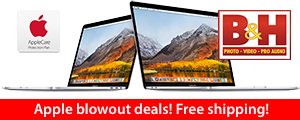 2018 13" Touch Bars
Price
Save
2.3GHz/8GB/256GB (Gray)
$1,649.99+
$150
2.3GHz/8GB/512GB (Silver)
$1,879.00+
$120
2.3GHz/16GB/256GB (Gray)
$1,949.00+
$50
2.7GHz/16GB/512GB
$2,449.00+
$50
2.7GHz/16GB/1TB
$2,849.00+
$50
2018 15" MacBook Pros
Price
Save
2.2GHz/16/256GB/555X
$2,549.00+
$50
2.2GHz/16/512GB/555X
$2,575.00+
$225
2.9GHz/16/1TB/560X
$3,199.00+
$300
2.9GHz/32/2TB/560X (Gray)
$3,999.00+
$700
tr class="model">
2.9GHz/32/4TB/560X (Gray)
$5,999.00+
$700
Click here for dozens more configurations
+ Free shipping within the contiguous U.S.
Lowest Prices Anywhere!

13" MacBook Pros
Price
You Save
3.1GHz/8GB/256GB Gray
$1,679.00
$120.00
3.1GHz/8GB/256GB Silver
$1,704.00*
$95.00
3.1GHz/8GB/512GB Gray
$1,849.00*
$150.00
3.1GHz/16/512GB Gray
$2,099.00
$100.00
15" MacBook Pro
Price
You Save
2.8GHz/16/256/555 Silver
$2,199.00*
$200.00
2.8GHz/16/256/560 Gray
$2,299.00
$200.00
2.9GHz/16/512/560 Gray
$2,599.00
$200.00
2.9GHz/16/1TB/560 Gray
$2,999.00
$200.00
3.1GHz/16/512/560 Gray
$2,799.00
$200.00
3.1GHz/16/2TB/560 Gray
$3,899.00
$300.00

*

price with Promo Code:

APINSIDER

prices.appleinsider.com for more configurations