Microsoft's 'I'm a PC' campaign created with Macs
By Prince McLean
Friday, September 19, 2008, 02:00 pm PT (05:00 pm ET)
Metadata found on Microsoft's creative copy used in its 'I'm a PC' ad reveals that the graphics were actually produced using Macs running Adobe Creative Suite 3. After the details were published on the Flickr photo sharing site, Microsoft scrambled to polish off the embarrassing details last night

Microsoft's new ad features contrasts a "stereotyped PC user" dressed up like John Hodgman in Apple's Get a Mac ads with a number of people who say, "I'm a PC" apparently to affirm that they run Windows.

However, not even Microsoft itself can wean itself off the Mac, as the metadata discovered by Flickr user LuisDS points out. Microsoft was not only using Macs but also Adobe's software in place of its own Expressions Studio, which the company bills as software that "takes your creative possibilities to a new level."



.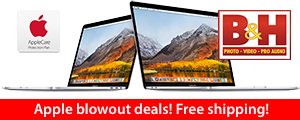 2018 13" Touch Bars
Price
Save
2.3GHz/8GB/256GB (Gray)
$1,699.00+
$100
2.3GHz/8GB/512GB (Silver)
$1,879.00+
$20
2.3GHz/16GB/512GB (Gray)
$2,099.00+
$100
2.7GHz/16GB/512GB
$2,449.00+
$50
2.7GHz/16GB/1TB
$2,849.00+
$50
2018 15" MacBook Pros
Price
Save
2.2GHz/16/256GB/555X
$2,215.00+
$185
2.2GHz/32/1TB/560X
$3,449.00+
$50
2.6GHz/16/512GB/560X
$2,575.00+
$224
2.6GHz/16/1TB/560X (Gray)
$2,999.00+
$200
2.6GHz/32/1TB/560X (Gray)
$3,399.00+
$200
2.6GHz/32/2TB/560X (Gray)
$3,999.00+
$400
Click here for dozens more configurations
+ Free shipping within the contiguous U.S.
Lowest Prices Anywhere!

13" MacBook Pros
Price
You Save
3.1GHz/8GB/256GB Gray
$1,679.00
$120.00
3.1GHz/8GB/256GB Silver
$1,704.00*
$95.00
3.1GHz/8GB/512GB Gray
$1,849.00*
$150.00
3.1GHz/16/512GB Gray
$2,099.00
$100.00
15" MacBook Pro
Price
You Save
2.8GHz/16/256/555 Silver
$2,199.00*
$200.00
2.8GHz/16/256/560 Gray
$2,299.00
$200.00
2.9GHz/16/512/560 Gray
$2,599.00
$200.00
2.9GHz/16/1TB/560 Gray
$2,999.00
$200.00
3.1GHz/16/512/560 Gray
$2,799.00
$200.00
3.1GHz/16/2TB/560 Gray
$3,899.00
$300.00

*

price with Promo Code:

APINSIDER

prices.appleinsider.com for more configurations