Bastille set to perform at Apple's WWDC Bash
By AppleInsider Staff
Wednesday, June 04, 2014, 12:35 pm PT (03:35 pm ET)
English rock band Bastille will hit San Francisco to play for developers attending Apple's Worldwide Developers Conference, with the 4-man group taking the stage on Thursday at the annual WWDC Bash.




Developers began receiving invitations to the Bash, an annual party thrown by Apple in conjunction with WWDC, on Wednesday afternoon. This year's bash will be held on Thursday evening at the Yuerba Buena Gardens, a large public park in the heart of San Francisco.

Apple is also giving developers promotional codes that can be redeemed for two free Bastille downloads on the iTunes Store.

Best known for their current hit Pompeii, Bastille have been nominated for a number of awards including Billboard's New Artist of the Year. Last year's WWDC Bash featured a performance by Vampire Weekend.
Today's Headlines
No news headlines yet today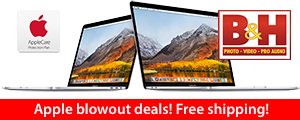 2018 13" Touch Bars
Price
Save
2.3GHz/8GB/256GB (Gray)
$1,699.00+
$100
2.3GHz/8GB/512GB (Silver)
$1,879.00+
$20
2.3GHz/16GB/512GB (Gray)
$2,099.00+
$100
2.7GHz/16GB/512GB
$2,449.00+
$50
2.7GHz/16GB/1TB
$2,849.00+
$50
2018 15" MacBook Pros
Price
Save
2.2GHz/16/256GB/555X
$2,215.00+
$185
2.2GHz/32/1TB/560X
$3,449.00+
$50
2.6GHz/16/512GB/560X
$2,575.00+
$224
2.6GHz/16/1TB/560X (Gray)
$2,999.00+
$200
2.6GHz/32/1TB/560X (Gray)
$3,399.00+
$200
2.6GHz/32/2TB/560X (Gray)
$3,999.00+
$400
Click here for dozens more configurations
+ Free shipping within the contiguous U.S.
Lowest Prices Anywhere!

13" MacBook Pros
Price
You Save
3.1GHz/8GB/256GB Gray
$1,679.00
$120.00
3.1GHz/8GB/256GB Silver
$1,704.00*
$95.00
3.1GHz/8GB/512GB Gray
$1,849.00*
$150.00
3.1GHz/16/512GB Gray
$2,099.00
$100.00
15" MacBook Pro
Price
You Save
2.8GHz/16/256/555 Silver
$2,199.00*
$200.00
2.8GHz/16/256/560 Gray
$2,299.00
$200.00
2.9GHz/16/512/560 Gray
$2,599.00
$200.00
2.9GHz/16/1TB/560 Gray
$2,999.00
$200.00
3.1GHz/16/512/560 Gray
$2,799.00
$200.00
3.1GHz/16/2TB/560 Gray
$3,899.00
$300.00

*

price with Promo Code:

APINSIDER

prices.appleinsider.com for more configurations