Apple issues OS X 10.9.4 Mavericks beta to developers with bug fixes
By AppleInsider Staff
Wednesday, June 25, 2014, 01:41 pm PT (04:41 pm ET)
One week after seeding the last OS X 10.9.4 Mavericks beta, Apple on Thursday issued to developers a new build of the upcoming maintenance update, with the latest version coming with minor bug fixes and minor tweaks.




The latest OS X 10.9.4 Mavericks build 13E25 continues Apple's usual one-week release interval and follows build 13E19 seeded last week.

Thursday's release focuses on the same areas, including Graphics Drivers, Safari, Bluetooth, Audio Drivers, Finder and the App Store.

The initial seed was issued at the end of May following the public release of OS X 10.9.3. Along with developers, Apple announced a limited number of consumers can also take part in testing out betas seeds.

Developers can download the latest builds via Apple's Developer Portal or Software Update.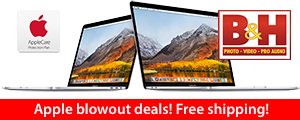 2018 13" Touch Bars
Price
Save
2.3GHz/8GB/256GB (Gray)
$1,699.00+
$100
2.3GHz/8GB/512GB (Silver)
$1,879.00+
$20
2.3GHz/16GB/512GB (Gray)
$2,099.00+
$100
2.7GHz/16GB/512GB
$2,449.00+
$50
2.7GHz/16GB/1TB
$2,849.00+
$50
2018 15" MacBook Pros
Price
Save
2.2GHz/16/256GB/555X
$2,215.00+
$185
2.2GHz/32/1TB/560X
$3,449.00+
$50
2.6GHz/16/512GB/560X
$2,575.00+
$224
2.6GHz/16/1TB/560X (Gray)
$2,999.00+
$200
2.6GHz/32/1TB/560X (Gray)
$3,399.00+
$200
2.6GHz/32/2TB/560X (Gray)
$3,999.00+
$400
Click here for dozens more configurations
+ Free shipping within the contiguous U.S.
Lowest Prices Anywhere!

13" MacBook Pros
Price
You Save
3.1GHz/8GB/256GB Gray
$1,679.00
$120.00
3.1GHz/8GB/256GB Silver
$1,704.00*
$95.00
3.1GHz/8GB/512GB Gray
$1,849.00*
$150.00
3.1GHz/16/512GB Gray
$2,099.00
$100.00
15" MacBook Pro
Price
You Save
2.8GHz/16/256/555 Silver
$2,199.00*
$200.00
2.8GHz/16/256/560 Gray
$2,299.00
$200.00
2.9GHz/16/512/560 Gray
$2,599.00
$200.00
2.9GHz/16/1TB/560 Gray
$2,999.00
$200.00
3.1GHz/16/512/560 Gray
$2,799.00
$200.00
3.1GHz/16/2TB/560 Gray
$3,899.00
$300.00

*

price with Promo Code:

APINSIDER

prices.appleinsider.com for more configurations