Apple opens OS X betas to consumers with Beta Seed Program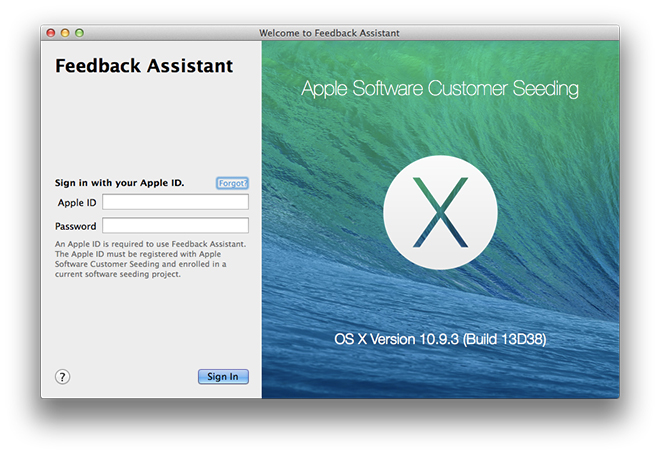 In a substantial change to its operating policies, Apple has opened its OS X beta testing process to all Mac users with a newly minted Beta Seed Program.
The Beta Seed Program allows consumers to join Mac developers in test-driving pre-release versions of the Mac operating system in exchange for "quality and usability feedback. The program was first spotted by The Loop.
After signing up, users can install the latest beta version of Apple's upcoming OS X 10.9.3 Mavericks maintenance update on their Macs. The most recent beta — build 13D45a — was released on Monday.
It appears Apple has been quietly working to implement the new open beta policy for at least a couple of months via a "Feedback Assistant" that turned up in build 13D38 OS X 10.9.3 earlier this month. At the time, the standalone app's purpose was unknown, though it is now believed to be part of the Beta Seed Program.
From Apple's Beta Seed Program webpage:
Join the OS X Beta Seed Program and accept the Beta Seed and Confidentiality Agreement. Apple will provide a Beta Access Utility for your Mac, which gives you access to pre-release versions of OS X in the Mac App Store Updates panel.
As with any beta or pre-release software, the latest OS X Mavericks is not yet finished and may have unknown bugs or decreased functionality. Users should take this into consideration before installing the beta on a vital machine.