Apple's Thunderbolt 2 to Thunderbolt 3 adapter connects legacy accessories to new MacBook Pro USB-C
By Mike Wuerthele
Thursday, October 27, 2016, 01:36 pm PT (04:36 pm ET)
Supplementing connectivity of older devices to Apple's new MacBook Pro family, the company has also released a Thunderbolt 2 to Thunderbolt 3 adapter, allowing users with older Thunderbolt peripherals to connect them to the newer connection standard.




The product connects older 10 Gbit/sec dual-channel original Thunderbolt or 20 Gbit speed Thunderbolt 2 peripherals to the Thunderbolt 3 port with the USB-C connector as found on the new MacBook Pro. However, it will not allow Thunderbolt peripherals to be connected to USB 3.1 Generation 1 connectors, as found on the 2015 and 2015 MacBook.

The adapter is available now for $49 from the Apple online store, and will deliver November 4 with Apple's fastest delivery. AppleInsider has spoken with Apple retail store staff, who have informed us that the adapter will be in stock no later than Nov. 1 for local purchase.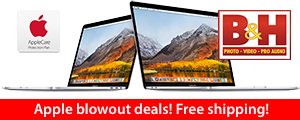 2018 13" Touch Bars
Price
Save
2.3GHz/8GB/256GB (Gray)
$1,649.99+
$150
2.3GHz/8GB/512GB (Silver)
$1,879.00+
$120
2.3GHz/16GB/256GB (Gray)
$1,949.00+
$50
2.7GHz/16GB/512GB
$2,449.00+
$50
2.7GHz/16GB/1TB
$2,849.00+
$50
2018 15" MacBook Pros
Price
Save
2.2GHz/16/256GB/555X
$2,549.00+
$50
2.2GHz/16/512GB/555X
$2,575.00+
$225
2.9GHz/16/1TB/560X
$3,199.00+
$300
2.9GHz/32/2TB/560X (Gray)
$3,999.00+
$700
2.9GHz/32/4TB/560X (Gray)
$5,999.00+
$700
Click here for dozens more configurations
+ Free shipping within the contiguous U.S.
Lowest Prices Anywhere!

13" MacBook Pros
Price
You Save
3.1GHz/8GB/256GB Gray
$1,679.00
$120.00
3.1GHz/8GB/256GB Silver
$1,704.00*
$95.00
3.1GHz/8GB/512GB Gray
$1,849.00*
$150.00
3.1GHz/16/512GB Gray
$2,099.00
$100.00
15" MacBook Pro
Price
You Save
2.8GHz/16/256/555 Silver
$2,199.00*
$200.00
2.8GHz/16/256/560 Gray
$2,299.00
$200.00
2.9GHz/16/512/560 Gray
$2,599.00
$200.00
2.9GHz/16/1TB/560 Gray
$2,999.00
$200.00
3.1GHz/16/512/560 Gray
$2,799.00
$200.00
3.1GHz/16/2TB/560 Gray
$3,899.00
$300.00

*

price with Promo Code:

APINSIDER

prices.appleinsider.com for more configurations