GoPro issues recall of Karma drone, in-flight power loss leads to crashes
By Mike Wuerthele
Wednesday, November 09, 2016, 05:46 am PT (08:46 am ET)
Sports camera and drone manufacturer GoPro has issued a recall of the recently released Karma drone, after only 16 days on the market.




"Safety is our top priority," said GoPro Founder and Chief Executive Nicholas Woodman in statement detailing the recall. "A very small number of Karma owners have reported incidents of power failure during operation.

The $799 Karma base package was revealed on Sept. 19, and includes the drone and a handheld gimbal attachment, but does not include the required GoPro Hero4 or 5. A bundle with the Hero5 Session costs $999, while a version with the standard GoPro Hero5 retails for $1,099.

GoPro says that it has sold 2,500 units of the drone, and customers possessing one can return it to GoPro or the original place of purchase for a full refund. Replacement units are not being offered at this time.

The company has no estimate when shipments of the drone will resume.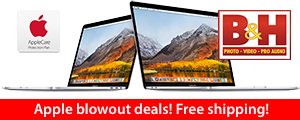 2017 12" MacBooks
Price
Save
1.2GHz/8GB/256GB (Gold)
$799.00+
$500
1.2GHz/8GB/256GB (Rose Gold)
$799.00+
$500
2018 13" Touch Bars
Price
Save
2.3GHz/8GB/256GB (Gray)
$1,649.99+
$150
2.3GHz/8GB/512GB (Silver)
$1,879.00+
$120
2.3GHz/16GB/256GB (Gray)
$1,949.00+
$50
2.7GHz/16GB/512GB
$2,449.00+
$50
2.7GHz/16GB/1TB
$2,849.00+
$50
2018 15" MacBook Pros
Price
Save
2.2GHz/16/256GB/555X
$2,549.00+
$50
2.2GHz/16/512GB/555X
$2,575.00+
$225
2.9GHz/16/1TB/560X
$3,199.00+
$300
2.9GHz/32/2TB/560X (Gray)
$3,999.00+
$700
2.9GHz/32/4TB/560X (Gray)
$5,999.00+
$700
Click here for dozens more configurations
+ Free shipping within the contiguous U.S.
Lowest Prices Anywhere!

13" MacBook Pros
Price
You Save
3.1GHz/8GB/256GB Gray
$1,679.00
$120.00
3.1GHz/8GB/256GB Silver
$1,704.00*
$95.00
3.1GHz/8GB/512GB Gray
$1,849.00*
$150.00
3.1GHz/16/512GB Gray
$2,099.00
$100.00
15" MacBook Pro
Price
You Save
2.8GHz/16/256/555 Silver
$2,199.00*
$200.00
2.8GHz/16/256/560 Gray
$2,299.00
$200.00
2.9GHz/16/512/560 Gray
$2,599.00
$200.00
2.9GHz/16/1TB/560 Gray
$2,999.00
$200.00
3.1GHz/16/512/560 Gray
$2,799.00
$200.00
3.1GHz/16/2TB/560 Gray
$3,899.00
$300.00

*

price with Promo Code:

APINSIDER

prices.appleinsider.com for more configurations