Apple issues second public beta for macOS High Sierra 10.13.2
By Roger Fingas
Tuesday, November 07, 2017, 04:45 pm PT (07:45 pm ET)
Apple on Tuesday seeded a second public beta of macOS 10.13.2 to the public, following up on this week's matching developer release.




The new software should in fact be unchanged from the developer code, except for its availability. People registered with Apple's Beta Software Program can find it through the Updates tab at the Mac App Store.

So far 10.13.2 appears to be a standard maintenance update, fixing bugs and security vulnerabilities while also making performance enhancements.

macOS 10.13.1 dealt with glitches in Apple Pay and Microsoft Exchange sync, as well as the KRACK vulnerability in Wi-Fi, and added 70 new emoji to boot.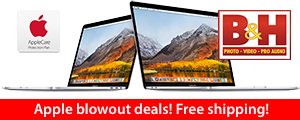 2017 12" MacBooks
Price
Save
1.2GHz/8GB/256GB (Gold)
$799.00+
$500
1.2GHz/8GB/256GB (Rose Gold)
$799.00+
$500
2018 13" Touch Bars
Price
Save
2.3GHz/8GB/256GB (Gray)
$1,649.99+
$150
2.3GHz/8GB/512GB (Silver)
$1,879.00+
$120
2.3GHz/16GB/256GB (Gray)
$1,949.00+
$50
2.7GHz/16GB/512GB
$2,449.00+
$50
2.7GHz/16GB/1TB
$2,849.00+
$50
2018 15" MacBook Pros
Price
Save
2.2GHz/16/256GB/555X
$2,549.00+
$50
2.2GHz/16/512GB/555X
$2,575.00+
$225
2.9GHz/16/1TB/560X
$3,199.00+
$300
2.9GHz/32/2TB/560X (Gray)
$3,999.00+
$700
2.9GHz/32/4TB/560X (Gray)
$5,999.00+
$700
Click here for dozens more configurations
+ Free shipping within the contiguous U.S.
Lowest Prices Anywhere!

13" MacBook Pros
Price
You Save
3.1GHz/8GB/256GB Gray
$1,679.00
$120.00
3.1GHz/8GB/256GB Silver
$1,704.00*
$95.00
3.1GHz/8GB/512GB Gray
$1,849.00*
$150.00
3.1GHz/16/512GB Gray
$2,099.00
$100.00
15" MacBook Pro
Price
You Save
2.8GHz/16/256/555 Silver
$2,199.00*
$200.00
2.8GHz/16/256/560 Gray
$2,299.00
$200.00
2.9GHz/16/512/560 Gray
$2,599.00
$200.00
2.9GHz/16/1TB/560 Gray
$2,999.00
$200.00
3.1GHz/16/512/560 Gray
$2,799.00
$200.00
3.1GHz/16/2TB/560 Gray
$3,899.00
$300.00

*

price with Promo Code:

APINSIDER

prices.appleinsider.com for more configurations