macOS High Sierra 10.13.1 arrives, contains Microsoft Exchange sync and KRACK fixes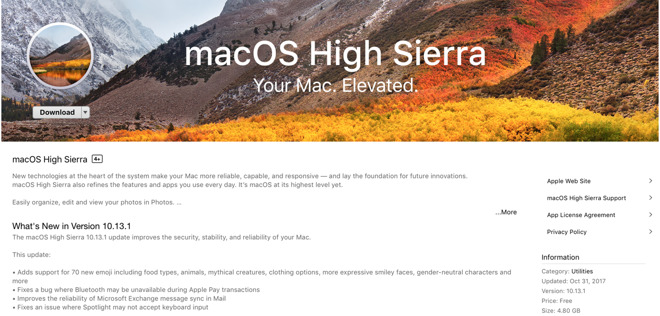 AppleInsider may earn an affiliate commission on purchases made through links on our site.
Shortly after releases of the rest of the Apple-supplied operating systems, the company has also issued macOS High Sierra 10.13.1 with support for the new emoji, and other fixes.
The release notes for the update are sparse, with the company calling out only the 70 new emoji, a Bluetooth bug involving Apple Pay, reliability improvements to Microsoft Exchange message syncronization, and a Spotlight input problem. Apple does note in a separate security content page that the assorted KRACK wi-fi vulnerabilities have been patched.
The release version is build 17B48. The last beta version was build number 17B46a. Full external GPU support is still not included, and is expected to arrive in the spring.
On a 2016 MacBook Pro, the download is 4.8GB.
High Sierra debuted in September with marquee features like the new Apple File System (APFS), support for Metal 2 graphics, H.265 integration, an improved Safari experience and more.
Apple last updated macOS High Sierra for all users on Oct. 6 with a supplemental release designed to patch critical Disk Utility and Keychain vulnerabilities. That update also fixed a mail deletion issue in Mail and a graphical bug seen when using Adobe InDesign.
Apple has also updated it's developer beta test version of High Sierra 10.13.2.