AOC debuts MacBook-compatible 15.6-inch USB-C monitor
By Roger Fingas
Monday, May 21, 2018, 06:58 am PT (09:58 am ET)
Display maker AOC is rolling out a new 15.6-inch portable USB-C monitor, allowing MacBook and MacBook Pro owners to provide power and the video signal to the display through a single cable.




The I1601FWUX only scales up to 1,920-by-1,080 pixels — below Apple's "Retina" level — but is also just 8.5 millimeters thick, and weighs less than 1.8 pounds. In keeping with the USB-C standard, video is carried via a DisplayPort signal.

The screen is an IPS panel with 160-degree viewing angles, and a 5-millisecond response time. A Low Blue Light mode can be activated to reduce eye strain or sleep better at night.

For protection when traveling the monitor has a metal back and a bundled "smart" cover. The latter turns into a display holder, working in both landscape and portrait views.





The retail price on the AOC I1601FWUX 15.6-inch USB-C monitor is $199.99. At present, it is available in the U.S. for $195.85 on Amazon.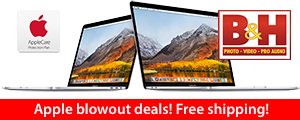 2018 13" Touch Bars
Price
Save
2.3GHz/8GB/256GB (Gray)
$1,699.00+
$100
2.3GHz/8GB/512GB (Silver)
$1,879.00+
$20
2.3GHz/16GB/512GB (Gray)
$2,099.00+
$100
2.7GHz/16GB/512GB
$2,449.00+
$50
2.7GHz/16GB/1TB
$2,849.00+
$50
2018 15" MacBook Pros
Price
Save
2.2GHz/16/256GB/555X
$2,215.00+
$185
2.2GHz/32/1TB/560X
$3,449.00+
$50
2.6GHz/16/512GB/560X
$2,575.00+
$224
2.6GHz/16/1TB/560X (Gray)
$2,999.00+
$200
2.6GHz/32/1TB/560X (Gray)
$3,399.00+
$200
2.6GHz/32/2TB/560X (Gray)
$3,999.00+
$400
Click here for dozens more configurations
+ Free shipping within the contiguous U.S.
Lowest Prices Anywhere!

13" MacBook Pros
Price
You Save
3.1GHz/8GB/256GB Gray
$1,679.00
$120.00
3.1GHz/8GB/256GB Silver
$1,704.00*
$95.00
3.1GHz/8GB/512GB Gray
$1,849.00*
$150.00
3.1GHz/16/512GB Gray
$2,099.00
$100.00
15" MacBook Pro
Price
You Save
2.8GHz/16/256/555 Silver
$2,199.00*
$200.00
2.8GHz/16/256/560 Gray
$2,299.00
$200.00
2.9GHz/16/512/560 Gray
$2,599.00
$200.00
2.9GHz/16/1TB/560 Gray
$2,999.00
$200.00
3.1GHz/16/512/560 Gray
$2,799.00
$200.00
3.1GHz/16/2TB/560 Gray
$3,899.00
$300.00

*

price with Promo Code:

APINSIDER

prices.appleinsider.com for more configurations