An inside look at Safari 1.3 Developer Preview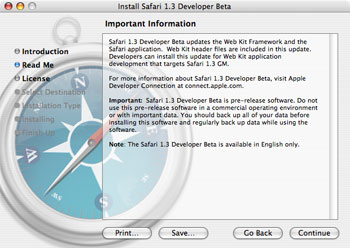 Exclusive - Apple Computer seeded developers this week with Safari 1.3 Developer Preview 1, which is being developed for Mac OS X 10.3 Panther and carries version number 146. Apple Developer Connection members were able to download browser preview earlier today, which is packaged in the form of a 3.3 MB Mac OS X image.
While Apple has reportedly not included a set of seed notes with the majority distribution of Safari 1.3, sources say the browser includes several of the features previewed in the Safari 2.0 release expected with Mac OS X 10.4 "Tiger."
Aside from a jazzed up installer screen, Safari 1.3 sports a "Web Archive" feature, allowing users to view Web pages long after they disappear from the Web, complete with images and links. When saving web pages, users will have the option to save the page as "Raw Content" or a "Web Archive."
Additionally, it appears that this developer preview of Safari may be one in the same with a previously rumored update to Safari, which was said to pack a completely rewritten JavaScript engine.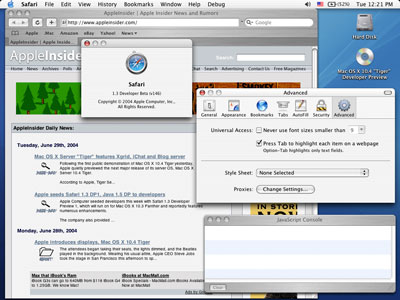 Screenshots: Safari 1.3 Desktop; Safari 1.3 Debug Menu ; Safari 1.3 Preferences
Safari 1.3 not only includes updates to WebKit, but it also features new "JavaScriptGlue" framework code, in addition to a new JavaScript console window. Meanwhile, an updated developer Safari "Debug" menu includes new options to toggle Safari's window transparency, shadow display, and background rendering.
While the standard install of Safari 1.3 does not appear to enable the RSS reader technology expected in Safari 2.0, much of the framework for feature appears to be included in the release, including the RSS interface images.
Sources noted only a single visible interface alteration present in the new Safari browser, listed under the "Advanced" preference panel. The functionality of the preference remains the same, however.
The Safari 1.3 Developers Preview requires Mac OS X 10.3.4 for proper installation, and is currently available in English only.
The most recent shipping version of Apple's Safari web browser is Safari 1.2.2 version 125.8. During yesterday's World Wide Developer Conference opening keynote, Apple CEO Steve Jobs previewed Mac OS X 10.4 "Tiger," which features Safari 2.0 version number 146.
AppleInsider has affiliate partnerships and may earn commission on products purchased through affiliate links. These partnerships do not influence our editorial content.