New iMacs post modest gains over predecessors (benchmarks)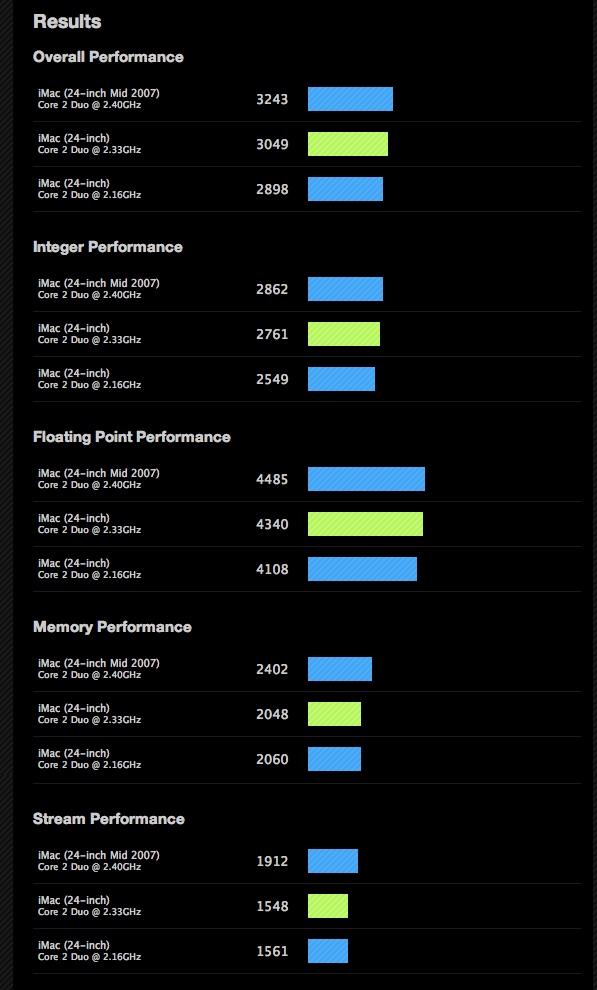 Apple's new 24-inch iMac taps a faster Intel Core 2 Duo processor and front-side bus to post modest speed gains over its predecessors, a series of Geekbench benchmark tests has revealed.
Primate Labs recently pit the new 2.4Ghz 24-inch iMac against previous generation 2.33GHz and 2.16GHz 24-inch systems, each of which was running Mac OS X 10.4.10 with 2GB of 667 MHz DDR2 SDRAM.
The new 24-inch iMacs sport two major advantages over the older 24-inch iMacs; they have faster processors, and they use the new Santa Rosa chipset (instead of the Napa chipset used in the older 24-inch iMacs).
After running a set of Geekbench tests on the three systems, Primate Labs reports that the new iMac's faster processor helps increase both integer and floating point performance, while its faster front-side bus on the Santa Rosa chipset helps increase memory and stream performance.
"So if you're running memory-intensive applications (like Aperture or Photoshop) you'll certainly notice an increase in performance with the new 24-inch iMac," the firm wrote. "Heck, the fact that the new 24-inch iMac supports 4GB of RAM while the old 24-inch iMac supports 3GB of RAM might be enough to convince you to get one."
In reporting the benchmark scores for the systems, Primate opted to use the baseline score, rather than the raw score. The results follow: