Microsoft unveils second generation of Zune media players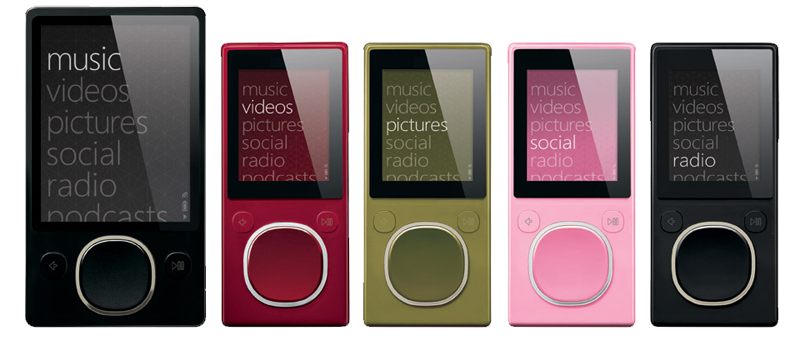 AppleInsider may earn an affiliate commission on purchases made through links on our site.
Continuing on its quest to make a dent in Apple's dominate share of the digital media player market, Microsoft on Tuesday evening announced three new models of its Zune player that feature media syncing over a Wi-Fi connection.
The new offerings closely resemble Apple's recently-refreshed iPod line, including 4GB and 8GB flash-based models that will retail for $150 and $200, respectively, and a 80GB hard disk drive model that will fetch $250.
Microsoft said it will continue to sell the first-generation 30GB Zune for $200, but will provide an automatic software updated for the player that will bring its software features up to spec with the new models when they go on sale in mid-November.
Unlike the original Zune lineup, customers won't have the option of a picking up a brown model. Instead, the 80GB model will be available only and black, while the two flash models will come in either pink, green, black or glossy red.
Each new Zune will feature what Microsoft calls "the Zune Pad," essentially a navigation button with a touch-sensitive surface. Users will be able to flick their thumbs over the pad to browse through song lists or to fast-forward through picture slide shows or videos. Users will also be able to navigate the Zune Pad using physical cues by pressing on the four sides or the center of the button to adjust the volume or choose the next track.
In addition to distinctive new interface menus, the players will leverage a new wireless sync feature that will automatically sync media over home Wi-Fi networks, ensuring that users always have the latest podcasts and other content ready to go when they leave home. Microsoft said the players will start syncing media from PCs when the device is placed in its dock or plugged in to its AC adapter.
Another feature — extended wireless sharing — will let users share full-length songs, albums, playlists, pictures and even audio podcasts from one Zune to another. Shared songs can be played up to three times with no time restrictions, Microsoft said, and shared songs can also be pass along to other Zune users.
A new version of the Zune software will also automatically import broadcast content recorded on Microsoft Windows Media Center for Windows Vista Home Premium or Ultimate, so users can sync the videos onto their Zune and watch them on the go.
In conjunction with the second-generation Zune players, Microsoft is also launching Zune Social, a beta online community Web site that offers users a forum to share their music tastes, knowledge and experiences with others. Any Zune user will be able to can create a free, customizable Zune Card that automatically updates to reflect the music they are listening to on their Zune or with Zune software on their computer.
The Zune Card shows most recently played tracks and highlights that user's all-time music favorites. Other members of Zune Social will be able to sample songs a user has been playing directly from a friend's Zune Card or via a link to the Zune Marketplace, where they can buy or download the tracks.
In what Microsoft calls a "nod to the inherently social nature of music," Zune Social will eventually enable its members to place the Zune Card on today's most popular social networking sites, where it will continue to update automatically and show off what its owners are listening to.
In addition to creating a friends list, members of Zune Social will be able to send song links and messages to each other, post comments on a friend's profile page or on their favorite artist pages. They'll have the opportunity to discover new music by seeing what their friends are listening to, Microsoft said, receiving recommendations from others in the community or by seeing what the top fans of artists they're interested in are listening to. Each artist page will list the Zune Cards of the people who listen to that artist the most, making it easy for other Zune Social members to browse their recent playlists and discover new content they can sample, purchase or download with a Zune Pass.
An updated version of the Zune Marketplace will feature over 3 million songs, Microsoft also announced, including a selection of more than 1 million digital rights management (DRM)-free MP3s, which can be played with Zune or any other digital media player. An aforementioned "Zune Pass" will allow users to download as much music as they want for a flat monthly rate of $14.99.
Among the hardware accessories Microsoft plans to offer alongside the new Zunes in mid-November are a $100 Home AV Pack, $50 Dock Pack, $80 Car Pack, $40 Cable Pack, and $50 leather case.
Microsoft claims to have sold over 1.2 million Zunes since the player's launch last November. The new Zunes will not include support for Apple's Mac computer line.