Leopard driver install may hint at future MacBook plans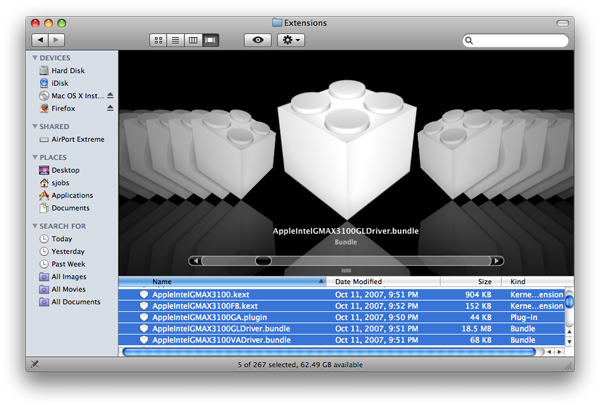 AppleInsider is supported by its audience and may earn commission as an Amazon Associate and affiliate partner on qualifying purchases. These affiliate partnerships do not influence our editorial content.
Few if any details have surfaced on Apple's plans for its next update to the 13-inch MacBook family, though the company may have inadvertently dropped a hint of its own as part of Leopard's standard install package.
Users installing Mac OS X Leopard this past weekend observed that the software included a full set of drivers for Intel's GMA X3100 integrated graphics chipset, which is only supported by notebook-based logic-board designs conforming to the chipmaker's relatively new Santa Rosa platform.
While Apple adopted the Santa Rosa platform as part of its most recent MacBook Pro refresh, those machines forgo Intel's integrated graphics chips for more powerful and dedicated offerings from Nvidia. Instead, the Mac maker has thus far reserved use of Intel's integrated graphics chipsets for its consumer-oriented MacBook family due to their lower cost (and weaker performance).
According to Intel, the GMA X3100 aims to boost 3D performance on systems where dedicated graphics would be too costly or space-consuming. In comparison to the GMA 950 graphics used in today's MacBooks (and Mac minis), the new chipset employs more advanced pixel and vertex shaders, hardware transform and lighting acceleration, and better video decoding.
Historically, Apple has not included drivers for unsupported or unreleased hardware with its standard operating system distributions, leading to speculation that MacBooks will see a near term upgrade to the Santa Rosa architecture.
Meanwhile, several Windows-based notebook makers have been using the GMA X3100 in their own offerings since the chipset was first introduced along with Santa Rosa back in May.