Apple, Nintendo gadgets lead holiday search queries in Europe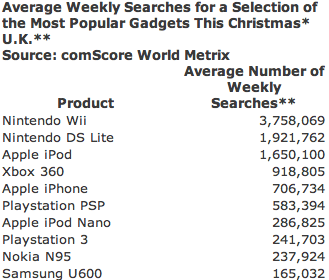 European consumers in search of electronics gadgets this holiday shopping season have their eye on products from two primary manufacturers — Apple and Nintendo — according to a new market research study.
Commissioned by comScore during the first three weeks of November, the study tracked the frequency of online search inquiries for the most popular gadgets in the U.K., France and Germany, focusing on twenty different products from game consoles and mobile phones to digital music players.
Overall, Nintendo's highly sought after Wii gaming console topped the list with 4.9 million weekly search queries across the three countries, according to the report. Apple's iPod came in second with 3.5 million searches, followed by Nintendo's DS Lite with 3.2 million, Sony's Platstation PSP with 1.9 million, and Apple's iPhone with 1.7 million.
In the UK specifically, the Apple iPod was the third most searched for item with nearly 1.7 million weekly searches during the first three weeks of November — including an additional 287,000 weekly searches for the term iPod nano.
Meanwhile, the most popular mobile phone in the UK was the Apple iPhone with 707,000 weekly searches. Two other phones, the Nokia N95 (237,924) and Samsung U600 (165,032) rounded out the list, albeit with substantially lower numbers of searches.
In France, the most searched for gadget online from those selected for the study was the PlayStation PSP, which averaged 781,000 searches per week. It was followed by the Apple iPod with 663,000, and the Nintendo DS Lite with 609,000.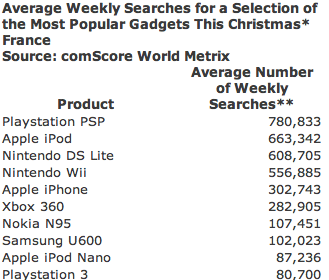 The Apple iPhone averaged 303,000 searches per week during the November shopping period. It was joined by two other handsets, the Nokia N95 and the Samsung U600, which averaged 107,000 and 102,000 searches per week respectively.
And in Germany, the Apple iPod was by far the most searched for gadget in the first three weeks of November, with an average of 1.2 million searches a week. As was the case in the U.K. and France, the Nintendo DS Lite, the company's latest handheld console, was also popular, with 753,000 searches per week.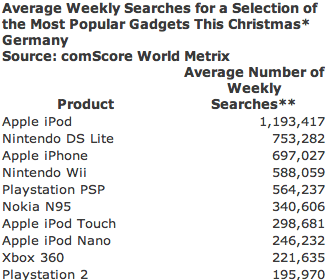 Following the November 9 release of the Apple iPhone in Germany, online searches made for the handset increased 495 percent from the October level to 697,000 average weekly searches in November. The recently released Nokia N95 phone also proved popular with 341,000 searches per week.