NBC hitches onto download service from Apple rival SanDisk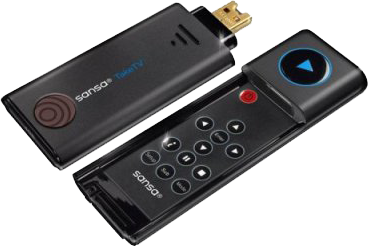 AppleInsider may earn an affiliate commission on purchases made through links on our site.
Determined to play ball in the digital arena without the help of iTunes, NBC Universal announced plans Tuesday to offer its video catalog through a new service from Apple rival SanDisk Corp that lets users download shows for playback on big screen TV sets.
Beginning in January, TV shows from NBC, USA Network, SCI FI Channel, Bravo, as well as vintage library shows from NBC Universal, will be available on Fanfare, a dynamic Web-based service developed by SanDisk and currently in beta testing.
Shows will include the Emmy Award-winning series "The Office," the critically acclaimed drama "Heroes," and award-winning comedy "30 Rock." New episodes will be available on Fanfare the day after they air on the network, the two companies said.
Like Apple's iTunes + Apple TV combo, the Fanfare service will let users download digital copies of the shows to their computers for later playback on their living room TV sets.
While Apple's method calls for its $299 Apple TV set-top-box to serve as a wireless conduit that streams the downloaded iTunes content to television sets, SanDisk is taking a slightly different approach to getting the video content from PCs to the TV — its $100 4GB and $150 8GB Sansa TakeTV devices.
Essentially portable USB drives, users load the TakeTV devices with video content by plugging them into their PC and dragging and dropping video content onto the drive. The TakeTV drives can then be transfered to a dock that is connected to a television set for big screen playback.
NBC said it plans to collaborate with SanDisk on new consumer content acquisition models that offer Fanfare users "a variety of attractive ways to purchase and view TV shows, including offering discounts for multiple episode purchases and entire seasons, as well as incentives to purchase a bundle of different TV shows at one time."
NBC has cited Apple's unwillingness to experiment with content bundles and more flexible pricing structures as two of the primary reasons the two parties have been unable to see eye-to-eye on contract renewal terms for distribution of NBC content on iTunes. Following a standoff in negotiations that began in August, the two parties officially parted ways last week when Apple began pulling all NBC-produced content from its digital download service.
As part of its pact with NBC, SanDisk said it plans to use its expertise in security to implement a series of measures to protect the NBC Universal content offered via its Fanfare service, including partnering to explore the implementation of watermarking and filtering technology solutions.
The Apple rival is also said to be in the process of adding new episodes from current partners to its Fanfare catalog, and expects to acquire additional distribution rights to other premium content and channels.