Study: Leopard satisfaction driving "explosive" Mac sales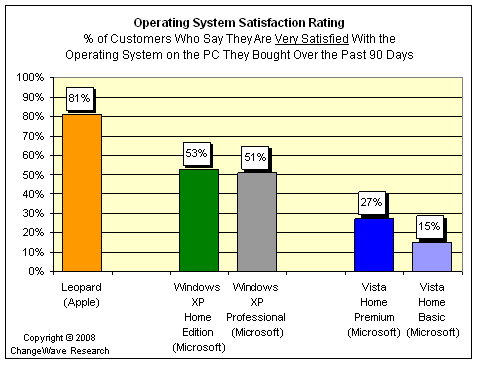 AppleInsider may earn an affiliate commission on purchases made through links on our site.
High levels of customer satisfaction with Apple's new Leopard operating system are spurring "explosive sales" of the company's Mac computer line, a new consumer spending survey has revealed.
The survey of 4,604 ChangeWave Alliance members, conducted January 2-8, revealed 17 percent of respondents bought an Apple notebook over the past 90 days, up 3 full percentage points from the firm's previous survey this past November.
Meanwhile, Apple desktop purchases came in at 16 percent over the same time period, up 6 percentage points, likely driven by robust demand for the Cupertino-based firm's new line of glass and aluminum-clad iMac all-in-one systems.
"The results represent an astonishing leap for Apple among consumer PC purchasers over the holidays," ChangeWave wrote in its report. "Looking at the next 90 days, a third of planned PC buyers (33 percent; up 4-pts) say they'll purchase an Apple notebook — a new all-time high for the electronics giant."
At the same time, 29 percent of buyers say they'll buy an Apple desktop, matching the same all-time high percentage reported by the firm in its November study.
According to the latest report, Apple also maintained its commanding lead in customer satisfaction when compared to other major PC manufacturers, with nearly four-in-five Apple buyers (79 percent) over the past 90 days saying they are Very Satisfied with their purchase. By comparison, the Mac maker's two biggest competitors — Dell and Hewlett-Packard — had 59 percent and 58 percent satisfaction ratings, respectively.
"It comes as no surprise that Apple sets the standard in terms of customer satisfaction," said Tobin Smith, founder of ChangeWave Research, "but there's a new twist on why they're outperforming the rest of the industry — it's the amazing customer satisfaction rating on Apple's new Leopard OS."
Smith said that more than four-in-five Apple buyers (81 percent) said they were Very Satisfied with Leopard, which is "an exceptionally high rating" for a new operating system. This compares to 53 percent and 51 percent for Windows XP, and just 27 percent and 15 percent, respectively, for the Microsoft Vista systems.
The high customer satisfaction in Leopard not only dwarfs its competitors, but is also having a direct impact on consumer intentions to purchase an Apple Mac, Smith added.
The study revealed that more than one-in-four consumers (26 percent) say the Leopard OS is making them more likely to buy a Mac in the future.