MacBook Airs land early, due in stores shortly [updated 5x]

Apple Store customers who were amongst the first to pre-order the new MacBook Air following its debut earlier this month have informed AppleInsider that their notebooks are starting to arrive — a full day early. Meanwhile, there is now confirmation that the first SSD-based models have also shipped.
"Got mine this morning bright and early via FedEx from China!," one reader wrote in an e-mail.
It appears Apple is shipping orders priority out of Shanghai, which means a good percentage of customers stand to receive their notebooks today rather than Friday as shipment confirmations had initially suggested.
Meanwhile, AppleInsider on Thursday received the first confirmation from Apple retail store representatives that they too expect to have the new ultra-slim notebooks in stock momentarily.
Though retail representatives on Wednesday were uniformly clueless as to when they'd have stock of the Air (some times saying "2 to 3 weeks," sometimes saying "we have no idea"), calls placed to the company stores on Thursday morning revealed that some locations have now been told to expect the notebooks "within the next two days" and by "Saturday at the latest."
HDD and SSD at Fifth Ave store
In New York City, Apple's Midtown Manhattan flagship shop has already received delivery and set units up for display, including an SSD model. A video from the store (above) shows patrons getting their first feel of the machines.
Update: MacBooks pulled from Midtown store
According to numerous submissions, Apple corporate reprimanded staffers at the Midtown Manhattan store for displaying the MacBook Airs ahead of an official retail roll-out, presumably planned for Friday (tomorrow). The models have since been removed from the floor.
"I just went to the store and they said that they had them on display, but they got a call from the corporate office telling them to take them away," wrote one tipster. "The associate said to call sometime tonight to find out exactly what time they would be available again."
"I just spoke with the NYC store, they have not sold 1 Macbook Air yet," wrote another tipster. "They had them out 'a couple days ago on display' and then pulled them, they have a large banner also, the employee said the best guess is they will be for sale on Friday — when more of the country gets their shipments or Saturday if they need to wait for the OK from headquarters."
Meanwhile, Ars posts some photos showing the approximate 40 percent size reduction of the MacBook Air's retail packaging compared to that of Apple's other notebooks — the MacBook and MacBook Pro. And UneasySilence submits some small, but good quality unboxing photos.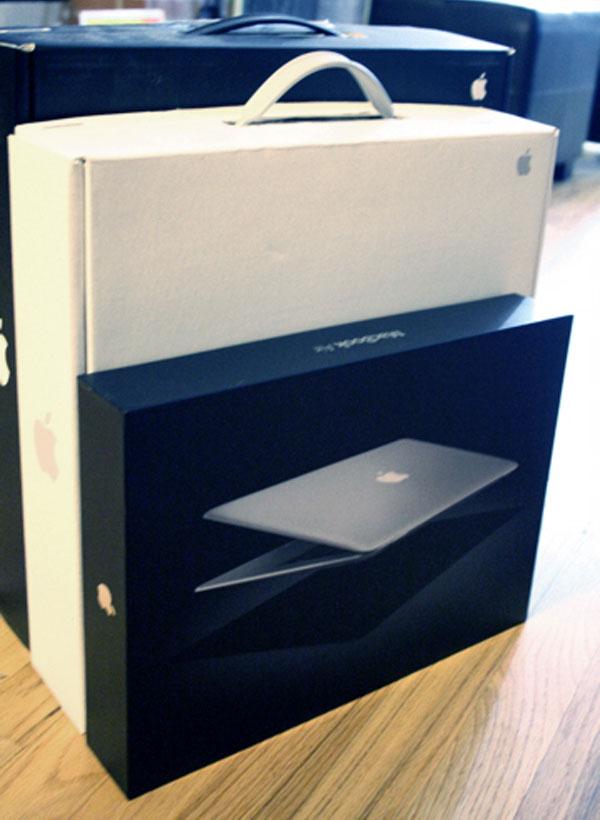 Some SSD-based models ship
It appears that Apple has now also begun shipping the first batch of SSD-based MacBook Air orders to customers who placed their order immediately following Steve Jobs' Macworld keynote on January 15th.
Apple retail re-adjustment tonight
Apple's Midtown Manhattan store is already was showcasing the new MacBook Airs, but the notebooks are nowhere to be found at Apple retail stores on the West Coast. That said, however, some tipsters claim that several Apple retail stores will be adjusting their planogram layouts overnight, with the intention of opening shop tomorrow with Airs on display.
This article will be updated as more information becomes available. If you've received your MacBook Air and have any comments or photos you'd like to share, don't hesitate to submit them via email to: news (at) appleinsider (dot) com.