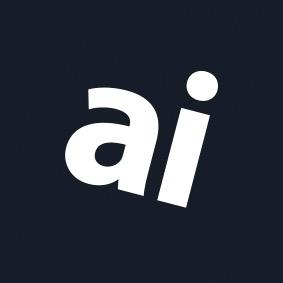 Why you can trust AppleInsider
Review: Netflix Player vs Apple TV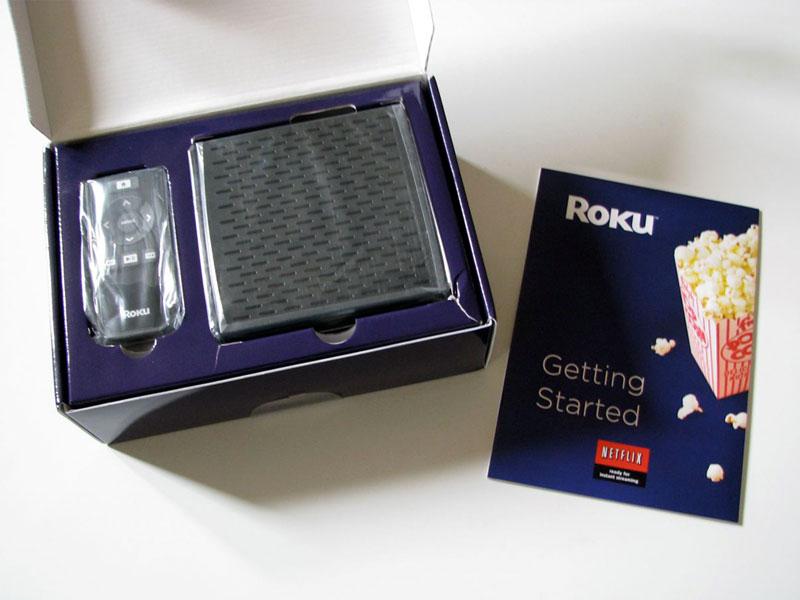 ---
Roku's new dedicated box for streaming content from Netflix's Watch Instantly service offers a fairly large but somewhat eclectic variety of decent quality movies and TV programs at a very reasonable price, particularly for existing Netflix subscribers. While frequently pitted against Apple TV, the two products are actually more complementary than directly competitive. Here's how they stack up.
The Roku box currently does one thing: stream select Netflix titles from a library of content available for immediate viewing. Netflix says that around ten percent of its library of 100,000 DVDs is available for streaming from its Watch Instantly service. Using it previously required hooking up a Windows PC running Internet Explorer and Windows Media Player to your TV set. With the Roku box, you can tune into Netflix Watch Instantly streams a bit more conveniently with minimal setup.
The downside to the $99 Roku box's core simplicity that it requires adding yet another remote and video input to your home theater setup just to expand your potential movie viewing options. Netflix's service might be more attractive if integrated into a DVR such as the Tivo, or into Apple TV as a software module. Netflix plans to license its service to other hardware makers, so anything's possible.
Apple TV allows users to buy or rent movies online in a pay-per-view model, but it also serves as a link between the computer and the living room home theater and stereo, allowing users to show off their iPhotos libraries and stream audio from any iTunes computer to the stereo system, as well as shop for movies, TV, music, and music videos that can sync back to iPods and iTunes computers in the household.
On the other hand, viewing streamed titles on the Roku box doesn't cost anything extra for existing Netflix subscribers; being able to immediately watch any of the subset of movies and TV episodes available for streaming at no additional fee is a pretty sweet deal. All of the iTunes movies and TV episodes available for Apple TV have a rental or download fee that can add up for users who love watching TV.
At the same time, Apple TV also provides access to an increasing number of audio and video podcasts, including several now being presented in HD. The growing library of news, comedy, music, sports, arts, tech, and special interest podcast programing is all available for free. It's also possible to watch YouTube videos on Apple TV, but their low quality leaves something to be desired for anyone looking for alternatives to DVD rentals, cable, or satellite programming. Apple TV also provides access to your own home movies in iTunes, and shared movies published by friends using the .Mac Web Gallery service. If you have family and friends using .Mac, Apple TV makes a pretty slick way to share and view home movies in better than DVD-quality.
In terms of content, the Roku box and Apple TV deliver a limited amount of overlap. The Netflix documentaries, older movies, and TV shows available to Watch Instantly are certainly cheaper to view than when buying them from iTunes individually, but the type of content Netflix offers also represent the least compelling feature of Apple TV. Many of the Netflix streaming titles are independent, foreign, or obscure titles that aren't even in iTunes. Conversely, the broad functionality of Apple TV in serving up free alternative content, user generated material, new release and blockbuster HD titles is completely absent on the Roku box.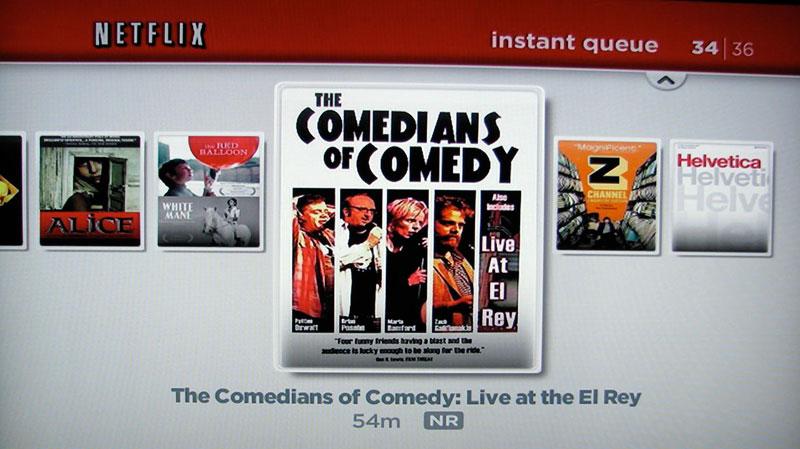 In order to watch any titles on the Roku box, you'll need to go to the Netflix webpage and navigate through its offerings to select the movies you want to add to your Watch Instantly queue. Once added, a step that seems to take an oddly long amount of time in the web interface, the selected titles become available for watching immediately on the box itself. There is currently no way to shop for titles on the Roku box directly from the TV interface, which is somewhat clumsy but not a show stopper. The only thing the box displays on TV is the series of titles you have previously added to your Watch Instantly queue via the Netflix website.
Apple TV debuted with a similar sort of limitation, as movies originally needed to be downloaded through iTunes on a computer, then synced with Apple TV in order to watch them. With the January Take Two software update (Review: Part 1, Part 2), Apple TV now lets users browse for movies directly from their living room TV and watch titles directly without dealing with a separate computer at all.
Roku also plans to eventually provide a software update for its Netflix box to enable direct online shopping as well. Netflix users are likely already accustomed to picking their movies from the service's website and setting up a queue, so the bare bones menus on the Roku box aren't likely to raise too many barriers for its intended audience. It is somewhat frustrating to navigate through the Netflix site looking for Watch Instantly titles, because it keeps recommending related movies that are only available on DVD. From casual browsing, it feels like much less than ten percent of the Netflix library is actually available for streaming. It seems more like five percent, and that subset is mostly older, foreign, or special interest.
On page 2 of 3: Sync or Stream; and Audio and Video Quality
Because everything is streamed directly on the Roku box, the quality you get is based on your network connection. Netflix serves up four different levels of quality, so what you get on a fast pipe looks better than what you can get if you share a slow DSL line. That also means that even if you wouldn't mind waiting to download the highest quality version possible, you can only get the poorest quality version if you have a slower network connection. Apple TV has a hard drive, so it can progressively download even HD movies in advance even if you have a slower connection.
Another advantage of Apple TV's hard drive storage is that users can sync a selection of movie downloads to the box, then take it to another location, even one lacking fast Internet service, and still play back their content. Apple's iTunes movie rentals do require a functional Internet connection to validate prior to watching them, but it does not have to be a high speed connection.
The Roku box is only usable when directly connected to fast Internet service. That also means it simply stops working in the case of a poorly timed Internet service outage. Its limited buffer of Flash RAM for incoming streamed content also means that fast forwarding or reviewing a movie results in a clumsy pause as the stream catches up and begins playing again. The user interface for this does seem to be well designed however, with the program presented as a series of still frames (below) that makes jumping back or forward easy enough to do. If you stop watching a program and return to it, it automatically beings playback where you left off last.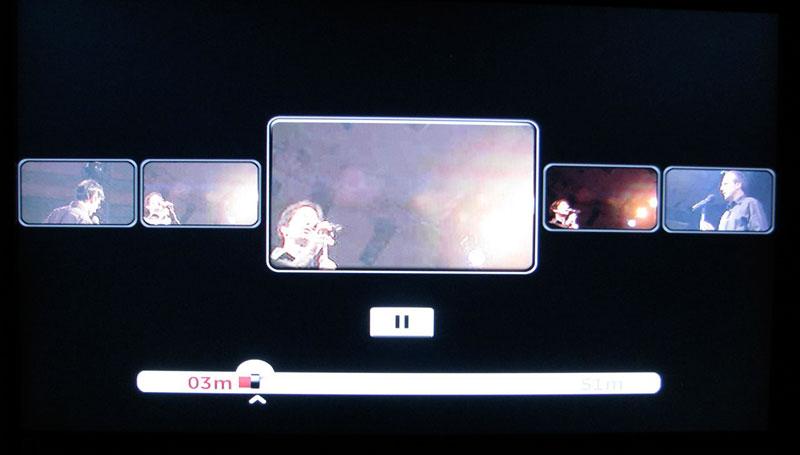 Roku promises to support 720p HD content at some point in the future. Doing so would require a very fast Internet connection because, again, the box has a very limited buffer for streamed content. Apple TV offers HD content now, both in commercial movies and in free podcasts and in Web Gallery and home movies. As mentioned above, its hard drive means that it can download titles and store them for playback, making it less dependent upon a flawlessly fast Internet pipe to deliver a smooth picture.
Both both boxes also support optical and HDMI digital audio outputs, but Roku's Netflix content only supports simple stereo audio. Apple TV supports 5.1 Dolby Digital soundtracks on most HD movies. Its TV and standard definition movies all have simpler Dolby Surround or just basic stereo audio.
The Roku box sports composite and s-video outputs, something Apple TV lacks. On an HDTV, using the included composite video cable results in a softer picture that looks ten years old but isn't really hard to watch. The Roku's simple menus with large graphics don't really demand a high resolution screen. Using an HDMI or component cable results in a sharper, clearer picture and menus, although many of the album graphics on Netflix's titles are low resolution. Apple TV makes more use of complex menus and fits more content onscreen at once in the shopping screens, underlining Apple's decision to target it as HDTV only.
At best quality with an ideal Internet connection, streaming Netflix titles on the Roku box look fine on older TVs but can only meet the lowest of expectations in video quality on an HDTV. Viewed from the couch, the pixelation and limited color depth certainly isn't impressive, but is fine for the type of content Netflix offers. It is almost comparable to digital cable programming. As with Apple TV, if you pause the picture and look at it from a few feet away it is not very great, but for watching movies and TV at a usual distance it is quite easy to watch.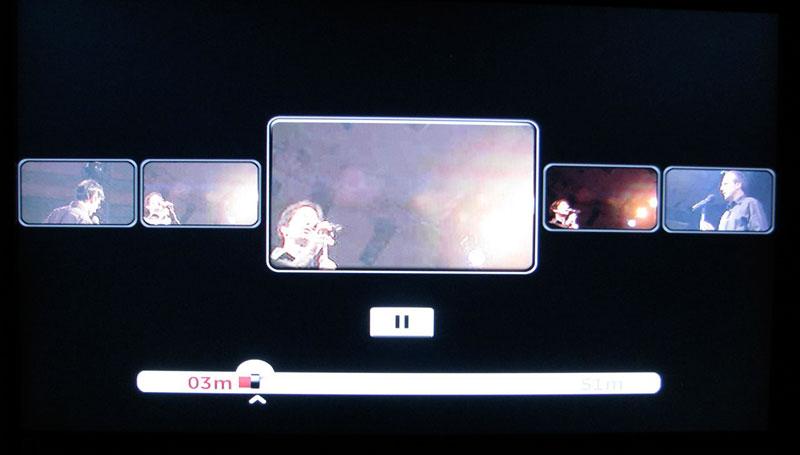 Apple TV's basic standard definition content is quite similar to the best quality out of the Roku box, although the Apple TV's menus have a considerably more polished and refined look and feel. On both devices, the actual video picture quality varies considerably between different titles, depending a lot upon the work done by the studio to preset it digitally, and whether the program is presented in full screen or tightly letterboxed into a narrow band of the TV set. Apple TV's HD content delivers a considerable better experience, albeit at a fixed cost per movie.
That all adds up to Roku's box being a good way to watch a wide but often quirky spectrum of documentaries, comedies, TV episodes, and older movies that don't really cry out for blockbuster high definition audio and video. However, it's not really a direct competitor for Apple TV, since Netflix really doesn't offer a strong selection of mainstream movies or TV. The company is working to improve its Watch Instantly selection, it says.
New and Premium Content; Rating; and Pros & Cons.
That's really the biggest downside to the Netflix Watch Instantly service: the selection is fairly limited unless you're a big fan of obscure movies. There aren't very many newer or more popular titles available for streaming and no HD content yet. Foreign films and documentaries are well represented however, including a number of engaging Red Envelope Entertainment titles produced by Netflix itself, many of which are award winning political or human interest titles.
Even most of Netflix's popular TV shows aren't available to watch on demand. For example, Family Guy, The Sopranos, Strangers with Candy, and Reno 911 are all only available from Netflix on DVD, but you can watch the L Word, Weeds, the Office (both BBC and US versions), and Fat Actress (if you dare) from the Roku box. Most TV shows only have older seasons available within Watch Instantly, with no episodes more recent than 2006.
With Apple TV, the primary focus is on new movies (available at DVD release) and TV (the day after airing), but you must reach into your pocket to rent or download them. Because Apple TV also serves up user content (such as home movies, photos, and music), alternative content (podcasts, shared Web Gallery, and YouTube) and the latest release HD movies, there is really minimal overlap between what it does and the Roku box.
For that reason (in addition to cabling simplicity), it would be great to see both products converged into a single device that offered downloads, rentals, all you can watch subscription content, and access to user and alternative content. Until then, users will have to weigh their specific needs against Apple TV and Roku's box to determine which box, both, or neither is right for them.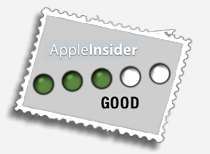 Fairly cheap hardware purchase
Watch Instantly service is great deal for existing Netflix users
Fairly decent video quality, with a 720p firmware update promised
30 day money back guarantee
Works with both standard TV and HDTV sets
Content is currently limited to mostly older, foreign, and obscure titles
Cheaply designed box is pretty basic looking
Requires ordering content from the web on a separate computer
No hard drive to buffer or store content
Requires a fast network connection