Apple previews Mac OS X Snow Leopard Server

Apple at its annual developers conference Monday revealed that Snow Leopard Server, the next generation of Mac OS X Server, will deliver new core software technologies and services designed to better connect businesses, unleash the power of modern hardware, and lay the foundation for a new wave of innovations over the next several years.
Multicore, 64-Bit, and OpenCL
Like its Mac OS X Snow Leopard client cousin, the new version of Server will deliver support for multicore processors with "Grand Central," a new set of built-in technologies that makes all of Mac OS X Server multicore aware and optimized for allocating tasks across Macs that ship with multiple cores and processors. Similarly, the software will also use 64-bit kernel technology to support up to a theoretical 16 terabytes of RAM — or 500 times what is possible today — and leverage OpenCL to allow any application to tap into the vast gigaflops of GPU computing power previously available only to graphics applications
Building on the initial release of iCal Server, Snow Leopard Server will include a new version of the open standards-based calendaring and scheduling service that will include group and shared calendars, push notifications, the ability to send email invitations to non-iCal Server users, and a browser-based application that lets users access their calendars on the web when they're away from their Mac.
Likewise, the first major overhaul to the system's Podcast Producer will feature an new workflow editor that leads users through all the key steps involved in creating a successful podcast. This includes everything from selecting videos, transitions, titles, and effects to adding watermarks and overlays to specifying encoding formats and target destinations — wiki, blog, iTunes U, Podcast Library — for the finished podcast.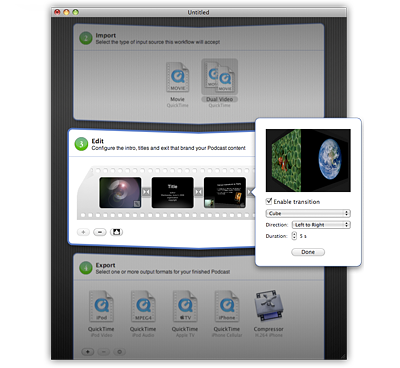 Additionally, support for dual-video source capture will let users record both a presenter and a presentation screen, allowing a picture-in-picture style ideal for podcasting lectures. The 2.0 release will also include a new Podcast Library, which lets users host locally stored podcasts and make them available for subscription by category via automatically generated Atom web feeds.
Collaboration & Remote Access
For business, Snow Leopard Server will offer the power of online group collaboration through the use of wikis, blogs, mailing lists, and RSS feeds. More specifically, Apple said it will further the collaboration with wiki and blog templates optimized for viewing on iPhone; content searching across multiple wikis; and attachment viewing in Quick Look. It will also introduce My Page, which gives users one convenient place to access their web applications, receive notifications, and view activity streams.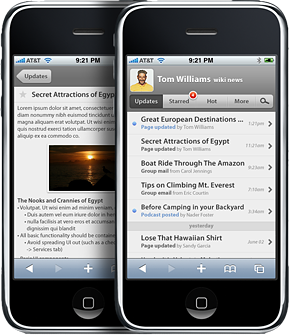 Also targeted at business will be improvements to Remote Access, such as push notifications to mobile users outside a firewall, and a proxy service that offers them secure remote access to email, address book contacts, calendars, and select internal websites.

New Address Book Server
Meanwhile, one completely new feature to the sever OS will be Apple's first open standards-based Address Book Server aimed at making it easier to share contacts across multiple computers. Based on the emerging CardDAV specification, which uses WebDAV to exchange vCards, Address Book Server will let users share personal and group contacts across multiple computers and remotely access contact information without the schema limitations and security issues associated with LDAP.

Improved Mail Server and ZFS support
Among the other features planned for Snow Leopard Server are an overhauled Mail Server engine designed to handle thousands of simultaneous connections, and read and write support for the high-performance, 128-bit ZFS file system.
Mail services will also be enhanced to include server-side email rules and vacation messages, Apple said.