New and old AT&T iPhone plans compared, cost increases detailed [u]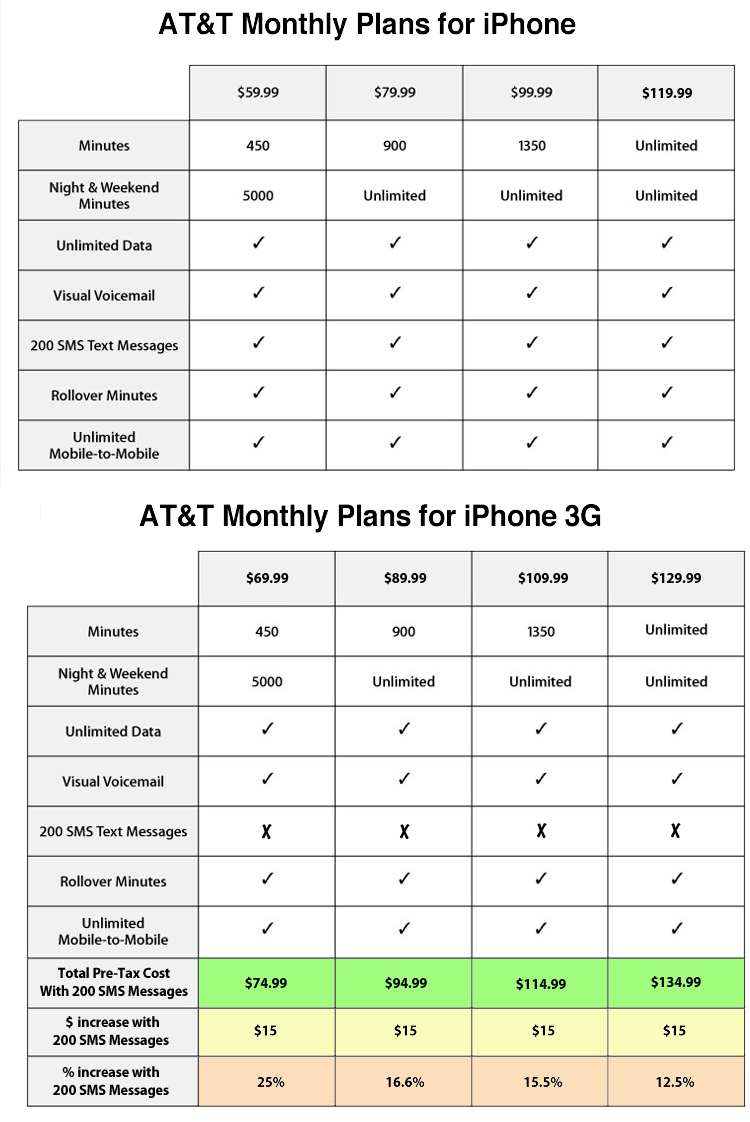 AppleInsider is supported by its audience and may earn commission as an Amazon Associate and affiliate partner on qualifying purchases. These affiliate partnerships do not influence our editorial content.
With AT&T increasing data costs while simultaneously cutting text messages from its iPhone 3G plans, individual iPhone users upgrading to the 3G model will find themselves paying between 12.5% and 25% more to maintain the same level of service while FamilyTalk plan subscribers will likely see their costs rise anywhere from 8% to 27%. Included are some charts observations to help explain why. [Updated 9:00 p.m. Eastern with clarification on FamilyTalk SMS options and pricing.]
All of AT&T's individual iPhone 3G calling plans have risen $10 when compared to those offered alongside the original iPhone. That's because AT&T is now charging $30 for the bundled unlimited data plans rather than $20, as it expects subscribers to increase their internet usage and throughput as a result of the new iPhone's 3G chip, which downloads about twice as fast as the EDGE chip in the original iPhone.
At the same time, however, AT&T has obnoxiously reduced the number of standard SMS messages included with each plan from 200 to zero. To get those 200 text messages back, subscribers will have to pay $5.00 more per month. As such, we've factored that added fee, along with the additional $10 data charge into our chart (below). The chart compares the original iPhone plans offered by AT&T to the new iPhone 3G plans with the added costs required to maintain basic text message capabilities and unlimited data downloads. All iPhone monthly plans MUST include the $30 data plan.
(It should also be noted that AT&T also offers 1500 SMS messages a month for $15 — a $5 increase when compared to the original iPhone 3G SMS plans — and unlimited SMS messages for $20 per month.)
AT&T's original iPhone plans (top) compared AT&T's new iPhone 3G plans (bottom) | Copyright AppleInsider.com
Generally, iPhone 3G users subscribing to the entry-level plan with 450 minutes will find themselves paying 25% more for their monthly phone bill with 200 SMS messages, while users subscribing to the unlimited plan will be paying about 12.5% more.
AT&T has essentially carried over the same changes to its FamilyTalk plans. The cost associated with each line on a FamilyTalk plan has risen $10. Similarly, FamilyTalk plans no longer bundle 200 SMS messages as standard. FamilyTalk plan subscribers who want text message capability can pay 20 cents per message or subscribed to an unlimited SMS family plan for $30 a month. Alternatively, individual SMS plans can be purchased for each line at the $5 for 200 messages, $15 for 1500 messages, or $20 for unlimited messages.
Information on FamilyTalk SMS options and the chart (below) were updated at 9:00 p.m. Eastern time following clarification on FamilyTalk SMS options from an AT&T source. AT&T's original press release on the matter appears to have been misleading. While AT&T believes most FamilyTalk subscribers will play it safe and subscribe to the $30 Unlimited plan that covers all lines, it will offer cheaper plans starting at $5 per line for 200 SMS messages as noted in the above paragraph.
For the purpose of our charts, which compare the original iPhone Family Plans to the iPhone 3G Family Plans, we've assumed subscribers will play it safe and adopt a 200 SMS plan ($5) for each line. As a result, two-line Family plan costs rise $30 across the board ($10 of data plus $5 of SMS for each line), which translates into a 27% increase for families on the 700 minute plan with two lines and unlimited SMS messages, scaling down to a 8% increase for those on the top-tier 6000 minute plan.
(AT&T's pricing for the Family Unlimited plan is somewhat murky. AT&T prices the plan at $259 per month but it's unclear whether that price includes two lines or one. We're working to sort this out.)
In addition, AT&T is also mandating that all current subscribers pay an $18 upgrade fee for each iPhone account that is upgraded to an iPhone 3G account.
Readers should also be aware of miscellaneous usages charges, taxes and fees that are tacked on to wireless bills each month. For instance, these charges added nearly $20 in June to an individual AT&T account in New York that was subscribed to the $109/1350 minute iPhone plan.