Wal-Mart stores already advertising iPhone 3G availability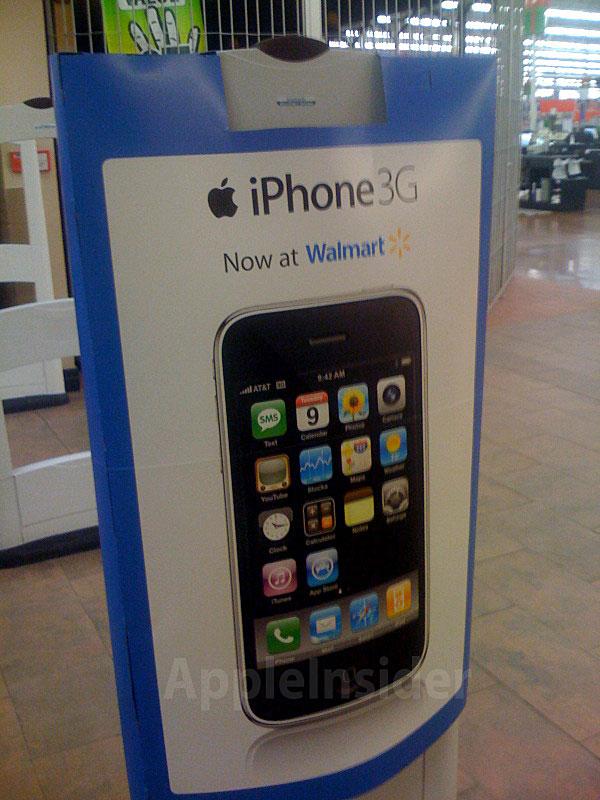 Adding a bit more confirmation to what is widely presumed, a few Wal-Malt stores have jumped the gun and are starting to advertise availability of Apple's iPhone 3G ahead of an official roll-out planned for later this month.
Over the past week, readers have noticed both window decals and cardboard display jackets (pictured below) showcasing an iPhone 3G alongside text that simply reads: "iPhone 3G. Now available at Wal-Mart."
As previously reported and further confirmed by one of the discount chain's internal memos this week, the vast majority of Wal-Mart stores will begin selling the Apple handset beginning at 9:00 a.m. on Sunday, December 28th.
Although rumors had suggested the possibility that the retailer had obtained an exclusive deal to market a special-run 4GB iPhone 3G for $99, those reports now appear to be inaccurate. Wal-Mart will instead carry Apple's existing 8GB and 16GB models, which will sell for $197 and $297 respectively with a two-year AT&T contract.
In preparation of this month's roll-out, 488 Wal-Mart stores were selected this week to participate in a pilot program to ensure all of the retailer's systems are functioning properly for the official launch.
As part of the program, each of the stores were instructed to complete the sale of five iPhone 3Gs to their associates for the aforementioned prices. The associates are entitled to a 15% discount on their AT&T wireless bill, however.