First look: unibody 17" MacBook Pro (with photos and video)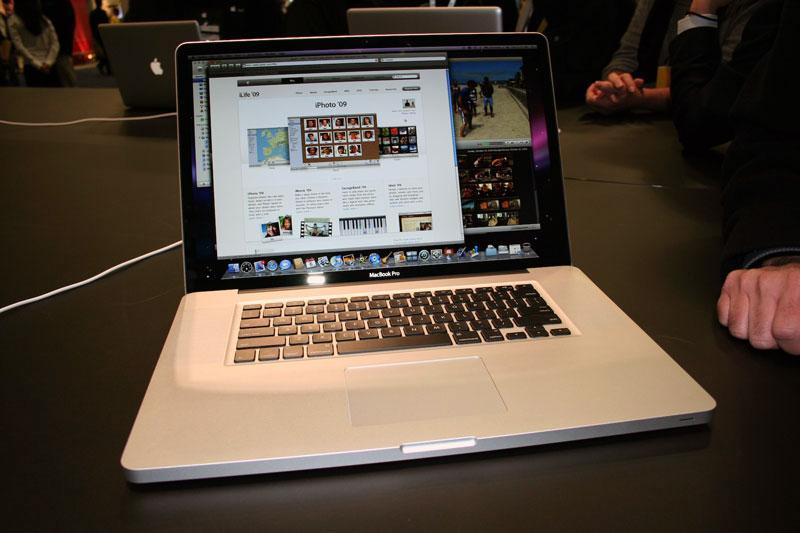 AppleInsider is supported by its audience and may earn commission as an Amazon Associate and affiliate partner on qualifying purchases. These affiliate partnerships do not influence our editorial content.
It was no surprise to see a unibody refresh of the 17" MacBook Pro; many wondered why the model wasn't included with the 13" MacBook and 15" MacBook Pro released last fall. Apple's belated high end notebook refresh did give Phil Schiller "one more thing" to introduce in his keynote however.
Apart from the new full sized notebook, Schiller's presentation was entirely about software, mainly the new iLife 09 and iWork 09 suites, and changes related to the iTunes Store, including variable pricing, DRM-free music, and 3G mobile downloads for the iPhone.
After talking at great length about the new software titles, Schiller noted "one more thing," a refresh that clothed the existing 17" "Al-Book" model in the new unibody industrial dress first appeared on the MacBook Air at last year's Macworld Expo, and which was adapted to the full size 13" MacBook and 15" MacBook Pro last fall.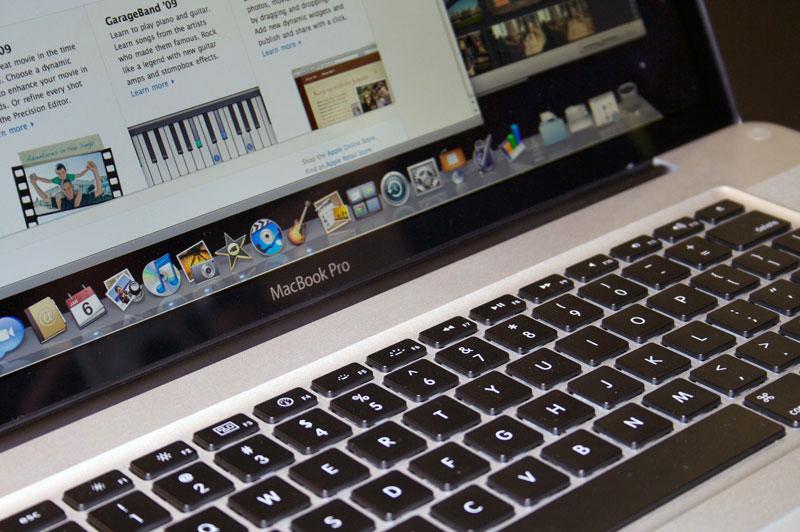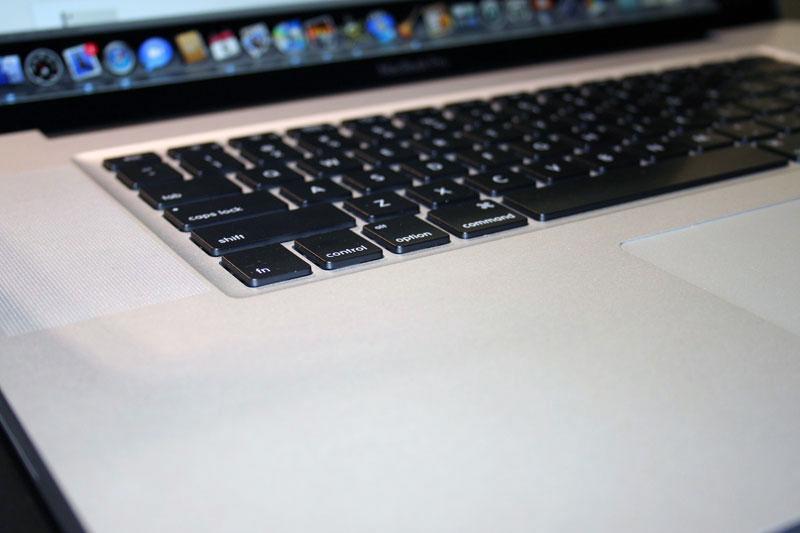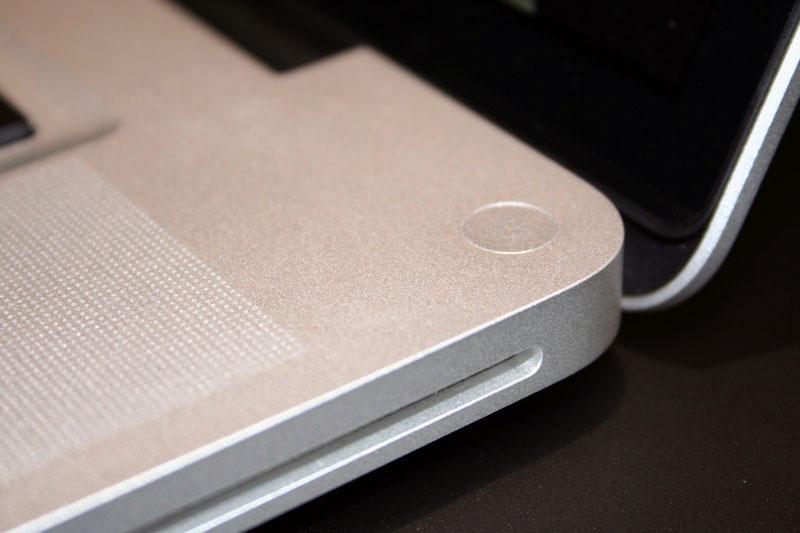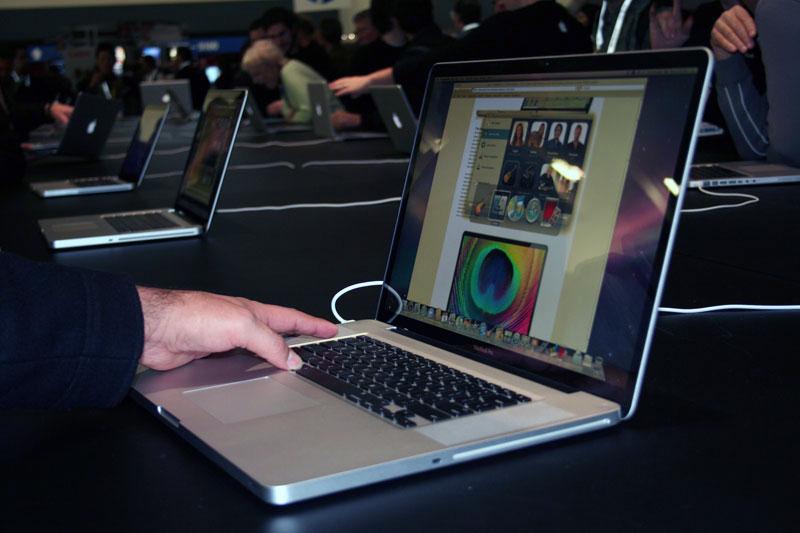 While very similar in appearance and features to the 15" Pro model, the new 17" notebook boasts a new high density, integrated (non-removable) battery and unique options for a matte finish screen and a 256GB flash RAM SDD alternative to its conventional 320GB hard drive.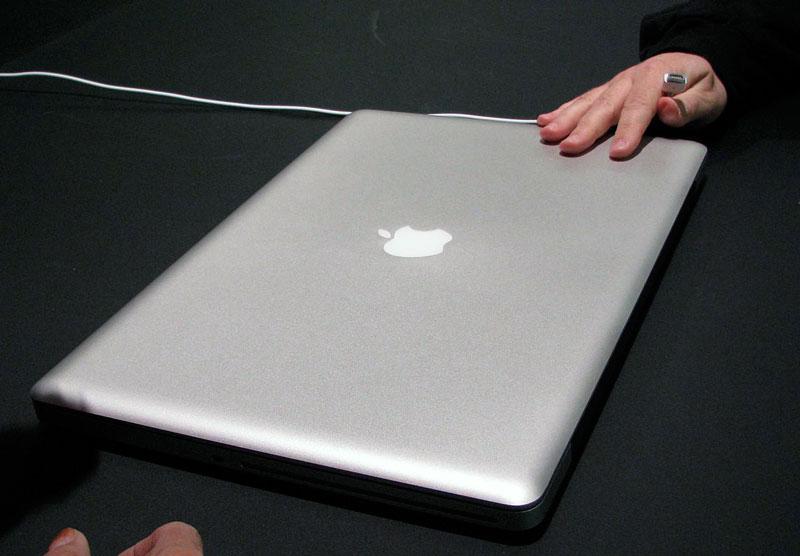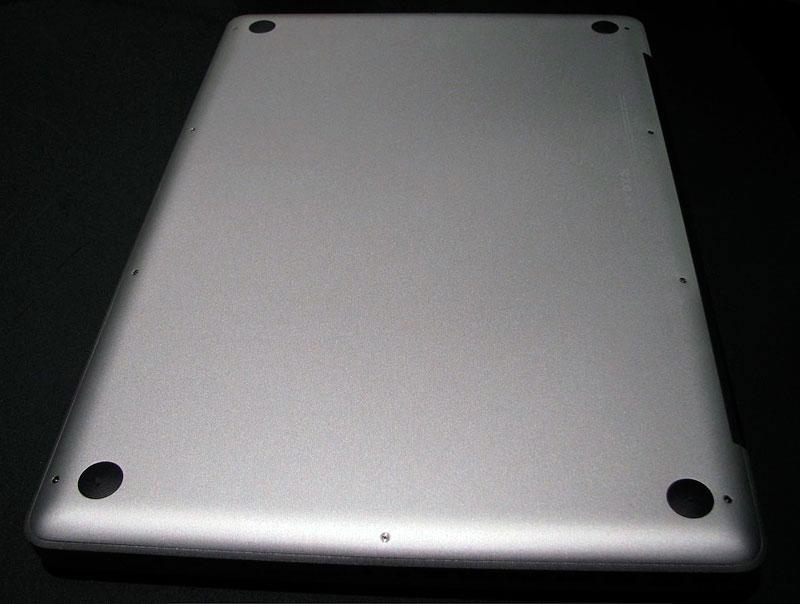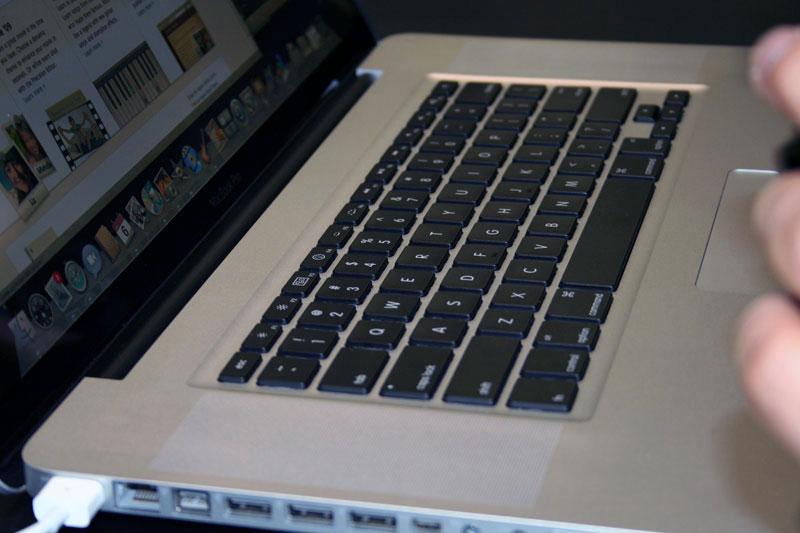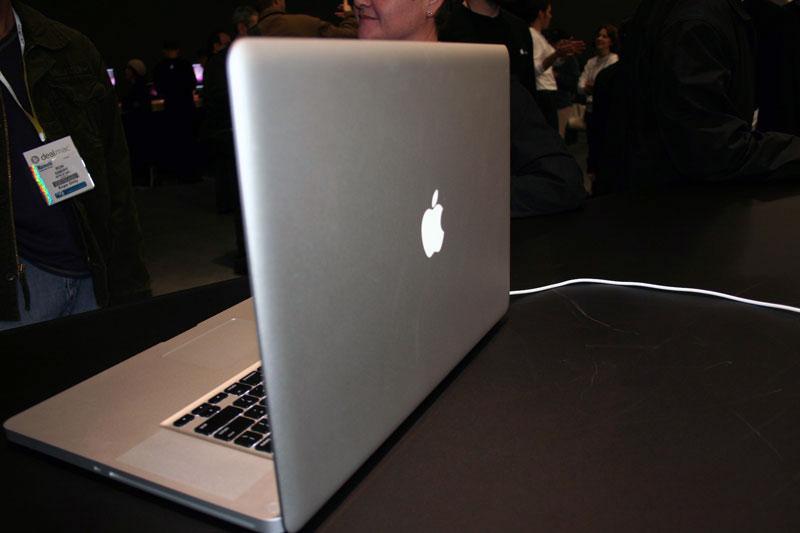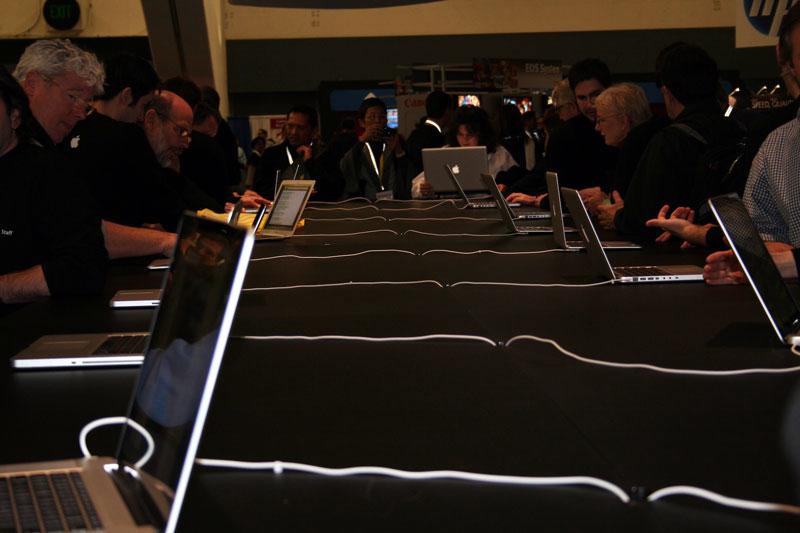 Apple only had two 17" models on display on the Macworld Expo show floor, next to a series of 15" MacBook Pros, 13" MacBooks, and MacBook Airs. As depicted in this video, the new 17" model is so similar to the 15" that it is difficult to distinguish between them unless they are right next to each other.
The 15" MacBook Pro was slightly larger than previous 15" models, but the new 17" isn't really; it's only slightly more than an inch wider overall; 15.47 inches (39.3 cm) wide compared to the 14.35 inches (36.4 cm) of the 15" model. It also weights just over a pound more: 6.6 pounds (2.99 kg) rather than 5.5 pounds (2.49 kg). It's also only slightly thicker: 0.98 inch (2.50 cm) versus 0.95 inch (2.41 cm).
Part of the compact outline of the 17" model relates to its built-in, 95 watt-hour lithium polymer battery, which Phil Schiller noted in his Macworld keynote address as being more compact due to a manufacturing process proprietary to Apple that results in a battery pack that not only consumes less space but also lasts three times longer and provides up to 8 hours of battery use on a charge. The removable battery pack used in the unibody 15" model is only rated for a maximum of 5 hours.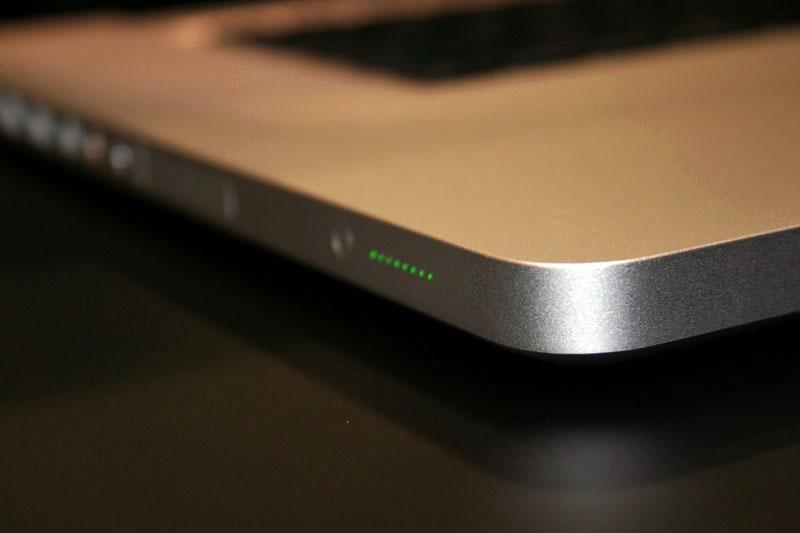 Lacking a battery latching mechanism and any provision for a removable cover for battery access allows Apple to pack the internals tighter, as it did with the MacBook Air. The new 17" MacBook Pro has no access covers on the back at all, so opening the machine to swap out its hard drive, RAM or battery module requires removing screws on the back plate. Having FW800 helps to alleviate the need to access the hard drive for most purposes outside of hardware problems.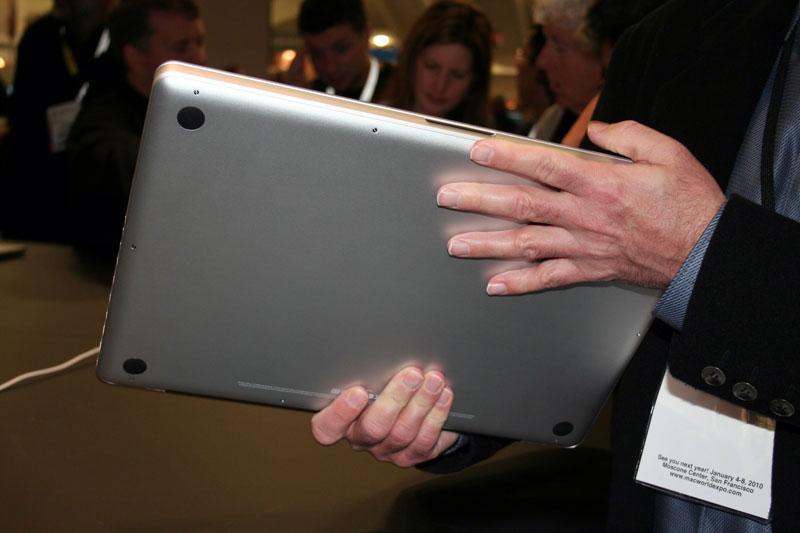 The only difference in available ports compared to the 15" model is the addition of an extra, third USB 2.0 jack, afforded by the 17" model's extra two centimeters of depth: 10.51 inches (26.7 cm) compared to 9.82 inches (24.9 cm) of side real estate on the 15" Pro.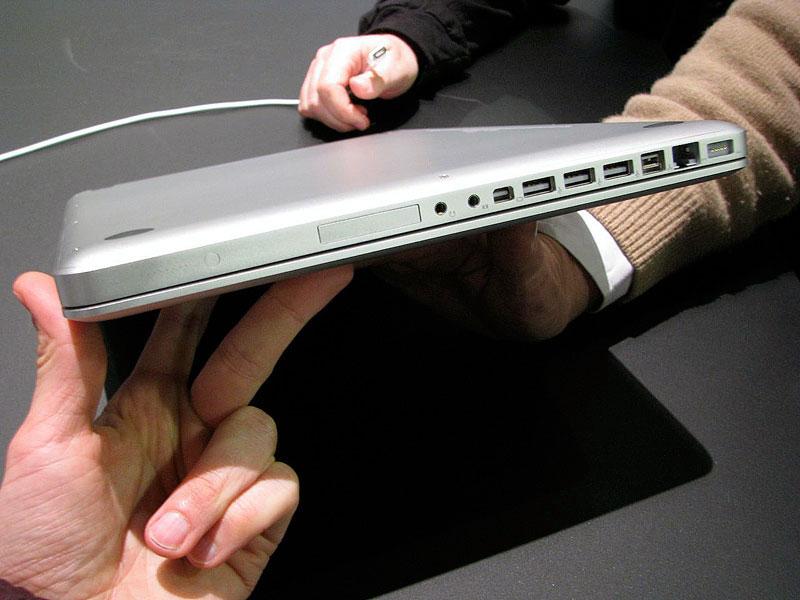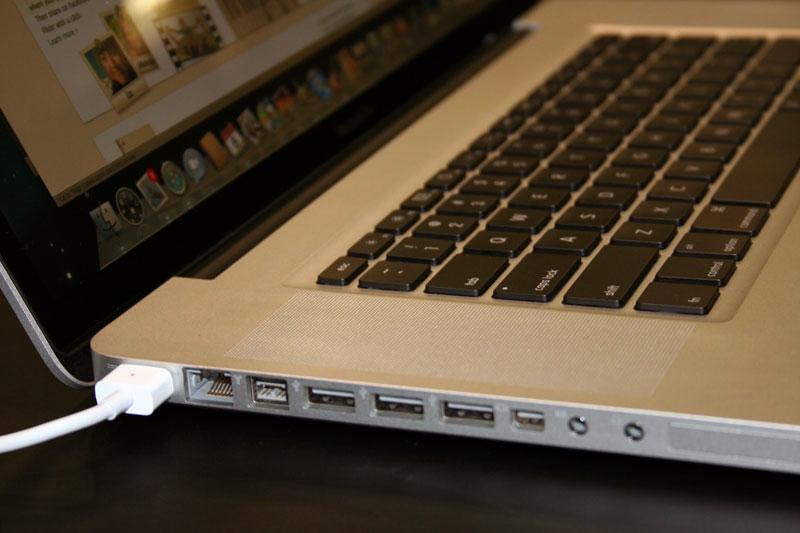 The larger model supports 8GB of RAM, compared to the 4GB limit on the 15" Pro, although both ship in the standard configuration with 4GB. It also uses the same 320GB hard drive, but is slightly faster at 2.66GHz versus the 15" model's standard 2.53GHz Intel Core Duo processor. There is also an option for a 2.93GHz processor.
The larger notebook also uses the same NVIDIA GeForce 9600M GT graphics processor with 512MB of dedicated GDDR3 memory as the 15" model, with the same option of using the lower powered, integrated NVIDIA GeForce 9400M graphics processor, which shares 256MB of the unit's installed DDR3 SDRAM system memory.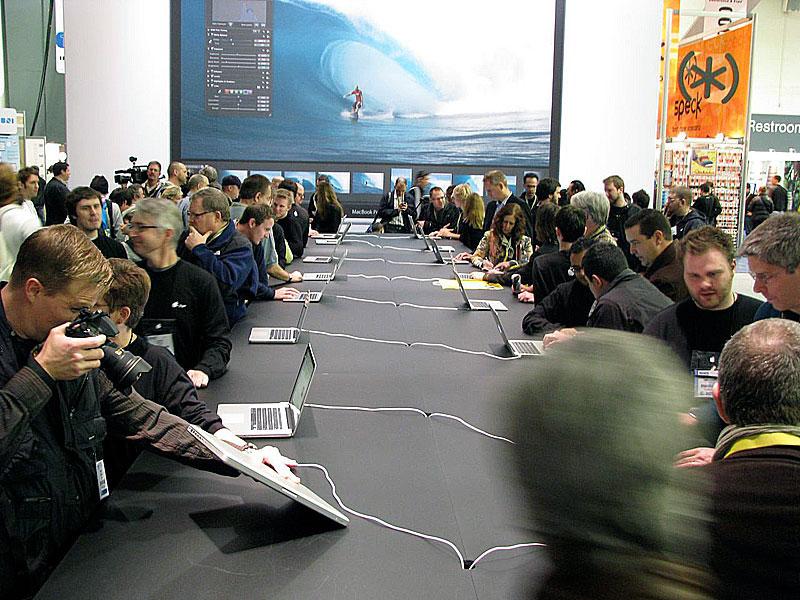 With the arrival of the top of the line, refreshed 17" MacBook Pro, Apple has converted its entire line of notebooks to the unibody design, apart from the low end white plastic MacBook the company continues to sell in order to have a model under $1000. Other hardware, including the expected new Mac mini and iMac, will undoubtedly be unveiled shortly at a separate Apple Event.