Microsoft intros Windows 7 beta, Songsmith app at CES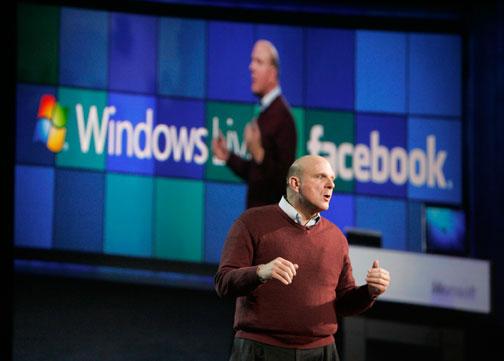 AppleInsider is supported by its audience and may earn commission as an Amazon Associate and affiliate partner on qualifying purchases. These affiliate partnerships do not influence our editorial content.
In Las Vegas to lead his first CES keynote yesterday, Microsoft chief executive Steve Ballmer announced a free Windows 7 public beta, available for download tomorrow, and a new piece of song composition software akin to Apple's GarageBand.
"Windows has become the language that over a billion people speak at every country and culture around the world," Ballmer told an audience of thousands on hand for the year's largest consumer electronics show. "I believe Windows will remain at the center of people's technology solar system."
Included in the keynote were several new feature announcements, outlined in a press release.  Home Group will let Windows users easily connect multiple home PCs together for printer, music, photo, and video sharing.  Device Stage presents a single, simplified interface for managing devices and running common tasks.  Peek quickly renders all open windows transparent, making icons on the desktop visible.
Windows 7, which is now feature-complete, has "all the right ingredients - simplicity, reliability, and speed," Ballmer said.  According to Microsoft, special attention was paid to "performance, reliability, security, compatibility and battery life."
Windows 7 will also fully support multitouch, enabling "people with touch-screen monitors to use multiple fingers to interact with their PC screens in a more intuitive way."
A new "Play-to" feature will allow "easier streaming of music, video and photos to devices in a home network."Â Â Windows Media Player now supports "more media formats", but no specific list was provided.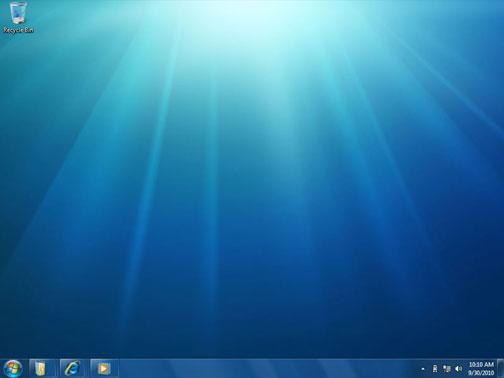 According to a CNN report, the energetic and uptempo Ballmer referenced Apple indirectly, touting PCs as the best combination of "value and power" in the market.
"That's why we say, 'I'm a PC and proud of it!'" Ballmer "bellowed", wrote CNN.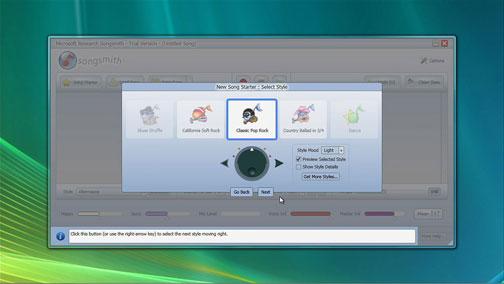 As reported by PC World, Microsoft also announced a new music composition program called Songsmith that seems to be aimed directly at Apple's Magic GarageBand.
According to its website, "Songsmith generates musical accompaniment to match a singer's voice. Just choose a musical style, sing into your PC's microphone, and Songsmith will create backing music for you."  A bizarre demonstration video depicts a stumped jingle writer and his daughter discovering Songsmith together, who then pass the program on to someone else who sings Songsmith a love song.  The video is complete with "follow the bouncing ball" lyrics on the bottom of the screen.
Other announcements included partnerships with Verizon Wireless to add Microsoft Live Search to Verizon's smart phones; with Dell to sell the retailer's computers preloaded with Windows Live software; and with Facebook.  Windows Live, a free suite that includes Windows Live Messenger, Windows Live Mail, and Windows Live Photo Gallery, is now globally available.  According to Microsoft, Windows Live and Internet Explorer 8 "help make the things people do most on the Web faster and less complex."  IE8 is still an unreleased beta.
And finally, not to be outdone by Apple's choice of Tony Bennett as a closing musical act, Microsoft finished its kenote with a performance by Australian musical-comedy group Tripod.