iPhone brief: multi-photo email, iGoogle ends, teaching tricks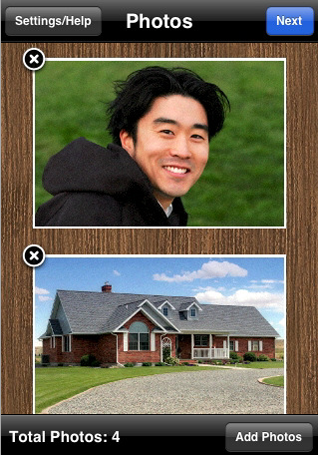 AppleInsider is supported by its audience and may earn commission as an Amazon Associate and affiliate partner on qualifying purchases. These affiliate partnerships do not influence our editorial content.
In this roundup of recent iPhone news, AppleInsider takes a look at a new app that can send emails with multiple photos, Google's decision to stop supporting an iPhone-optimized version of iGoogle, and a discovery that could teach your iPhone some salty new language.
New iPhone app enables multi-photo email sending
For users frustrated that the iPhone won't send more than one photo per e-mail, Aqua Eagle LLC has created Multi-Photo Email (99 cents, App Store). The app works by connecting directly to an outgoing mail server and sending the photos as attachments. Naturally, this requires an email account that offers access to SMTP.
The app can access Photo Library to pick photos, import recipients from Address Book, and adjust photo quality or reduce the size to cut down on the amount of data to be sent. The app also works on iPod touch.


Google drops iGoogle for iPhone
Less than one year after Google introduced its iGoogle page optimized for iPhone, Google has quietly redirected requests to its normal mobile browser landing page. The iPhone-optimized version had collapsible and expandable headers to reveal users' gadgets.
A Google Mobile Blog video uploaded in June 2008 that introduces the new iPhone page.
The reason for the pullback is unknown and is uncharacteristic for Google, which continues to run several iPhone-optimized pages such as its main search, Gmail and Google Reader. The launch of the T-Mobile G1, which runs Google's internally developed Android operating system, also hasn't affected iPhone plans and has seen Street View added with iPhone firmware 2.2 just weeks after the G1 reached stores.
Just last week, however, Google announced it is significantly scaling back its efforts by closing three engineering centers, releasing some contractors, and ending development for its Google Video, Mashup Editor, Notebook, Jaiku, and Dodgeball services.
How the iPhone learns new [bleeping] words
Ars Technica has discovered some unusual selectivity when it comes to which applications can teach the iPhone's dictionary new words and which ones can't.
Erica Sadun of the site has tried typing the same word over and over again in Notes only to find that there is no effect on the iPhone's user word database. However, typing the same words into a Safari search box for Google triggers an instant update to the list of words; a return to Notes confirmed that the same words were now recognized. This, Sadun writes, may be helpful if owners want to add colorful language and other unrecognized words without having to always override the built-in autocorrection.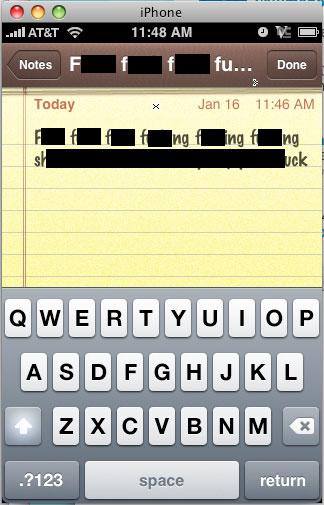 Notes after autocorrection has been trained. | Image credits: Ars Technica.