Briefly: Apple still selling $899 17-inch iMac for education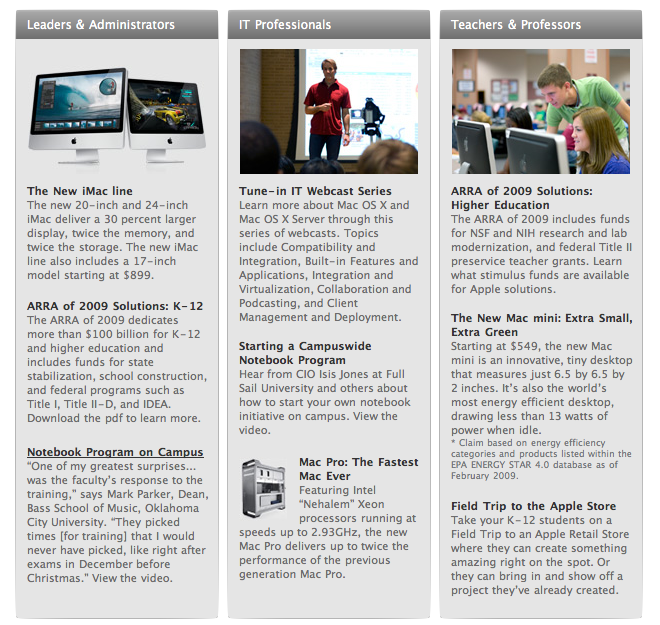 AppleInsider is supported by its audience and may earn commission as an Amazon Associate and affiliate partner on qualifying purchases. These affiliate partnerships do not influence our editorial content.
In its March eNews mailing to education users, Apple has revealed plans to continue to offer its 17" iMac to education customers starting at $899, alongside its current 20" and 24" iMac models now being sold to the general public.
The 17" iMac for education, which AppleInsider reported earlier would be limited to education sales, isn't being listed on Apple's publicly accessible online store for education or the general public or by any partners sites.
It appears the holdover product, the same white 17" iMac Apple sold in 2006, continues to be offered in response to the global economic crisis, which is hitting government and education markets particularly hard as tax revenues slip and the public sector seeks ways to close budget gaps.
The $899 price point of the education-only 17" iMac reflects the previous 17" CRT eMac model that Apple sold to education markets as a lower priced alternative to its flat screen models beginning in April 2002. Consumer demand for that originally education-only model resulted in Apple offering it to the general public within a month.
In 2005, Apple later returned the eMac to its original "education-only" status, although it was still possible to obtain through some resellers. The company then discontinued the PowerPC G4-based eMac in mid 2006 as part of its transition to Intel. It was also Apple's last CRT product; its lack of an Intel upgrade was part of the company's efforts to move away from toxic heavy metals that are used in CRTs.
Since then, Apple's lowest end offering among its all-in-one Macs has been the 17" flat panel, Intel-based iMac, which was discontinued outside of education sales in 2007, leaving the 20" iMac as Apple's entry level iMac model marketed to consumers.