iPhone 3G S faster than Palm Pre; 500K sales "conservative"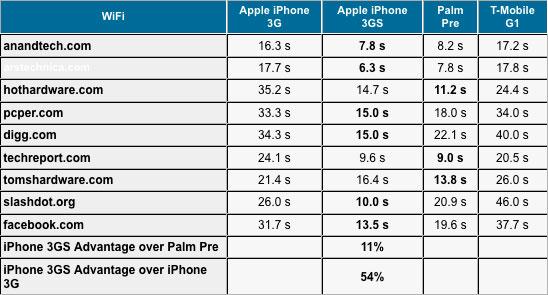 AppleInsider is supported by its audience and may earn commission as an Amazon Associate and affiliate partner on qualifying purchases. These affiliate partnerships do not influence our editorial content.
A series of benchmarks have shown that Apple's latest iPhone is so fast that it outpaces not just the older iPhone but Palm's self-proclaimed speed champ, the Pre. Sales are also poised to break speed records as new estimates suggest that Apple will sell significantly more than 500,000 iPhone 3G S units this weekend.
Benchmarks give iPhone 3G S clear lead over old model, Pre
While many informal comparisons have been conducted to show just how much faster the iPhone 3G S is over its predecessor, a new series of tests on Friday has shown that many of Apple's claims are borne out not just against the iPhone 3G but the Palm Pre and the only currently available Android phone in the US, the T-Mobile G1.
In loading a series of complex websites over Wi-Fi, AnandTech has found that the 3G S is about 54 percent faster on average than the 3G and, in a few cases, is about three times faster. But it's also about 11 percent faster than the Palm Pre, which shares WebKit as a rendering engine, and is only slower in two out of nine tests. That lead only grows wider with the T-Mobile G1: as it's slower than the iPhone 3G, it's often twice as fast or more.
Load times for commonly available apps were less dramatic between iPhones but only exacerbated the gaps between the Pre and Apple's hardware. A 3G S is between 13 percent and 42 percent faster at loading these apps versus a 3G depending on conditions, but it starts these roughly between two and four times faster than a Pre. Again, the sole Android phone in the comparison is slower still in all but Google Maps.
Almost all of the speedup is attributed to the Samsung ARM Cortex A8 processor at the heart of the new iPhone. Its clock speed gain is obvious, but it can also issue two instructions at once instead of the original iPhone's one and has more than twice as much cache. Palm is using an OMAP 3 chip from Texas Instruments that itself is considered fast.
iPhone 3G S sales likely to easily exceed 500,000: analyst
Just as the phone itself is fast, the iPhone 3G S should also outrun previous launch sales estimates, Piper Jaffray senior analyst Gene Munster said today in an investment note.
His research firm had originally predicted half a million units trading hands this weekend but now believes that figure is "conservative" based on early results. At the 5th Avenue Apple store in New York City, the analysts saw 350 customers in line. That was significantly less than the 540 in line last year, but above the 270 predicted last year.
On top of first-hand observations, Munster notes that the carriers themselves have also been very pleased and say that their early results have gone beyond expectations. AT&T's wireless chief Ralph de la Vega told CNBC that there were "hundreds of thousands" of pre-orders for the iPhone 3G before it went on sale. Outside of this, AppleInsider has heard of quick sellouts in at least the US and Canada.
Britain's O2, meanwhile, said that the iPhone 3G S had already sold more units by noon on Friday than the iPhone 3G had managed in its first 24 hours. Retail traffic was 10 times higher than usual, while web views were 150 percent higher.
Apple's performance is less than the million units it managed last year but is potentially impressive as only eight countries could participate on launch day where 21 had that option before. Subsequent launches in the next few weeks should have a much more tangible impact on Apple's overall numbers.