Steve Jobs asked to keynote CES 2010 in January [Updated]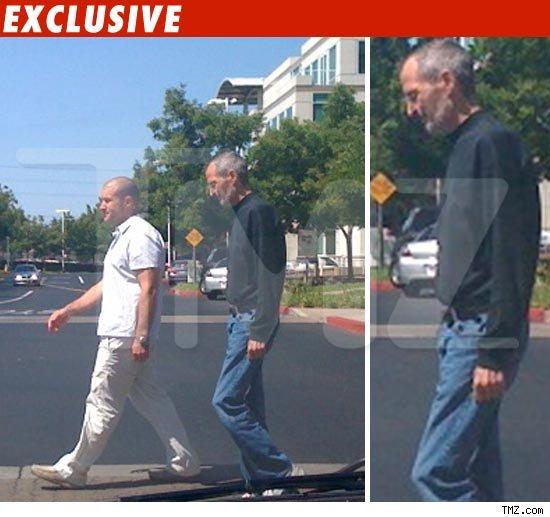 AppleInsider is supported by its audience and may earn commission as an Amazon Associate and affiliate partner on qualifying purchases. These affiliate partnerships do not influence our editorial content.
Apple Chief Executive Steve Jobs, who was photographed leaving the company's Cupertino, Calif. headquarters Wednesday, has been asked to keynote next year's Consumer Electronics Show. But will Apple even attend?
As revealed by The Wall Street Journal, Jobs was asked by Gary Shapiro to give the centerpiece talk at CES 2010 in January. The Apple executive has not yet responded to Shapiro's request.
But the report did suggest once again that Apple will be attending CES next year — something that was first revealed by AppleInsider. Sources said the move has as much to do about the electronics giant competing toe-to-toe with rivals for publicity as it does the freedom of announcing products on an independent schedule. That attempt to shift the spotlight has gained some unintentional outside support as a third-party group has secured a large Apple-focused booth area dedicated to third-party iPhone, iPod and Mac accessories.
After the Journal story broke, former Engadget editor Ryan Block — who was at the dinner with Shapiro — said the article's claims are "specious and flatly wrong."
"Bottom line, though is that if Gary had even gotten remotely close to implying Apple would be at CES, this shoddily sourced piece by Charny wouldn't have been the earliest story with the scoop nearly 24 hours after the fact — laptops would been immediately out for reports filed from the dinner table," Block wrote.
Apple has usually avoided attending CES, considered the world's definitive home electronics event, as Macworld Expo has often been running at or near the same timeframe and given the firm little reason to attend two events while promoting the same message. With Apple pulling out of Macworld Expo 2010, though, the company is no longer tied to that specific show and would only feel compelled to attend events when they serve Apple interests.
Shapiro, at dinner with a group of journalists, was relieved to find out he's not the only one who can't get a phone call from Jobs.
"This isn't the first time he's contacted Jobs," the Journal writes, "and not gotten a response, he said. The journalists at the table took note of a fellow traveler in their midst — Jobs provides very few interviews. 'I'm glad to hear I'm not the only one in that position,' Shapiro then said."
Block acknowledged that part of the conversation, but emphasized that Shapiro never even suggested Apple would attend CES.
"Shapiro went on to mention that Apple was a great and long-standing supporter of the efforts of the CEA," Block wrote, "but that their only direct involvement was sending a check each year to pay their membership dues."
Just how much of a presence Apple could have at CES is difficult to gauge: even for Macworld or its own special events, the company has rarely telegraphed its intentions very far in advance, including whether or not Jobs or another major Apple executive will deliver a keynote. The uncertainty leaves any possible product unveilings up in the air. However, any new Apple products are more likely to be available soon afterwards — in contrast to the typical firms attending CES, many of which often reveal products that they don't intend to ship for several months.
Meanwhile, Jobs was photographed leaving Apple's Cupertino headquarters Wednesday afternoon by celebrity news Web site TMZ.com. It is the first time that the Apple founder has been photographed in public since January. Conveniently, the photograph was allegedly taken with an iPhone.
Jobs was photographed Wednesday around 3 p.m. Credit: TMZ.com