Verizon turns to Android to compete with Apple's iPhone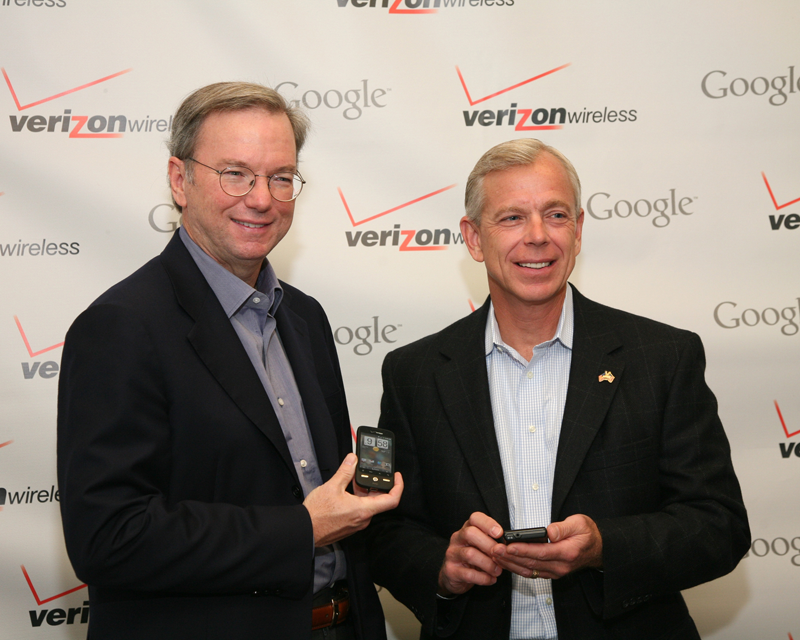 Verizon has teamed with Google to bring two Android-powered phones and the Google Voice service to its network, in an effort to fight off the iPhone and its exclusive agreement with AT&T.
Together, the two companies plan to create, market and distribute both products and services featuring Android-powered phones on the Verizon Wireless network. The two companies plan to co-develop handsets that will come with "innovative applications" created by both, as well as third-party developers already seen on the Android Marketplace.
And in what is likely a direct challenge to Apple and the iPhone, the Google Voice service will be allowed on all Android-powered Verizon handsets. The first two handsets are expected to be released in a matter of weeks.
"You either have an open device, or not," Lowell McAdam, CEO of Verizon Wireless, said in a conference call Tuesday. "And this will be open. We expect to bring that... application to market when we bring the first device out."
Apple has refused to accept the first-party Google Voice application onto the iPhone App Store, stating that the software too closely mimics its own default phone software. Both Google and Apple disagree on whether the application was formally rejected from the App Store.
Verizon's new "open" stance is quite a change for the company, which has traditionally kept tight controls over devices on its network. Earlier this year, the nation's largest wireless carrier said it would create its own application store and, at the time, said it would be the only option available for handsets.
"The nation's best wireless broadband network is a perfect complement to the innovation of Android-powered services and devices," McAdam said this week. "Together, we'll work to deliver a compelling new experience to our customers."
Eric Schmidt, chairman and CEO of Google, left, and Lowell McAdam, CEO of Verizon Wireless, held a joint conference in New York City Wednesday. Photo courtesy Verizon.
For Google, the deal with further expand the Android platform which, for a majority of its first year on the market, was only available on one device and on one carrier in the U.S.
"The Android platform allows Verizon Wireless customers to experience faster and easier access to the web from any location," said Eric Schmidt, chairman and CEO of Google. "Through this partnership, we hope to deliver greater innovation in the mobile space to consumers across the U.S."