AT&T asks court to pull Verizon's 'misleading' iPhone ads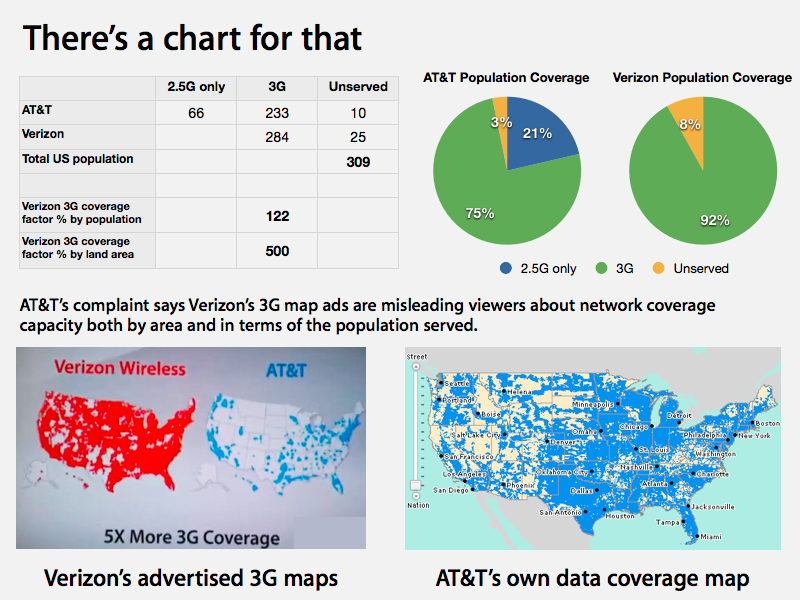 AT&T has stepped up its federal case against Verizon Wireless, amending its complaint to seek a restraining order against holiday season ads attacking its data network and describing the iPhone as 'misfit' because of poor 3G coverage.
Verizon began advertising spots mocking AT&T for providing less comprehensive 3G coverage in a new campaign last month.
The ads referenced Apple's iPhone "there's an app for that" campaign with lines like, "if you want to know why some people have spotty 3G coverage, there's a map for that too," depicting Verizon's 3G network in red and AT&T's 3G network in blue. The maps clearly portray Verizon's coverage as being ubiquitous and AT&T's service as only existing in a few areas nationwide.
Earlier this month, AT&T filed its original complaint against Verizon's ads, which claimed users were being misled after a survey found that 53% of those who saw the ads assumed that the areas not covered in blue in Verizon's maps of AT&T's service were total gaps in coverage.
"The map attributed to AT&T shows large swaths of white or blank space, as if these are areas in which AT&T has no coverage whatsoever," the suit stated. "By depicting AT&T's non-3G coverage as white or blank space in the map used in Verizon's print advertisement, consumers are being misled into believing that AT&T's customers have no coverage whatsoever and thus cannot use their wireless devices when they are outside of AT&T's depicted coverage area."
AT&T expressed urgency over the campaign, noting that the ads are airing during the "most vigorous and important marketing season for the wireless industry." Verizon responded by dropping some phrases in its ads that suggested users outside of AT&T's 3G coverage would be "out of touch," and added small print noting "voice & data services available outside 3G coverage areas."
In its expanded complaint, AT&T says "Verizon is running a series of advertisements which falsely communicate that AT&T does not have wireless data coverage throughout much of the United States. […] Contrary to the image presented in the Verizon ads, our wireless network is pervasive. It covers over 300 million people, or 97 percent of the U.S. population. Our fastest, or 3G, network covers approximately 233 million people, or 75 percent of the U.S. population."
Citing Verizon's own coverage reports, AT&T's complaint says that its rival's CDMA/EVDO 3G network "covers approximately 284 million people, or 91% of the population," and says "Verizon knows that its use of AT&T coverage maps is misleading because according to the coverage map legend on Verizon's, T-Mobile's, and Sprint's websites, the geographic spaces colored 'white' or left 'blank' on their maps represents areas in which there is no wireless coverage whatsoever."
The action filed by AT&T asks for "injunctive relief and damages," and asks the court to "immediately temporarily restrain, and preliminarily and permanently enjoin Verizon from running" both its ads and "from falsely advertising that AT&T customers cannot communicate or use their wireless devices when they are not in a '3G' coverage area."
AT&T's complaint also notes that "prior to the wider availability of '3G' networks, AT&T's '2.5G' GSM/EDGE network supported the hugely popular and iconic iPhone for more than a year, and still supports millions of iPhones and other wireless devices currently in use."
Spotted elephant called as witness
The complaint dives into the details of each ad Verizon is running, including the new "Island of Misfit Toys" spot, giving a play-by-play of how claymation characters were used to malign its network and describe the iPhone as misfit.
The complaint cites "the spotted elephant, in a surprised manner" asking why the iPhone was banished to the island of misfit toys. "What are you doing here? You can download apps and browse the web!" Then a "Dolly for Sue asserts that 'Yeah, People will love you [the iPhone]." Once Verizon's sparse map for AT&T's 3G coverage appears, "the iPhone wilts and its screen goes dark," just as "the toy airplane then assures the iPhone that 'you're going to fit right in here!"
AT&T's complaint then turns gravely serious in stating "the image of the sad and wilting iPhone on a island of misfit toys falsely communicates that the iPhone is a broken device because it cannot browse the web or download applications when outside of AT&T's depicted coverage area."
Two other spots depict the iPhone as being labeled as "naughty" or causing user infuriation due to limited 3G coverage, and AT&T also cites direct mail advertisements sent by Verizon that again depict AT&T's 3G coverage as being the company's only US data network.
"In all of the advertisements described above," AT&T's statement says, "Verizon makes the misleading statement that it has "5 times more '3G' coverage than AT&T." While this statement is literally true based on square miles, it is misleading because the overwhelming majority of the US population lives and works where both Verizon and AT&T have '3G' coverage.
"Indeed, from a population standpoint, Verizon only has 1.24 times more '3G' coverage than AT&T (285 million people/230 million people)."
In addition to an injunction to stop the ads, AT&T also asks for "treble damages as a result of Verizon's violation of 15 U.S.C. § 1125(a)" as well as attorney's fees, and describes its damages as being calculated in relation to Verizon's "sales and profits from its false and misleading advertisements" as well as its own lost profits.