OnLive cloud gaming service demonstrated on Apple's iPhone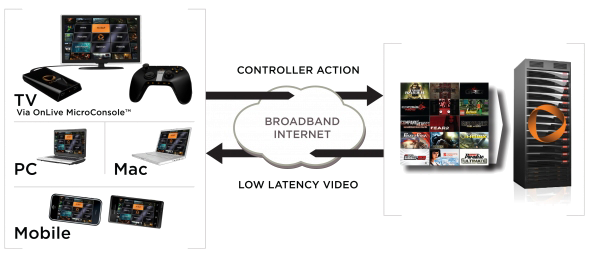 OnLive, the Internet-based interactive streaming service hyped as "the future of video games," is also capable of running on mobile devices such as Apple's iPhone, the company has claimed.
At the Wedbush financial conference in New York, OnLive CEO Steve Perlman demonstrated his company's game streaming service simultaneously on two iPhones. Perlman detailed the event on his company's official blog.
"While we only showed a tech demo today, it was great to give people in the audience a chance to try out OnLive on an iPhone," he said. "The large tiles that make up the OnLive user interface work perfectly on the iPhone touch screen, allowing easy access to all of the features of the OnLive game service."
OnLive is an ambitious gaming service that intends to offer the gaming equivalent of cloud computing. In theory, the service would allow gamers to utilize an inexpensive "thin client" at home to access a catalogue of current games with high-end graphics needs.
The service aims to eliminate the need for costly PCs capable of running system-intensive modern games like Crysis. Instead, all of the computing would be handled remotely, and the game itself would be streamed as video to the user at home, eliminating the need to have the expensive horsepower to render a game locally.
OnLive was previously demonstrated on TVs, via a "MicroConsole," and PCs and Macs. But the latest demonstration would bring the service into the mobile market, streaming interactive games to devices like the iPhone as low-latency video via a broadband Internet connection.
Perlman cautioned that console and PC-style gaming is not ideal on a device like the iPhone. He said the initial plans call for users to be able to track their friends online and spectate their live gameplay on the go. However, he said that the company will "eventually" bring new games to mobile phones.
No release date for OnLive on the iPhone was given. Perlman said the recent showing served only as a proof-of-concept technology demo.
"But, for those of you who have been asking about OnLive on cell phones, the answer is yes, it is coming," he said. "And, it is REALLY cool."
Games on the iPhone have recently been in the spotlight, most notably last week when AppleInsider detailed a job listing for a game and media software engineer at Apple. Though the Cupertino, Calif., company has only produced one game, Texas Hold'em, to date for the iPhone and iPod touch, the hiring could suggest it is looking to expand its first-party software.
In September, Apple debuted the new 64GB iPod touch with a faster processor. It portrayed the hardware as a fun device meant for media and games, and highlighted a number of high-profile releases for the platform. This year, some of the biggest names in game publishing have come to the iPhone and iPod touch, bringing blockbuster franchises.