Apple's Steve Jobs named world's best-performing CEO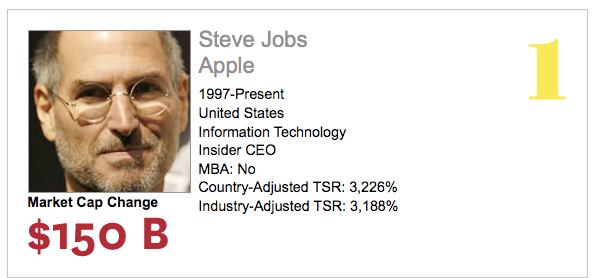 AppleInsider may earn an affiliate commission on purchases made through links on our site.
For increasing his company's market cap a whopping $150 billion in the last 12 years, Apple co-founder Steve Jobs was named the best-performing CEO in the world.
The rankings, revealed in the January-February 2010 edition of Harvard Business Review, place Steve Jobs comfortablyin front, well ahead of second-place finisher Yun Jong-Yong of Samsung Electronics.
"The #1 CEO on the list, Steve Jobs, delivered a whopping 3,188% industry-adjusted return (34% compounded annually) after he rejoined Apple as CEO in 1997, when the company was in dire shape," the report said. "From that time until the end of September 2009, Apples market value increased by $150 billion."
The global ranking compared 1,999 CEOs that assumed their job no earlier than January 1995 and no later than December 2007. The executives had to be the head of a publicly traded company that was present on the Standard & Poor's Global 1200 or its BRIC (Brazil, Russia, India, China) 40 list at some point since 1997.
The criteria did exclude high-profile CEOs like Microsoft founder Bill Gates, who took the helm of his company well before 1995. Though he was ousted from Apple in 1985, Jobs returned to the company he co-founded in 1996, when his company NeXT Computer was acquired by Apple. When asked about Jobs in November, Gates credited him with saving Apple upon his return.
The magazine also compared its list with Forbes magazine's tally of the highest-paid CEOs, where Jobs ranked third, and Barron's 2009 list of the 30 most respected chief executives, where Jobs also appeared. While Jobs famously accepts a $1 yearly salary, he earns a great deal through stock-based compensation.
Six of the top 10 CEOs came from technology-related companies. Following Jobs were Yun Jong-Yong of Samsung (2), John Chambers of Cisco Systems (4), Jeff Bezos of Amazon (7), Margaret Whitman of Ebay (8) and Eric Schmidt of Google (9). Schmidt was a member of Apple's board of directors until this summer, when a Federal Trade Commission investigation forced him to resign. During his tenure, Schmidt accepted thousands of dollars in Apple gear, but took no pay.
In November, Jobs was given the title "CEO of the Decade" by Fortune. The magazine lauded him for making Apple a groundbreaking technology leader and the most valuable company in Silicon Valley. Jobs was also a finalist for Time magazine's 2009 "Person of the Year."