Credit Suisse: 75% chance AT&T keeps iPhone exclusivity in 2010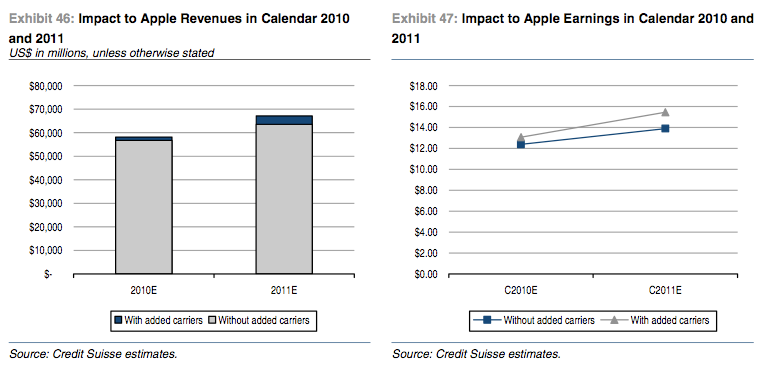 AppleInsider is supported by its audience and may earn commission as an Amazon Associate and affiliate partner on qualifying purchases. These affiliate partnerships do not influence our editorial content.
The iPhone will inevitably be available on multiple carriers in the U.S., one analyst believes, though 2010 is not likely to be the year Apple ends its agreement with AT&T.
Based on that assessment, Jonathan Chaplin, research analyst with Credit Suisse, downgraded Verizon stock to a "neutral" rating. The iPhone remaining exclusive to AT&T, he said, will have a negative impact on Verizon.
"Our analysis suggests that Apple will eventually sell the device at all carriers; however, there is a much greater probability that AT&T keeps exclusivity for another 12-18 months than investors realize," Chaplin wrote. "We think this has profound impacts for Apple, the carriers and the other handset OEMs."
Chaplin sees the iPhone becoming available on all carriers, including a CDMA-capable version of the handset, in mid-2011. That timing would give AT&T another 12 to 18 months to "fix their network," he said, which would give Verizon less of an advantage when the iPhone eventually does make its way to the nation's largest wireless carrier.
The report asserts that there is a 75 percent likelihood that AT&T will retain its exclusivity this calendar year. That number is obtained through a probability analysis done by Credit Suisse.
"We conclude there is only a 50% probability that it (exclusivity) ends in 2010," Chaplin wrote. "Next, we try to determine whether AT&T bids for another year of exclusivity if exclusivity does end in 2010. We conclude they would and they can afford to compensate Apple such that Apple would be economically indifferent.
"Our approach yields a 25% probability for this outcome. Taken together, we see a 75% probability that AT&T keeps exclusivity for another year."
In his massive, 60-page analysis, Chaplin sees four possible outcomes regarding AT&T and the iPhone in 2010:
Both parties agree to another year of exclusivity for AT&T, at an estimated cost of $1.6 billion. This scenario, he said, makes sense for AT&T, but it's unclear whether Apple would agree.
AT&T loses iPhone exclusivity, but Apple does not make a CDMA-capable handset. This would have a "modest" impact on AT&T, Chaplin said, but would result in meaningful upside for T-Mobile, the other major GSM-based carrier in the U.S.
Exclusivity ends and Apple manufactures a CDMA iPhone. While this scenario would have a significant impact on AT&T, it would be beneficial to all other wireless carriers: Verizon, Sprint, and T-Mobile. It also presents the most positive outcome for Apple with an estimated 10.53 million additional iPhone sales over the next two years.
Exclusivity ends in mid-2011. This scenario assumes that AT&T and Apple have already entered into an agreement that will ensure no other wireless carriers in the U.S. will have access to the iPhone in 2010. If this were to happen, Chaplin believes AT&T would improve its network and fewer subscribers would be likely to leave.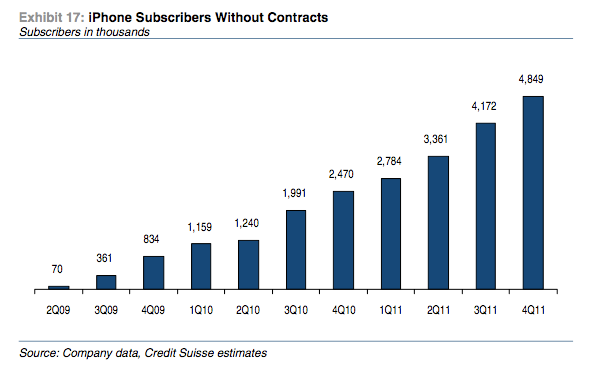 Last year, AT&T was rumored to be negotiating with Apple to extend its exclusive contract past its assumed 2010 end date. While Apple and AT&T were said to be in talks to extend the contract through 2011, it is unknown whether a deal was reached.
Last summer, AT&T even admitted it wouldn't have exclusive rights to the iPhone forever, further fueling speculation that AT&T and Apple would end their agreement.
But much of that talk cooled last week when Apple executives, during the company's quarterly earnings conference call, defended AT&T and downplayed talk of multi-carrier inevitability in the U.S. Apple Chief Operating Officer Tim Cook said Apple has selected countries where a multi-carrier system would inevitably happen, but it may not be the right decision for the iPhone in every market.
Apple then later that week announced an AT&T-only 3G data plan for the iPad in the U.S. The no-contract plans run $14.99 for 250MB of data per month, while the unlimited data option is $29.99. That the iPad did not come in a CDMA, Verizon-compatible model caught many by surprise, and only served to solidify the existing relationship between Apple and AT&T.