Apple's iAd platform called a 'billion dollar opportunity'

When Apple's just-announced iAd mobile advertising platform matures and sees wide support from the App Store developer community, it could generate as much as $4.7 billion in revenue per year for the company, one analyst believes.
Brian Marshall with Broadpoint AmTech said Friday that Apple could employ a "hybrid" ad pricing model that would include cost per click, cost per action, and cost per 1,000 viewers. In a wide-ranging sensitivity analysis issued in a note to investors, the high-end pricing assumption could generate $32 per 1,000 viewers, at a price of $0.032 per ad, generating $4.67 billion in revenue in one year.
In the middle ground of his analysis, which Marshall cautioned investors relies on "numerous assumptions," Apple would earn $17 per 1,000, resulting in $2.48 billion in revenue.
"Once again Steve Jobs and gang did a phenomenal job with the iPhone OS update scheduled for summer (iPhone/iPod touch) and fall (iPad) launch," Marshall wrote. "While we believe multitasking was the single most incremental functionality added (of the 100+ new features), it is our view that AAPL's new mobile advertising platform ("iAd") stole the show and will be significant to the financial model."
He continued: "In fact, we believe the iAd platform could generate an incremental $2.5bil in revenue and $1.00+ to AAPL's financial model when the business hits its stride."
Gene Munster said he believes iAd "could be the catalyst mobile advertising needs." He sees Apple's advertising business in 2011 amounting to $220 million. He said the total market for in-application mobile advertising was just $45 million 2009.
By 2013, he sees the in-application market for advertising reaching $700 million, with about 70 percent that from ads in the iPhone platform. Munster said Apple could capture $380 million of the market through iAd, giving it a 77 percent market share on the iPhone platform.
"We believe the iAd platform could act as a significant catalyst for mobile media as it will be the first solution to deliver rich media to a significant user base in a friendly format on the mobile web," Munster wrote his note to investors Friday morning.
Apple's presence in the mobile display advertising space has led Piper Jaffray to increase its estimates for the market. While the firm had originally expected mobile ads — both in applications and on the mobile Web — to top $1 billion in 2013, they now believe that threshold will be reached in 2012. Munster noted though they expect Apple to be a "significant player," revenue from mobile ads is "unlikely to be meaningful in the scope of Apple's broader business."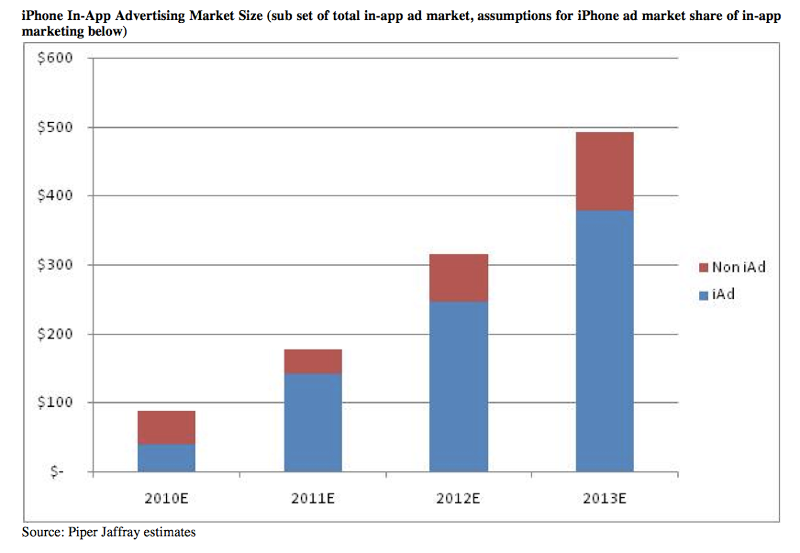 Kaufman Bros., Needham & Company
The iAd announcement also earned a positive reaction from analyst Shaw Wu with Kaufman Bros., who said iAd has the potential to "uproot and redefine" the mobile advertising market. However, he doesn't see it as a strong direct financial opportunity for Apple
"Mobile advertising is particularly important for free apps, which we estimate represent approximately 25%-30% of total apps," Wu said. "We continue to believe the financial impact to AAPL will be minor to negligible as this is more a service for app developers to make money."
In addition, Charlie Wolf with Needham & Company called iAd a "game changer." He also believes Apple's multitasking solution "blows out" the competition.
Revealed on Thursday, iAd aims to redefine mobile advertising with interactive and media-driven content included right in mobile applications without having to launch a browser. Jobs said that he believes a lot of the advertisements in existing App Store software "really suck."
Jobs showed off a sample advertisement for Toy Story 3 that included character views, sound and video clips, and even a miniature game within the ad. The advertisement could be closed at any time by clicking an 'X' in the upper left corner, taking the user instantly back to the application they were using.
The new platform stems from Apple's purchase of mobile advertising firm Quattro Wireless, acquired for $275 million early this year. Jobs admitted Thursday that Apple's first choice was competing firm AdMob, but Google "snatched" them before Apple could make a deal.