Apple may get Intel's Sandy Bridge CPUs sooner than expected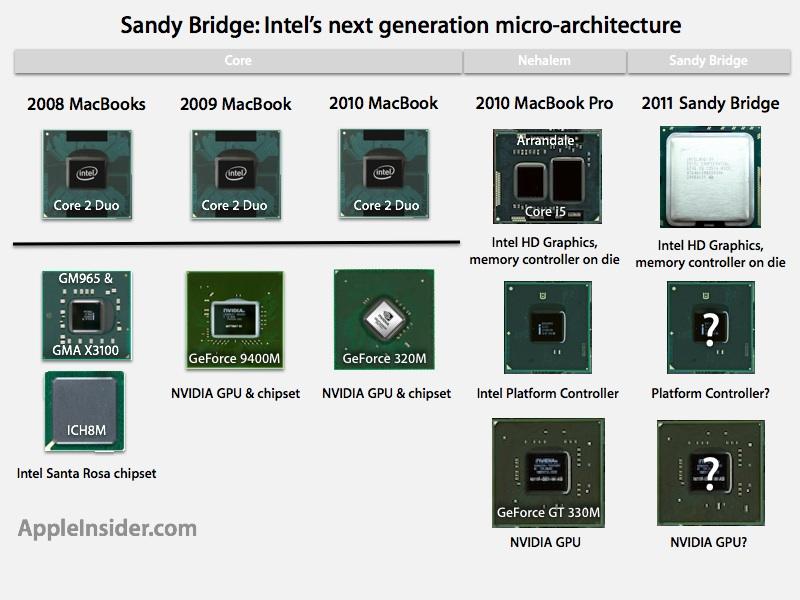 AppleInsider is supported by its audience and may earn commission as an Amazon Associate and affiliate partner on qualifying purchases. These affiliate partnerships do not influence our editorial content.
Volume production of the next new generation of Intel's desktop and notebook CPUs will begin earlier than originally anticipated in response to enthusiasm from chip buyers like Apple who have sampled the new parts.
Speaking in the company's Q2 conference call, Intel's president and chief executive Paul Otellini commented that Intel began sampling the Sandy Bridge chips to vendors over the last quarter. Strong positive feedback has induced the company accelerate production. Sandy Bridge chips are expected to go on sale late this year, making it likely that they'll find their way into Macs by early 2011.
"I am more excited by Sandy Bridge than I have been in any product that the company has launched in a number of years," Otellini said. "Due to the very strong reception of Sandy Bridge, we have accelerated our 32-nanometer factory ramp and have raised our capex guidance to enable us to meet the anticipated demand."
Apple's use of Intel CPUs
The upcoming new Sandy Bridge family of chips will replace Intel's Nehalem micro-architecture currently being used in Apple's Core i5 and i7-equipped iMacs and MacBook Pros (mobile i5 and i7 chips are referred to as Arrandale). Apple's entry level Macs, including the Mac mini and MacBook, continue to use Intel's earlier Core 2 Duo generation of chips.
While Apple was the first PC maker to release a Nehalem-based system (the Xeon Mac Pro in March of 2009), the company seemed almost reluctant to move its notebooks to Nehalem, as the new design prevented the Mac maker from continuing to build "two-chip" notebooks that paired Intel's CPU with a hybrid GPU-chipset integrated component from NVIDIA.
The Nehalem design forced PC makers like Apple to use Intel's own supporting chipset (which works with the CPU to handle functions such as its I/O access and its memory controller) rather than continuing to use competing chipsets such as the part introduced by NVIDIA. In its Arrandale mobile chips, Intel's "HD Graphics" chip is integrated into the CPU die itself.
Because Intel is weaker than NVIDIA in the area of graphics processing, Apple has to use both Intel's chipset and a separate NVIDIA graphics chip to achieve acceptable video performance in its i5 and i7-based Macs. That has prompted Apple to continue using Intel's previous Core 2 Duo paired with the NVIDIA chip in all but its highest-end products, where a three-chip solution is more acceptable in terms of cost and efficiency.
What's new in Sandy Bridge
Intel's new Sandy Bridge design (which originally had a Hebrew name until Intel realized "Gesher" or bridge was also the name of an Israeli political party) pushes integration even further. Rather than demanding the use of an external Intel-designed chipset, Sandy Bridge integrates the memory controller, graphics, and standard chipset features directly into the CPU die, resulting in a "System on a Chip" design similar to the tightly integrated Application Processor components used in mobile devices (such as Apple's custom A4 inside the iPad and iPhone 4).
While not clocked dramatically faster than existing Nehalem chips (2.8 to 3.8GHz), Sandy Bridge should deliver faster performance thanks to a minimum of four cores (with 6-8 core versions available later), improvements to the internal data bus, and enhanced "Advanced Vector Extensions" which build upon SSE to provide better floating point performance.
In addition to being incrementally faster, Sandy Bridge chips are designed to run cooler and more energy efficient, targeting the shift toward more mobile notebook systems. Whether Apple will aggressively move toward Sandy Bridge across the board and unify its Mac architectures under one design remains to be seen; the company may choose to migrate to Sandy Bridge on the high end and continue using the cheaper Core 2 Duo parts on lower end Macs, given the relatively moderate jump in performance Intel is promising.