Apple's iOS 4.1 to pack 'fix' for displaying iPhone signal strength [u]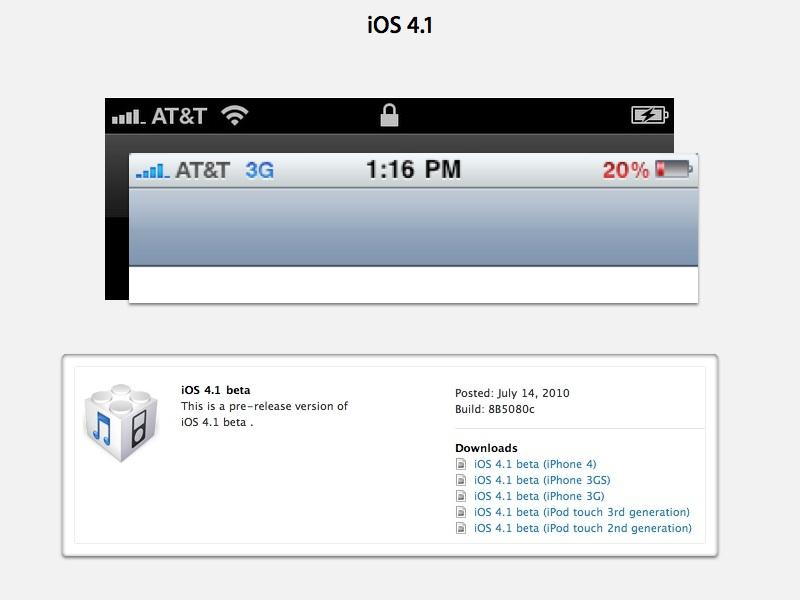 AppleInsider may earn an affiliate commission on purchases made through links on our site.
Apple on Tuesday began widespread testing of iOS 4.1, the first update to the company's new mobile operating system shipping on the iPhone 4, delivering changes to the way the handset displays signal strength.
Build 8b5080c of iOS 4.1 beta 1 began making its way to developers alongside iOS SDK 4.1 build 10M2304. People evaluating the software say one visible change is the new signal bar, which presents taller bars at the low end of the scale to make it easier to read. They also report the signal bars seem to better exaggerate signal drop off, with fewer bars visible when in an area of with limited reception.
Responding to widespread criticism over reception problems with the new touch-screen handset, Apple earlier this month penned an open letter to iPhone 4 users, in which it claimed that the formula used to calculate bars of signal strength on the device is inaccurate, and would be corrected in the coming weeks through a free software fix.
"Our formula, in many instances, mistakenly displays 2 more bars than it should for a given signal strength," the company said. "For example, we sometimes display 4 bars when we should be displaying as few as 2 bars."
Apple added that users observing a drop of several bars when they grip their iPhone 4 in a certain way are most likely in an area with very weak signal strength, but they don't know it because their handset is erroneously displaying 4 or 5 bars. "Their big drop in bars is because their high bars were never real in the first place," said the company, which maintains that the iPhone 4's wireless performance "is the best [it has] ever shipped."
For their part, wireless experts and well-regarded product research firm Consumer Reports have disputed Apple's claims through their own research which alleges that the iPhone 4 suffers from reception issues when held by a user in a particular manner.
In a dizzying blow to Apple, Consumer Reports announced on Monday that it would no longer recommend the iPhone 4 to potential buyers due to reception problems that it believes to be a result of the design of the handset. The research firm issued the statement on its official electronics blog, stating that it reached that conclusion after testing three iPhone 4 handsets that were purchased from three separate retailers in the New York area inside a controlled environment of a radio frequency isolation chamber.
While iOS 4.1 beta appears to deliver Apple's controversial 'fix' to the reception issues, there's yet to be reliable word on wether the beta also addresses inaccuracies in the phone's proximity sensor, which have similarly helped to sour the iPhone 4 experience for many customers.