Study finds 14% of free iPhone apps can snoop contacts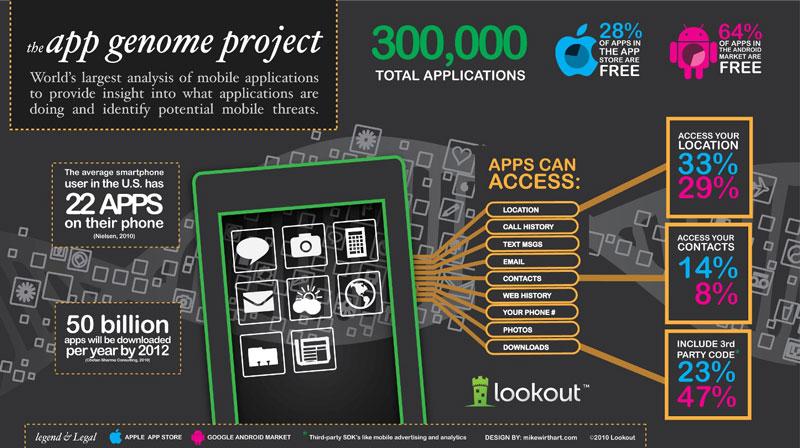 AppleInsider may earn an affiliate commission on purchases made through links on our site.
A survey of 300,000 applications for both the iPhone and Android devices found that 14 percent of free App Store software has the ability to access a user's contacts on their iPhone.
This week at the Black Hat conference in Las Vegas, Nev., security research firm Lookout revealed that it analyzed more than 300,000 free applications available on both the iPhone App Store and Android Market.
As noted earlier, the mobile security firm revealed a wallpaper application for Google's Android mobile operating system that allegedly captures a handset's SIM card number, subscriber identification and voicemail password, and reportedly sends it to the website www.imnet.us, owned by someone in Shenzhen, China.
In addition, Lookout also discovered that 14 percent of the surveyed free applications available for Apple's iPhone have the capability to access a user's contact data. That's more than on Android, where 8 percent of tested applications could view the contact list.
Additionally, 33 percent of free applications on the App Store have the ability to access a user's location. The difference is, Apple's iOS mobile operating system requires third-party software to inform users when the application is accessing their location. Such rules do not, however, exist for contacts. For comparison, 29 percent of free Android software has the ability to access a user's location.
Finally, Lookout also found that 47 percent of free Android applications include third-party code, such as mobile ads and analytics tracking. That number is 23 percent on the iPhone. The survey found that 28 percent of software on the App Store is free, compared with 64 percent on the Android Market.
Lookout's findings were also publicized this week by the Associated Press, which reported that nearly a quarter of tested iPhone applications contained software code with the ability to access either pictures, text messages, or Internet and search histories, in addition to contacts. Reporter Jordan Robertson reached out to both Apple and Google for comment on the survey, but neither company responded.
"Part of the problem is smart phones don't alert users to all the different types of data the applications running on them are collecting. iPhones only alert users when applications want to use their locations," the report said. "And while Android phones offer robust warnings when applications are first installed, many people breeze through them for the gratification of using the apps quickly."