Apple expanding iAd creative agency staff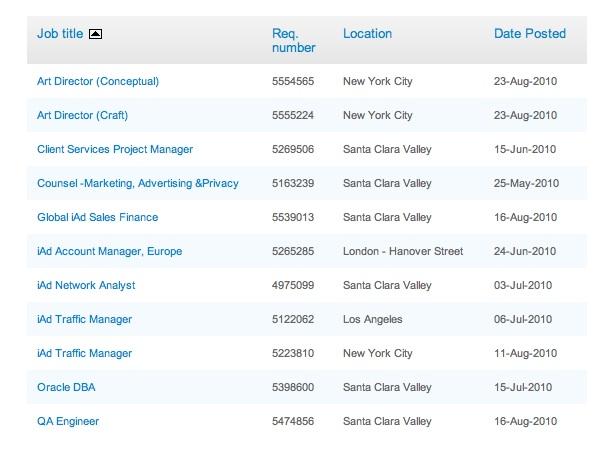 AppleInsider is supported by its audience and may earn commission as an Amazon Associate and affiliate partner on qualifying purchases. These affiliate partnerships do not influence our editorial content.
After acquiring Quattro Wireless and converting its conventional mobile ad banner network into the immersive, app-embedded iAd experience, Apple appears set to expand its creative staff in new job postings.
The move positions Apple as not just a broker of mobile advertising, but also as a creative ad agency itself. The company's job postings, for craft and conceptual Art Directors, will join its "iAd Creative & Strategy team" based in New York City.
The conceptual position "requires a proven track record of digital design, particularly in the marketing of major brands; a strong knowledge of interactive creative development processes; and experience developing creative solutions with a relatively high level of autonomy."
Apple asks applicants for the proven ability to "develop innovative and on-strategy concepts and designs which are highly resolved from a formal perspective, and which meet the objectives of the assignment," "to solve problems conceptually in collaboration with the broader interactive team, including writers, other designers and information architects," and the "ability to art direct photographers, illustrators or motion artists as necessary."
The position also asks for "excellent skills with design software used in the design process, including, but not limited to, [Adobe] ]Illustrator and Photoshop," along with "proficiency in [Adobe] CS4/5 application Suite and [Apple] Keynote."
The scope of duties listed for the position include the ability to "co-develop, manage and oversee all visual/aesthetic design related to branded iAd executions," to "contribute to ongoing conceptualizing, generating and bringing to bear, brilliant and beautiful ideas," and to "demonstrate conceptual as well as strategic thinking, and be responsible for consistently sophisticated design."
Apple also notes the position will "serve as point of collaboration for agencies; kickoffs, concept cogency, design reviews, etc," indicating that the company doesn't plan to entirely take over the role of ad agencies it works with. The company also asks that the applicant can "ensure Apple design and communications ethos are well represented and carried forward in each and every iAd."
A secondary craft job position is also listed as someone who "creates and executes content and interface assets under the limited direction of a Creative Director."
Apple also has open job positions for iAd traffic managers "responsible for configuring, monitoring, analyzing and optimizing advertiser and publisher activity on the iAd network" in both Los Angeles and New York; a corporate counsel position "focused on providing legal support for all marketing, advertising, and privacy issues," an iAd project manager, a network analyst to "publish regular inventory reports to advertising and publishing teams" and a global iAd sales finance position "responsible for driving financial performance in Apple's dynamic iAd business" (all located in Santa Clara); and an European account manager position based in London.