PC industry customer satisfaction again dominated by Apple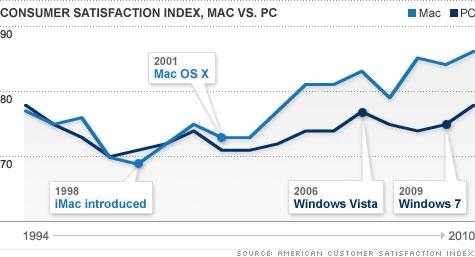 AppleInsider is supported by its audience and may earn commission as an Amazon Associate and affiliate partner on qualifying purchases. These affiliate partnerships do not influence our editorial content.
Apple remains the best in its class for customer service, with the Mac maker again leading all other PC makers for the seventh straight year, despite industry-wide improvement, according to a new study.
The American Customer Satisfaction Index on Tuesday released its annual survey of the PC industry, and on the index's 100-point scale, Apple gained 2 percent to reach 86 — its highest score ever. 2010 marks the seventh straight year that Apple has topped the PC industry.
Apple is also 9 points ahead of its next-closest competitors: Dell, Acer and HP, in a three-way tie at 77. In fact, other PC makers, including Toshiba and Sony, also came in with a score of 77, suggesting customers view the rest of the PC industry's service equally.
Industry-wide improvements were seen as a positive consumer response to the release of Microsoft's Windows 7 operating system last year.
"Windows-based PC brands appear to have recovered from the problems associated with the Windows Vista software," said Claes Fornell, founder of ACSI. "Barely a year into the release of Windows 7, satisfaction with these brands has returned to, and in some cases even surpassed, the levels prior to the launch of Vista."
Though the PC industry has seen better customer service, according to users, in 2010, those who had to contact customer support are 8 percent less satisfied than those who had no post-purchase contact with the manufacturer or retailer.
The index is updated each quarter and factors in scores from more than 225 companies in 45 industries and from government agencies. ACSI was founded at the University of Michigan.
Last year, Apple's ACSI score was 84, 12 points ahead of its nearest rival, Dell. This year's score of 86 bested Apple's previous best of 85 in 2008, which set a new all-time high for the PC industry.