Apple nabs HP's former 98 acre campus in Cupertino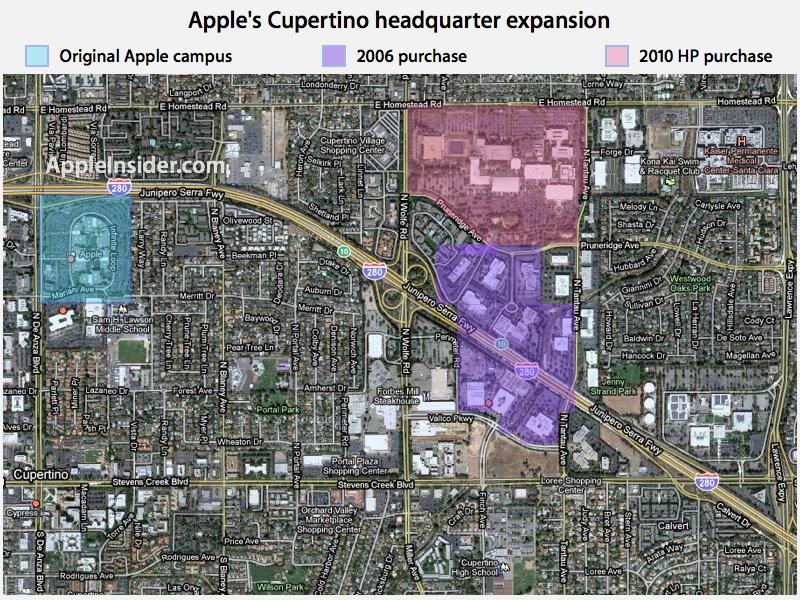 AppleInsider is supported by its audience and may earn commission as an Amazon Associate and affiliate partner on qualifying purchases. These affiliate partnerships do not influence our editorial content.
Apple has greatly expanded its Cupertino, California land holdings with the purchase of a 98 acre campus vacated by HP earlier this summer. The spot is adjacent to land Apple bought in 2006.
According to a report by the Mercury News, the land had been used by HP for twenty years before it decided to pull out in order to consolidate its operations in nearby Palo Alto.
The report noted that the HP site "has housed parts of that company's personal computer division as well as some of its commercial software and hardware units. It's also home to a high-tech 'briefing center' where HP holds meetings and shows off products to corporate clients."
Cupertino city officials were relieved to see Apple take HP's place, a deal making Apple the largest landholder in the city and filing the million dollar hole in tax revenues that HP and its departing employees had contributed to the city. Real estate sources suggested the sale may have cost as much as $300 million, although the sluggish economy might have afforded Apple a much better deal on the prime land.
In the report, Mayor Kris Wang said, "we're very proud to have Apple's headquarters in our city. It's not just a company. It's the company."
Apple's Cupertino expansion
Apple PR head Steve Dowling said, "we now occupy 57 buildings in Cupertino and our campus is bursting at the seams. These offices will give us more space for our employees as we continue to grow."
Apple has not announced any plans for the new land, and has only started to use some of the existing buildings on its former, 50 acre land purchase made in 2006. That chunk of land was comprised of nine separate properties Apple had stitched together in top secret plans to assemble a large enough area of contiguous office space to build a secondary campus.
Originally, Apple expressed plans to level the buildings on the land acquired in 2006 and integrate them into a unified development intended to house 3,000 to 3,500 employees. That was expected to take there to four years. However, as of the end of last year, Apple had only been able to rezone the land, an effort that took longer than expected because "some commissioners wanted a more definitive proposal from Apple before rezoning a prime piece of residential land."
The adjacent 2006 and 2010 parcels are a mix of buildings surrounded by suburban homes, two malls, and intersected by the freeway. Part of the original land purchase had been zoned by the city for a residential use in condominium project. With the HP site added into the mix, it is expected that Apple will find it easier to integrate the two adjacent parcels into a new complex of buildings vastly larger than its existing infinite Loop campus.
Apple has been a fixture of Cupertino ever since founders Steve Jobs and Steve Wozniak located the new company there in 1977, after about a year of working out of the garage of Jobs' parents, in nearby Los Altos.
Jobs went to high school in Cupertino and expressed an affinity for the town in 2006, when he spoke before Cupertino's City Council regarding the earlier land purchase the company had decided to make one freeway interchange east of its existing campus off DeAnza Boulevard.
In his remarks, Jobs said he had looked at cheaper land in other places when considering where to locate Apple's second campus. "But after looking at a lot of things, we found something in Cupertino that was a possibility," Jobs said. "It was more expensive, a lot more expensive than we could get elsewhere, but it was something where we could stay in the area that we like the best."