Survey finds 17% of homes with Apple's iPad have 2 or more tablets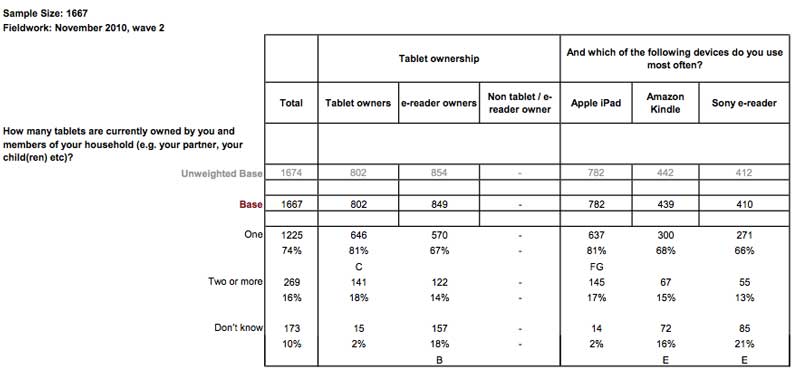 AppleInsider is supported by its audience and may earn commission as an Amazon Associate and affiliate partner on qualifying purchases. These affiliate partnerships do not influence our editorial content.
A newly released survey has found that 17 percent, or nearly one-fifth, of iPad owners have two or more tablet-style devices in their household.
The study, released Tuesday by research company YouGov, polled 1,667 tablet owners about their devices. In total, 782 of the sample size owned an iPad.
Of those, 145 — or 17 percent — said they own "two or more" tablets in their home. That edged out the Amazon Kindle and Sony's line of e-readers for multiple devices.
Most who own more than one iPad — 37 percent — said they bought a second tablet because their partner uses the iPad "all the time," while 17 percent said it was used by family members, and 14 percent said their children were using the iPad frequently. That means a total of 68 percent of respondents said they bought a second tablet because the iPad gets constant use.
The survey did not indicate whether those who bought a second tablet chose an additional iPad, or another device like the Amazon Kindle. But the survey also polled tablet owners who are planning to buy a second device, and found that 69 percent of them would choose an iPad, well more than the 24 percent that would opt for a Kindle.
Apple sold 4.19 million iPads in the last quarter, as the device is already outselling Apple's line of Mac computers. This week's survey suggests the potential untapped tablet market is even larger, if users view them as personal devices rather than shared ones.